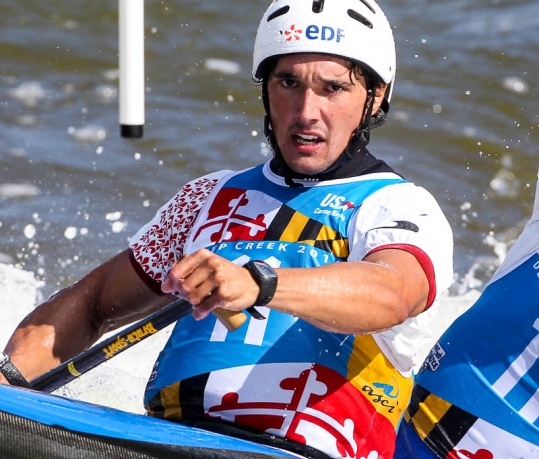 Pierre Picco (FRA)
France
Canoe Slalom
Date of birth
17 October 1988
Occupation
Athlete, Engineer
Higher education
Civil Engineering - National Institute of Sciences of Toulouse: France
Biography
General Interest
Memorable sporting achievement
Winning a silver and a gold at the 2014 World Championships in Deep Creek, MD, United States. (ladepeche.fr, 30 Sep 2014)
Most influential person in career
His brother. (ffck.org, 27 May 2015)
Injuries
He injured his shoulder in 2012, which meant he and his partner Hugo Biso missed the final trials ahead of the 2012 Olympic Games. (ladepeche.fr, 30 Sep 2014)
Ambitions
To win gold at the 2015 World Championships in London, England, and to qualify for the 2016 Olympic Games in Rio de Janeiro. (sncf.com, 25 Feb 2015)
Other information
OCCUPATION
He works in the structures department of the French National Railway Company [SNCF] in Saint Denis, France. (sncf.com, 25 Feb 2015)
Sport Specific Information
When and where did you begin this sport?
He began paddling at age six in Toulouse, France.
Why this sport?
He was initially reluctant to try the sport because he did not want to seem like he was copying his older brother, who was already practising the sport. However, once he tried canoeing it quickly became his passion.
Club / Team
Muret Olympique CK: France
Results
Competition
Event
Location
Date
Season
Gender
Result
Rank
Mentions
World Championships
C2
England, London
19 September 2015
2015
Men
102.25
2

Best result

World Championships
C2 Team
England, London
19 September 2015
2015
Men
115.78
1

Best result

World Championships
C2
United States, McHenry, MD
21 September 2014
2014
Men
119.60
2

Best result

World Championships
C2 Team
United States, McHenry, MD
21 September 2014
2014
Men
140.96
1

Best result

World Championships
C2
Czech Republic, Prague
15 September 2013
2013
Men
123.14
7

Best result

World Championships
C2 Team
Czech Republic, Prague
15 September 2013
2013
Men
142.30
4

Best result

World Championships
C2
Slovenia, Tacen
11 September 2010
2010
Men
16

Best result

World Championships
C2 Team
Slovenia, Tacen
11 September 2010
2010
Men
124.90
1

Best result

European Championships
C2
Slovakia, Liptovský Mikuláš
15 May 2016
2016
Men
128.30
15

Latest result

Best result

European Championships
C2 Team
Slovakia, Liptovský Mikuláš
15 May 2016
2016
Men
142.64
5

Latest result

Best result

European Championships
C2
Germany, Markkleeberg
31 May 2015
2015
Men
107.04
4

Best result

European Championships
C2 Team
Germany, Markkleeberg
31 May 2015
2015
Men
202.44
7

Best result

European Championships
C2
Austria, Vienna
1 June 2014
2014
Men
12

Best result

European Championships
C2 Team
Austria, Vienna
1 June 2014
2014
Men
112.85
2

Best result

European Championships
C2
Poland, Kraków
9 June 2013
2013
Men
98.13
5

Best result

European Championships
C2 Team
Poland, Kraków
9 June 2013
2013
Men
111.50
1

Best result

European Championships
C2
Slovakia, Cunovo
15 August 2010
2010
Men
16

Best result

Oceania Open Championships
C2
Australia, Penrith
20 February 2016
2016
Men
110.31
3

Latest result

Best result

World Cup
C2
11 September 2016
2016
Men
1

Latest result

Best result

World Cup
C2
16 August 2015
2015
Men
11

Best result

World Cup
C2
17 August 2014
2014
Men
12

Best result

World Cup
C2
25 August 2013
2013
Men
16

Best result

World Cup
C2
14 August 2011
2011
Men
9

Best result

World Cup
C2
4 July 2010
2010
Men
22

Best result

World Cup
C2
6 July 2008
2008
Men
30

Best result