Raffaello IVALDI (ITA)
Italy
Languages:
Italian English Spanish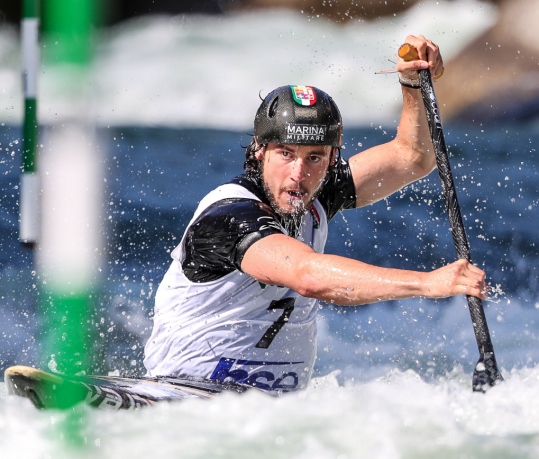 Biography
Further Personal Information
PLACE OF RESIDENCE
I study in Verona and I train in Ivrea. In January February and March I go to Penrith, Australia for the winter preparation
OCCUPATION
Athlete and student
HIGHER EDUCATION
I completed the sociologic-economic high school and now i'm studying law at the University of Verona
WHEN/WHERE DID YOU START CANOEING/ KAYAKING?
I remember being in my father's canoe at 2/3 years of age in Adige river in Verona
REASON FOR TAKING UP THE SPORT
My father was a paddler and he transmitted me the love for this sport
HOBBIES
Basketball ski tennis photography filming
CLUB
Marina militare (italian navy)
NAME OF COACH
Ettore Ivaldi
NATIONALITY OF YOUR COACH
Italian
SINCE WHEN HAVE YOU BEEN COACHED BY HIM/ HER?
All my life
TRAINING REGIME
i use to do more physical training douring the winter and i also do many different exercise in non equilibrium situations to simulate the situation of canoe  douring the summer i use to do more technical training and sensibility sessions to understand how to use the water in my favour
SENIOR INTERNATIONAL DEBUT YEAR
2013
SENIOR INTERNATIONAL DEBUT COUNTRY
Spain
SENIOR INTERNATIONAL DEBUT COMPETITION
World Cup
SENIOR INTERNATIONAL DEBUT LOCATION
La Seu D'Urgell
MEMORABLE SPORTING ACHIEVEMENT
Bronze medal in World Cup 1 in 2017 (Prague, Cze)
MOST INFLUENTIAL PERSON IN CAREER
My brother
TRAINING PARTNER(S)
My brother
HERO/IDOL
Tony Estanguet. Tim Duncan because of his dedication to the game and for his respect for the game
SUPERSTITIONS/ RITUALS/ BELIEFS
i always do the same things befoure a race... and 9 seconds befoure the race starts i always kiss my paddle
SPORTING PHILOSOPHY/ MOTTO
Go big or go home. Why not?
FAVOURITE PADDLING COURSE
Ivrea, because is like a second home! It's very similar to a natural course and the river is in the city centre! And the whitewater is great!
FAVOURITE MUSIC
Mumford and sons, italian songwriters (Lucio Dalla, mannarino, Jovanotti)
AWARDS AND HONORS
Italian Olympic committee's Bronze medal for athletic value
SPORTING RELATIVES
My brother is always with me when I'm training/ racing. My father competed in the international circuit of canoe slalom until 1993.
OTHER SPORTS
Ski basketball tennis