Rasmus ALSBAEK (DEN)

Denmark
Languages:
Danish, English and German.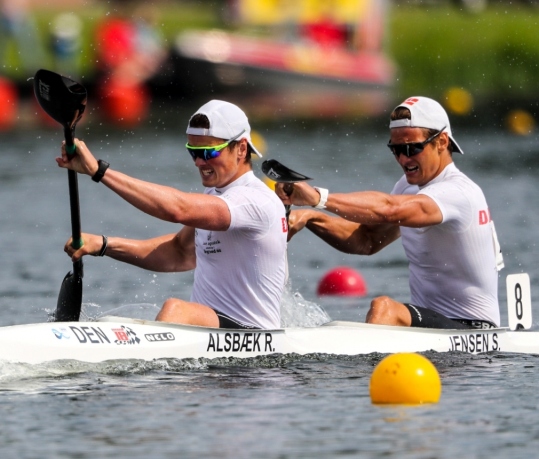 Biography
Further Personal Information
BIOGRAPHY
Born and raised on the country side on the southern islands of Denmark. Been paddling since I was 9 years old.
ICF WORLD CHAMPIONSHIPS
U23, 2 World Championships with K4 500m silver medal.
ICF WORLD CUPS
K2 1000m 2018 in Szeged and Duisburg.
CONTINENTAL CHAMPIONSHIPS
U23 European Championships 2018 and 2019.
OCCUPATION
Assistent School Teacher.
WHEN/WHERE DID YOU START CANOEING/ KAYAKING?
REASON FOR TAKING UP THE SPORT
One of my good mates asked me if I wanted to try it out, and now i'm here.
NATIONALITY OF YOUR COACH
SINCE WHEN HAVE YOU BEEN COACHED BY HIM/ HER?
SENIOR INTERNATIONAL DEBUT YEAR
SENIOR INTERNATIONAL DEBUT COUNTRY
SENIOR INTERNATIONAL DEBUT COMPETITION
SENIOR INTERNATIONAL DEBUT LOCATION
MEMORABLE SPORTING ACHIEVEMENT
2019, U23 K4 500 meter Silver medal in Pitesti, Romania.
PREFERRED POSITION / STANCE / STYLE / TECHNIQUE
In K2 first or second position and K4 first or third position.
TRAINING PARTNER(S)
National mens kayak team.
HERO/IDOL
Anders Gustafsson & Ronald Rauhe.
SUPERSTITIONS/ RITUALS/ BELIEFS
Listening to music 60 minutes before going on the water, drinking energi powder, warming up (with sunglasses on).
SPORTING PHILOSOPHY/ MOTTO
FAVOURITE PADDLING COURSE
Duisburg and Szeged (sometimes Pitesti).
FAVOURITE FOOD
Buritto, Tacko and Sushi.
FAVOURITE MUSIC
I listen to a lot of different. But mostly rap, rock and 80s.
AWARDS AND HONORS
Junior Sportsname from the part of Denmark where I come from.
POSITION IN BOAT FOR TEAM BOATS
In the front seat or third hole in K4, front or back in K2.
BEST RESULTS
2019, U23 K4 500 meter Silver medal in Pitesti, Romania
DEBUT
On the senior team at the World Cup, 2018 Szeged, Hungary.