Rebeka SIMON (GBR)

United Kingdom
Languages:
Hungarian, Spanish, French, English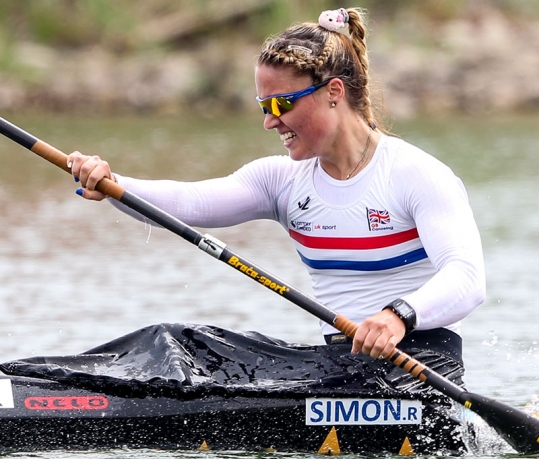 Biography
Further Personal Information
NICKNAME
Rebii- it's the "standard" nickname for Rebeka in Hungary but I like to add 2 'i's instead of 1 at the end of it. So Rebii instead of Rebi.
WHEN/WHERE DID YOU START CANOEING/ KAYAKING?
I began paddling at the age of 6 in Dunakeszi Kajak Klub in Hungary.
REASON FOR TAKING UP THE SPORT
My dad had been the National Women's coach in Hungary and also paddled at an international level so I was kind of born into the sport and I first sat in a kayak at age 3 and started paddling 3 years later and fell in love with it then.
HOBBIES
Drawing/art work; reading; learning languages; shopping
HOBBIES
Drawing/art work; reading; learning languages; shopping
NATIONALITY OF YOUR COACH
Hungarian and British (dual)
SINCE WHEN HAVE YOU BEEN COACHED BY HIM/ HER?
TRAINING REGIME
We train by the style I like to call Hungarian style. A lot of volume but also all quantity training too. We come off the water in the winter and do lots of endurance, strength endurance and strength work including swimming, hill running, track running and gym work. On water we do quality AND quantity sessions. My favourite session is the mini intervals when you sprint then back to 2k pace then sprint and you go up and down and up and down etc. I also, (weirdly for some people) love 2k Timetrials.
SENIOR INTERNATIONAL DEBUT YEAR
SENIOR INTERNATIONAL DEBUT COUNTRY
SENIOR INTERNATIONAL DEBUT COMPETITION
SENIOR INTERNATIONAL DEBUT LOCATION
MEMORABLE SPORTING ACHIEVEMENT
2014 Junior sprint world champs- winning the silver medal behind Danish Emma Jorgensen (for the 3rd time in 500m) in a "golden fight" only narrowly missing out on the gold by 0.3 seconds and closing the gap from 3 seconds since the year before that.
2014 senior world champs- racing my hardest race so far of my career seeing multiple millions of stars before crossing the finish line and finishing 5th in the K1 1000m with a huge PB making my senior debut still being a junior.
2011 junior world champs- coming 2nd and winning GB's first ever girls world champs junior medal in the k2 1000m after only expecting to just make the final only being 15 years old too.
PREFERRED POSITION / STANCE / STYLE / TECHNIQUE
My favourite distance is 500m and favourite techniques are by Knut Hollman and Danuta Kozák
MOST INFLUENTIAL PERSON IN CAREER
TRAINING PARTNER(S)
Jess Walker; Louisa Sawers; Katherine Trotter; Nicole Williams; Amy Ward; Rachel Cawthorn
HERO/IDOL
Birgit Fischer & Rocky Balboa
SUPERSTITIONS/ RITUALS/ BELIEFS
Too many to list! Just to give an idea: always having the same hairstyle and same hairbands and clips to race since 2010; eating Nutella before racing; having my 8 lucky teddies with me
SPORTING PHILOSOPHY/ MOTTO
Life's not about how hard of a hit you can give... it's about how many you can take, and still keep moving forward.
FAVOURITE PADDLING COURSE
AMBITIONS
To become the most decorated kayaking Olympian.
To make my/our dreams true in kayaking with my dad!
AWARDS AND HONORS
I was shortlisted for the BBC Sports Personality of the Year (for young athletes) for 2014 season.
POSITION IN BOAT FOR TEAM BOATS
2nd and 3rd for k4. 2nd for k2.
SPORTING RELATIVES
My dad raced internationally in kayaking and won silver medal at junior european champs
OTHER SPORTS
Swimming- when I was young I did a few club races