Renata CSAY (HUN)
Hungary
Languages:
Hungarian and English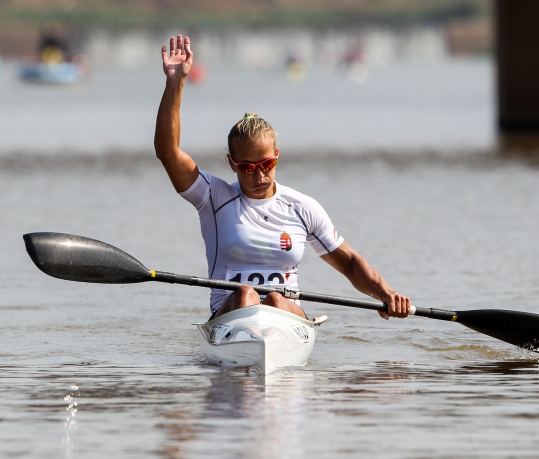 Biography
Further Personal Information
PLACE OF RESIDENCE
I live and train in Györ in Hungary most of the time
OCCUPATION
Cultural management, special education assistant
HIGHER EDUCATION
West-Hungarian University, Apaczai Csere János teachers' training college
WHEN/WHERE DID YOU START CANOEING/ KAYAKING?
Györ in Hungary in 1989
HOBBIES
Cooking, baking, play with kids, landscaping and animals
CLUB
Györi Vizisport Egyesület
NAME OF COACH
László Sztanity
SENIOR INTERNATIONAL DEBUT YEAR
1997
SENIOR INTERNATIONAL DEBUT COUNTRY
Italy
SENIOR INTERNATIONAL DEBUT LOCATION
Pavia
MEMORABLE SPORTING ACHIEVEMENT
The domestic world races
MOST INFLUENTIAL PERSON IN CAREER
My family and my coach, because its always with me
SPORTING PHILOSOPHY/ MOTTO
A warrior does not give up what you love, but to love what you do. A good warrior is not perfect, does not always prevail, not invulnerable, the good warrior is very vulnerable. This makes you really brave. 
FAVOURITE PADDLING COURSE
Györ, because my country and here I won my first World Championship title
FAVOURITE MUSIC
Charlie, Zsuzsa Cserháti, Demjén, Zorán
AMBITIONS
I would like to take care of small children and teach them to kayak
AWARDS AND HONORS
World Paddle Awards 2017, minsiterial medal 3 times, the country athlete 10 times. 
SPORTING RELATIVES
My husband, Gábor Kolozsvári, was World and European Champion
OTHER SPORTS
Deep sea diving, síelés, kerékpar, görkorcsolya