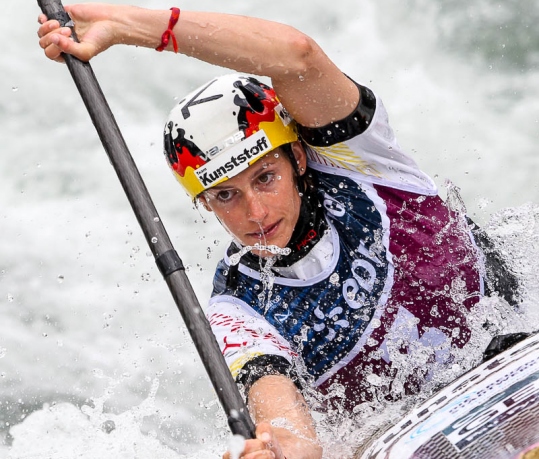 Ricarda Funk (GER)
Germany
Canoe Slalom
Date of birth
15 April 1992
Languages
English, German
Higher education
Media and Communications - Augsburg University: Germany
Biography
General Interest
Nicknames
Rici (Instagram profile, 29 May 2016)
Hobbies
Athletics, sewing. (hikosport.com, 2015)
Sporting philosophy / motto
"Step by step." (ricardafunk.de, 15 May 2016)
Awards and honours
She won the 2015 Female Athlete of the Year award in Rhineland-Palatinate, Germany. (swr.de, 17 Jan 2016)

She was named the 2013 Female Athlete of the Year in Bad Kreuznach, Germany. (rhein-zeitung.de, 27 Jan 2014)

She was named the 2010 Young Talent in Rhineland-Palatinate, Germany. (olympiastuetzpunkt.org, 11 Jan 2011)
Famous relatives
Her parents Thorsten and Claudia Funk both won medals in canoe slalom at the German championships. (rhein-gymnasium-sinzig.de, 18 Nov 2010)
Sport Specific Information
When and where did you begin this sport?
She began paddling at age five. She entered her first competition in 2000 in Eindhoven, Netherlands.
Why this sport?
Her parents encouraged her to take up the sport. "The versatility, variety and the playful elements make canoe slalom unique. At each location you are faced with different challenges."
Club / Team
KSV Bad Kreuznach: Germany
Name of coach
Michael Trummer [national], GER; Stefan Henze [national], GER
Results
Competition
Event
Location
Date
Season
Gender
Result
Rank
Mentions
World Championships
K1
England, London
19 September 2015
2015
Women
105.91
2

Best result

World Championships
K1 Team
England, London
19 September 2015
2015
Women
187.64
14

Best result

World Championships
K1
United States, McHenry, MD
21 September 2014
2014
Women
127.88
5

Best result

World Championships
K1 Team
United States, McHenry, MD
21 September 2014
2014
Women
141.92
5

Best result

European Championships
K1
Germany, Markkleeberg
31 May 2015
2015
Women
108.52
2

Best result

European Championships
K1 Team
Germany, Markkleeberg
31 May 2015
2015
Women
186.33
8

Best result

European Championships
K1
Austria, Vienna
1 June 2014
2014
Women
96.11
1

Best result

European Championships
K1 Team
Austria, Vienna
1 June 2014
2014
Women
110.54
4

Best result

Oceania Open Championships
K1
Australia, Penrith
20 February 2016
2016
Women
149.52
9

Latest result

Best result

World Cup
K1
11 September 2016
2016
Women
1

Latest result

Best result

World Cup
K1
16 August 2015
2015
Women
8

Best result

World Cup
K1
17 August 2014
2014
Women
3

Best result

World Cup
K1
25 August 2013
2013
Women
23

Best result

World Cup
K1
2 September 2012
2012
Women
16

Best result

World Cup
K1
14 August 2011
2011
Women
25

Best result

Oceania Open Championships
K1
Australia, Penrith
23 February 2014
2014
Women
101.95
2

Best result