Robert OLIVER (GBR)

United Kingdom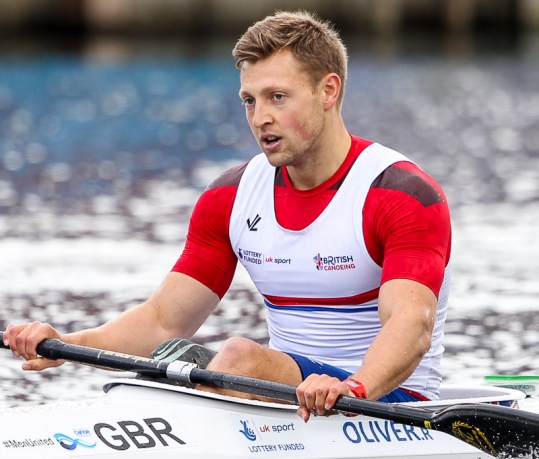 Biography
Further Personal Information
NICKNAME
Bert (Family name)
BIOGRAPHY
Rank
Event
Year
Location
Result
World Championships
2
KL3
2015
Milan, ITA
39.739
5
K1 200m LTA
2014
Moscow, RUS
40.633
6
KL3
2016
Duisburg, GER
41.413
6
K1 200m LTA
2013
Duisburg, GER
40.618
11
K1 200m LTA
2012
Poznan, POL
50.285
PLACE OF RESIDENCE
Birmingham, England
OCCUPATION
Athlete, Aerospace Engineer
HIGHER EDUCATION
HNC in Engineering
WHEN/WHERE DID YOU START CANOEING/ KAYAKING?
I started Paracanoe in 2011 with Solihull Canoe Club
REASON FOR TAKING UP THE SPORT
In 2008, I broke my leg during a football match, "should have stuck to Olympic lifting, I hear you saying". Seventeen operations and nine months later I had my leg amputated due to medical negligence. I was only 20 years old and up until this point had always been very active and I felt like this area of my life had come to an end. That was until I found kayaking in 2010. Once I realised I could still take part in competitive sport as an amputee I decided I was going to dedicate my life to becoming the very best. By pushing my body to the extreme and having the mental determination to succeed. 
HOBBIES
Favourite TV Programme - Game of Thrones, Southpark, Top Boy
Favourite Movie - Anchorman
Perfect Day - Winning the lottery/Winning a gold medal/learning that I can fly/a massive celebration party
HOBBIES
PS4, EDM / House Music, films, football 
NAME OF COACH
Colin Radmore
NATIONALITY OF YOUR COACH
GBR
SINCE WHEN HAVE YOU BEEN COACHED BY HIM/ HER?
2011
TRAINING REGIME
13 training sessions a week with a mix of gym and water work. Very vague, but I'm not giving away secrets ha ha... 
"YOU DONT GET WHAT YOU WISH FOR... YOU GET WHAT YOU WORK FOR."
SENIOR INTERNATIONAL DEBUT YEAR
null
SENIOR INTERNATIONAL DEBUT COUNTRY
GBR
SENIOR INTERNATIONAL DEBUT COMPETITION
Paracanoe World Championships
SENIOR INTERNATIONAL DEBUT LOCATION
Poznan, Poland
MEMORABLE SPORTING ACHIEVEMENT
2015 Silver Medal - World Championships
2015 European Champion
2015, 2014, 2013, 2012 British National Champion
Current K1 200m British No. 1
K1 200m British record holder
2013 European Bronze Medallist
Represented Great Britain in 2012 / 2013 / 2014 World Championships
MOST INFLUENTIAL PERSON IN CAREER
Colin Radmore
TRAINING PARTNER(S)
Emma Wiggs, Nikki Paterson, Luke Sweet, Paul Farbrother
HERO/IDOL
David Beckham - Football / charity icon
SPORTING PHILOSOPHY/ MOTTO
"YOU DONT GET WHAT YOU WISH FOR... YOU GET WHAT YOU WORK FOR."
FAVOURITE PADDLING COURSE
Nottingham NWSC
FAVOURITE MUSIC
House music
AMBITIONS
European, World and Paracanoe Champion
AWARDS AND HONORS
Represented Paracanoe at London Paralympics as a future elite athlete. 
Winner of Solihull Disabled Sportsman of the Year 2012, 2015
OTHER INFORMATION
Type of Impairment
Limb deficiency (britishcanoeing.org.uk, 01 Jan 2016)

Origin of Impairment
Acquired (britishcanoeing.org.uk, 01 Jan 2016)

Impairment Details
He broke his right leg during a football match in 2008 and underwent 17 operations. He later had his leg amputated, and was awarded compensation after it was decided the procedure had been required as a result of medical negligence. "When I first lost my leg I was so angry with everyone and everything. But as soon as I got over that first year, I thought I have to get on with it, and I have never looked back since. I still struggle to believe that a football match led to me losing my leg." (britishcanoeing.org.uk, 01 Jan 2016; birminghammail.co.uk, 27 Jul 2012)

Awards
He was named Sportsman of the Year at the 2015 Coventry, Solihull and Warwickshire Sports Awards in England. (solihullobserver.co.uk, 19 Nov 2015)

General
OCCUPATION
He works as an aerospace engineer. (britishcanoeing.org.uk, 01 Jan 2016)