Sage DONNELLY (USA)

United States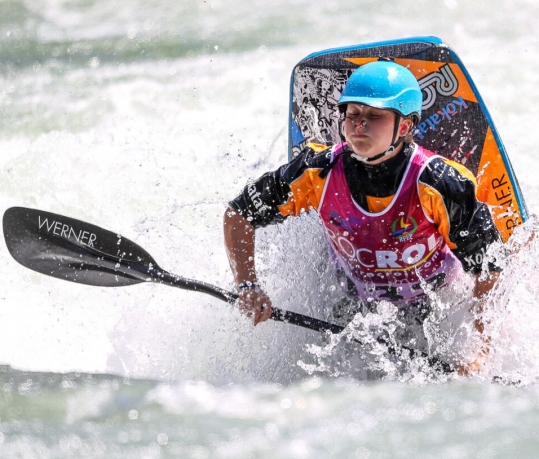 Biography
Further Personal Information
PLACE OF RESIDENCE
Carson City, Nevada 
OCCUPATION
University Student 
REASON FOR TAKING UP THE SPORT
Every year since I can remember, my parents would pack all of our gear and dogs into a big van and we would go to kayak and watch freestyle competitions in Colorado. When I was 6, I told my parents I wanted to learn to roll and start competing in freestyle. The next year at age 7, I was entered in my first event the Reno River Festival and it took off from there. 
HOBBIES
Longboarding, Rockclimbing, Hiking with my dog, and anything else that gets me outdoors!
MEMORABLE SPORTING ACHIEVEMENT
Winning Jr. Women's 2015 Freestyle Worlds, Placing 9th in K1 Jr. Women's Slalom Worlds, and being top boat for both the 2017 US K1 and C1 Jr. and Senior Slalom Teams 
FAVOURITE PADDLING COURSE
Garburator on the Ottawa River because it's a super fun wave and it's also a pretty special spot because I reached my first kayaking goal I ever set- Being Jr. World Champion. 
AMBITIONS
2020 Olympian in K1 and C1 slalom and multiple freestyle World Champion 
OTHER INFORMATION
Favourite movie - Ten Things I Hate About You 
OTHER INFORMATION
Multiple time Freestyle Jr. Women's National Champion and top Jr. Women's Slalom K1 and C1 for multiple years
OTHER INFORMATION
Sponsors - Jackson Kayak, Kokatat, Snap Dragon, Werner Paddles, Croakies, Watershed Drybags, Bluewater Ropes, WRSI Helmets, Honey Stinger, Van Pelt, Yi, and James, and Mom and Dad