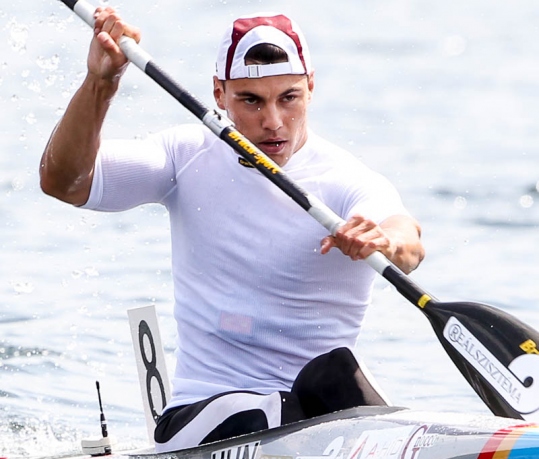 Sandor Totka (HUN)
Hungary
Canoe Sprint
Date of birth
27 July 1994
Biography
General Interest
Memorable sporting achievement
Winning a gold medal at the 2010 Youth Olympic Games in Singapore. (sportivo.hu, 07 Jul 2015)
Most influential person in career
His parents. (sportivo.hu, 07 Jul 2015)
Sport Specific Information
When and where did you begin this sport?
He chose to pursue the sport at age 11.
Why this sport?
One of his classmates introduced him to the sport. He also did ballroom dancing as a child, but when he had to choose to focus on only one he picked canoe sprint.
Club / Team
Ujpesti TE: Budapest, HUN
Name of coach
Viktor Huvos [personal], HUN; Botond Storcz [national], HUN
Results
Competition
Event
Location
Date
Season
Gender
Result
Rank
Mentions
Olympic Games
K2 200m
Brazil, Rio de Janeiro
18 August 2016
2016
Men
32.412
4

Latest result

Best result

World Championships
K2 200m
Italy, Milan
22 August 2015
2015
Men
30.935
1

Best result

World Championships
K1 4 x 200m Relay
Russia, Moscow
10 August 2014
2014
Men
2:24.193
1

Best result

World Championships
K1 200m
Germany, Duisburg
1 September 2013
2013
Men
35.293
10

Best result

World Championships
K1 4 x 200m Relay
Germany, Duisburg
1 September 2013
2013
Men
2:28.092
3

Best result

World Championships
K1 4 x 200m Relay
Hungary, Szeged
21 August 2011
2011
Men
2:29.037
8

Best result

European Championships
K4 500m
Russia, Moscow
25 June 2016
2016
Men
1:19.760
1

Latest result

Best result

European Championships
K1 200m
Germany, Brandenburg
13 July 2014
2014
Men
36.289
6

Best result

European Championships
K1 200m
Portugal, Montemor-o-Velho
16 June 2013
2013
Men
36.332
9

Best result

World Cup
Individual Kayak
10 August 2014
2014
Men
10

Best result

World Cup
Individual Kayak
1 September 2013
2013
Men
17

Best result