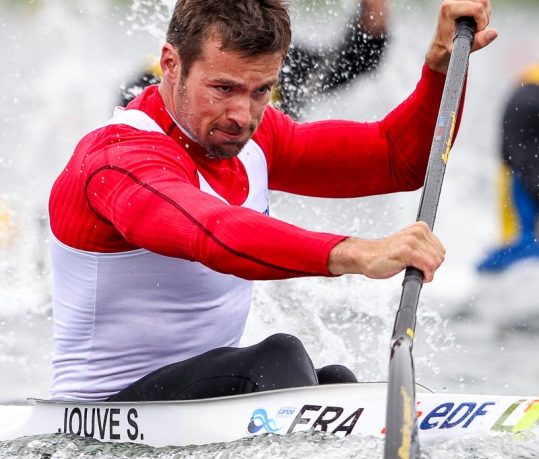 Sébastien Jouve (FRA)
France
Canoe Sprint
Date of birth
08 December 1982
Biography
General Interest
Famous relatives
His father was a high performance kayak paddler. (franceolympique.fr, 01 Jul 2012)
Sport Specific Information
When and where did you begin this sport?
He began paddling seriously at age 12.
Why this sport?
His father was a high performance paddler. He first tried kayaking as a hobby, before doing other sports such as gymnastics and football. Later on he took up kayak in a more serious way.
Club / Team
SPN Vernon: France
Name of coach
Francois During, FRA
Results
Competition
Event
Location
Date
Season
Gender
Result
Rank
Mentions
Olympic Games
K2 200m
Brazil, Rio de Janeiro
18 August 2016
2016
Men
32.699
7

Latest result

Best result

Olympic Games
K4 1000m
Brazil, Rio de Janeiro
20 August 2016
2016
Men
3:07.488
7

Latest result

Best result

Olympic Games
K2 200m
England, London
11 August 2012
2012
Men
35.012
4

Best result

Olympic Games
K2 500m
China, Beijing
23 August 2008
2008
Men
1:31.312
7

Best result

World Championships
K2 200m
Italy, Milan
22 August 2015
2015
Men
31.175
4

Latest result

Best result

World Championships
K2 200m
Russia, Moscow
10 August 2014
2014
Men
30.884
3

Best result

World Championships
K1 4 x 200m Relay
Russia, Moscow
10 August 2014
2014
Men
2:24.348
2

Best result

World Championships
K2 200m
Germany, Duisburg
1 September 2013
2013
Men
31.923
4

Best result

World Championships
K2 500m
Germany, Duisburg
1 September 2013
2013
Men
1:33.023
3

Best result

World Championships
K2 200m
Hungary, Szeged
21 August 2011
2011
Men
31.940
1

Best result

World Championships
K4 1000m
Hungary, Szeged
20 August 2011
2011
Men
3:10.940
20
World Championships
K2 200m
Poland, Poznan
22 August 2010
2010
Men
31.532
1

Best result

World Championships
K4 1000m
Poland, Poznan
21 August 2010
2010
Men
2:54.103
1

Best result

World Championships
K1 4 x 200m Relay
Poland, Poznan
22 August 2010
2010
Men
2:31.883
11
World Championships
K1 500m
Canada, Dartmouth
16 August 2009
2009
Men
1:38.857
4

Best result

World Championships
K4 1000m
Canada, Dartmouth
15 August 2009
2009
Men
2:58.022
2

Best result

World Championships
K1 4 x 200m Relay
Canada, Dartmouth
16 August 2009
2009
Men
2:29.614
3

Best result

World Championships
K1 200m
Germany, Duisburg
12 August 2007
2007
Men
37.117
10
World Championships
K1 500m
Germany, Duisburg
12 August 2007
2007
Men
1:36.907
10
World Championships
K1 500m
Hungary, Szeged
20 August 2006
2006
Men
1:41.974
8

Best result

World Championships
K4 1000m
Croatia, Zagreb
27 August 2005
2005
Men
3:02.216
9
European Championships
K1 200m
Czech Republic, Racice
3 May 2015
2015
Men
35.096
4

Latest result

Best result

European Championships
K2 200m
Germany, Brandenburg
13 July 2014
2014
Men
32.795
6
European Championships
K2 500m
Germany, Brandenburg
13 July 2014
2014
Men
1:31.342
2

Best result

European Championships
K2 200m
Portugal, Montemor-o-Velho
16 June 2013
2013
Men
32.654
3

Best result

European Championships
K2 200m
Croatia, Zagreb
24 June 2012
2012
Men
31.940
4

Best result

European Championships
K2 500m
Croatia, Zagreb
24 June 2012
2012
Men
1:27.094
1

Best result

European Championships
K2 200m
Spain, Trasona
4 July 2010
2010
Men
32.402
7
European Championships
K4 1000m
Spain, Trasona
3 July 2010
2010
Men
2:55.651
5

Best result

European Championships
K1 500m
Germany, Brandenburg
28 June 2009
2009
Men
1:36.929
4

Best result

European Championships
K4 200m
Germany, Brandenburg
26 June 2009
2009
Men
31.694
13
European Championships
K4 1000m
Germany, Brandenburg
27 June 2009
2009
Men
3:01.678
9
European Championships
K2 500m
Italy, Milan
18 May 2008
2008
Men
1:35.765
4

Best result

European Championships
K1 200m
Spain, Pontevedra
1 July 2007
2007
Men
39.148
9
European Championships
K1 500m
Spain, Pontevedra
1 July 2007
2007
Men
1:44.760
7
European Championships
K1 200m
Czech Republic, Racice
9 July 2006
2006
Men
35.404
5

Best result

European Championships
K1 200m
Poland, Poznan
31 July 2005
2005
Men
36.848
5

Best result

European Championships
K2 1000m
Poland, Poznan
30 July 2005
2005
Men
3:16.935
5

Best result

World Cup
Individual Kayak
23 August 2015
2015
Men
17

Latest result

World Cup
Individual Kayak
21 August 2011
2011
Men
14
World Cup
Individual Kayak
7 June 2009
2009
Men
3

Best result

World Cup
Individual Kayak
3 June 2007
2007
Men
10
World Cup
Individual Kayak
28 August 2005
2005
Men
15