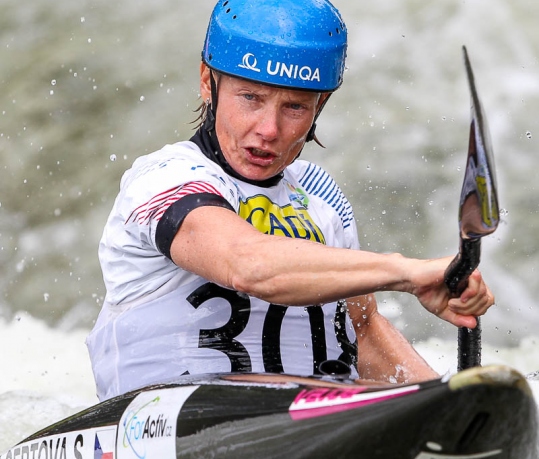 Stepanka Hilgertová (CZE)

Czech Republic
Canoe Slalom
Date of birth
10 April 1968
Family
Husband Lubos Hilgert, son Lubos III
Other names
Stepanka Proskova
Higher education
Physical Education - Charles University: Prague, CZE
Biography
General Interest
Nicknames
Stepana. (idnes.cz, 13 May 2016)
Hobbies
Reading, dancing. (novinky.cz, 05 Nov 2012)
Most influential person in career
Her husband. (Athlete, 23 Sep 2005)
Injuries
In May 2015 she injured her shoulder and her arm injury during an event in Trnavky, Czech Republic. She competed at the 2015 European Championships in Markkleeberg, Germany, and at the 2015 World Cup in Prague, Czech Republic, but then took six weeks off to recover. She returned to competition in July 2015. (rozhlas.cz, 26 Jul 2015; idnes.cz, 20 Jun 2015, 23 May 2015)
Sporting philosophy / motto
"You think you ought to stop trying things because you had a few too many birthdays? I do not." [Rocky Balboa] (hilgertova.cz, 30 May 2015)
Awards and honours
She was flag bearer for Czech Republic at the opening ceremony of the 2008 Olympic Games in Beijing. (Facebook page, 30 May 2016)
Famous relatives
Her husband Lubos Hilgert competed in canoe slalom at international level and won bronze in K1 at the 1985 World Championships in Augsburg, West Germany. Her son Lubos III and her niece Amalka Hilgertova have represented Czech Republic in the sport. (aktualne.cz, 08 Jul 2015; sportscene.tv, 14 May 2013)
Other information
OLYMPIC VETERAN
She represented Czechoslovakia at the 1992 Olympic Games in Barcelona then Czech Republic five times in a row from Atlanta 1996 to London 2012. She won gold at the 1996 Olympic Games in Atlanta and 2000 Olympic Games in Sydney. (hilgertova.cz, 14 May 2016)
International Debut
Competing for
Czechoslovakia
Sport Specific Information
When and where did you begin this sport?
She began paddling at age 12.
Why this sport?
She took up the sport with friends in Prague on the Vltava River, where she was taken by her mother. Her initial sporting interest was gymnastics, which she practised for a couple of years before switching to paddling.
Club / Team
Dukla Brandys nad Labem: Czech Republic
Name of coach
Jiri Pultera [national], CZE; Lubos Hilgert [husband], CZE
Results
| Competition | Event | Location | Date | Season | Gender | Result | Rank | Mentions |
| --- | --- | --- | --- | --- | --- | --- | --- | --- |
| World Cup | K1 | | 13 September 1998 | 1998 | Women | | 1 | |
| World Cup | K1 | | 16 August 2015 | 2015 | Women | | 17 | |
| World Cup | K1 | | 3 October 1999 | 1999 | Women | | 2 | |
| World Cup | K1 | | 25 July 2004 | 2004 | Women | | 9 | |
| World Cup | K1 | | 11 June 2006 | 2006 | Women | | 1 | |
| World Cup | K1 | | 24 July 2005 | 2005 | Women | | 2 | |
| World Cup | K1 | | 17 August 2014 | 2014 | Women | | 5 | |
| World Cup | K1 | | 25 August 2013 | 2013 | Women | | 10 | |
| World Cup | K1 | | 11 September 2016 | 2016 | Women | | 26 | Latest result |
| European Championships | K1 | Germany, Augsburg | 31 August 1996 | 1996 | Women | 133.81 | 2 | |
| Oceania Open Championships | K1 | Australia, Penrith, NSW | 25 February 2012 | 2012 | Women | 101.31 | 1 | Best result |
| European Championships | K1 Team | Germany, Augsburg | 31 August 1996 | 1996 | Women | 156.10 | 1 | Best result |
| World Cup | K1 | | 2 September 2012 | 2012 | Women | | 12 | |
| World Cup | K1 | | 14 August 2011 | 2011 | Women | | 6 | |
| World Cup | K1 | | 15 July 2007 | 2007 | Women | | 6 | |
| World Cup | K1 | | 6 July 2008 | 2008 | Women | | 30 | |
| European Championships | K1 Team | Slovenia, Tacen | 24 June 2005 | 2005 | Women | 298.67 | 4 | |
| European Championships | K1 | Slovenia, Tacen | 26 June 2005 | 2005 | Women | 216.32 | 2 | |
| European Championships | K1 | Slovakia, Bratislava | 14 July 2002 | 2002 | Women | 225.62 | 3 | |
| European Championships | K1 Team | Slovakia, Bratislava | 12 July 2002 | 2002 | Women | 250.89 | 1 | Best result |
| European Championships | K1 Team | Italy, Mezzana | 25 June 2000 | 2000 | Women | 141.30 | 2 | |
| European Championships | K1 | Italy, Mezzana | 25 June 2000 | 2000 | Women | 236.83 | 1 | Best result |
| European Championships | K1 Team | France, L'Argentière-la-Bessée | 30 June 2006 | 2006 | Women | 281.31 | 2 | |
| European Championships | K1 | France, L'Argentière-la-Bessée | 2 July 2006 | 2006 | Women | | 11 | |
| World Cup | K1 | | 4 July 2010 | 2010 | Women | | 5 | |
| World Cup | K1 | | 3 August 2009 | 2009 | Women | | 16 | |
| European Championships | K1 | Poland, Kraków | 10 May 2008 | 2008 | Women | 200.89 | 1 | Best result |
| European Championships | K1 Team | Poland, Kraków | 9 May 2008 | 2008 | Women | 299.47 | 7 | |
| European Championships | K1 Team | Slovakia, Liptovský Mikuláš | 15 June 2007 | 2007 | Women | 248.71 | 4 | |
| European Championships | K1 | Slovakia, Liptovský Mikuláš | 16 June 2007 | 2007 | Women | 231.99 | 3 | |
| European Championships | K1 | Czech Republic, Roudnice nad Labem | 23 August 1998 | 1998 | Women | 205.86 | 2 | |
| European Championships | K1 Team | Czech Republic, Roudnice nad Labem | 23 August 1998 | 1998 | Women | 131.53 | 1 | Best result |
| Olympic Games | K1 | England, London | 2 August 2012 | 2012 | Women | 109.16 | 4 | Best result |
| Olympic Games | K1 | China, Beijing | 15 August 2008 | 2008 | Women | 344.41 | 9 | |
| Olympic Games | K1 | Greece, Athens | 18 August 2004 | 2004 | Women | 220.75 | 5 | |
| Olympic Games | K1 | Australia, Sydney | 18 September 2000 | 2000 | Women | 247.04 | 1 | Best result |
| Olympic Games | K1 | United States, Atlanta, GA | 27 July 1996 | 1996 | Women | 169.49 | 1 | Best result |
| Olympic Games | K1 | Spain, Barcelona | 1 August 1992 | 1992 | Women | 141.43 | 12 | |
| World Championships | K1 | England, London | 19 September 2015 | 2015 | Women | 119.41 | 8 | |
| World Championships | K1 Team | England, London | 19 September 2015 | 2015 | Women | 127.33 | 1 | Best result |
| World Championships | K1 | United States, McHenry, MD | 21 September 2014 | 2014 | Women | 124.77 | 4 | Best result |
| World Championships | K1 Team | United States, McHenry, MD | 21 September 2014 | 2014 | Women | 146.34 | 6 | |
| World Championships | K1 | Czech Republic, Prague | 15 September 2013 | 2013 | Women | 119.06 | 15 | |
| World Championships | K1 Team | Czech Republic, Prague | 15 September 2013 | 2013 | Women | 127.55 | 1 | Best result |
| World Championships | K1 | Slovakia, Bratislava | 10 September 2011 | 2011 | Women | 210.47 | 27 | |
| World Championships | K1 Team | Slovakia, Bratislava | 11 September 2011 | 2011 | Women | 132.25 | 2 | Best result |
| World Championships | K1 | Slovenia, Tacen | 11 September 2010 | 2010 | Women | 123.90 | 17 | |
| World Championships | K1 Team | Slovenia, Tacen | 11 September 2010 | 2010 | Women | 126.23 | 1 | Best result |
| World Championships | K1 | Spain, La Seu d'Urgell | 13 September 2009 | 2009 | Women | 119.98 | 17 | |
| World Championships | K1 Team | Spain, La Seu d'Urgell | 12 September 2009 | 2009 | Women | 163.00 | 7 | |
| World Championships | K1 | Brazil, Foz do Iguaçu | 23 September 2007 | 2007 | Women | 211.55 | 3 | Best result |
| World Championships | K1 Team | Brazil, Foz do Iguaçu | 21 September 2007 | 2007 | Women | 240.49 | 2 | Best result |
| World Championships | K1 | Czech Republic, Prague | 6 August 2006 | 2006 | Women | 233.74 | 5 | |
| World Championships | K1 Team | Czech Republic, Prague | 5 August 2006 | 2006 | Women | 265.88 | 2 | Best result |
| World Championships | K1 | Australia, Penrith | 1 October 2005 | 2005 | Women | 229.82 | 4 | Best result |
| World Championships | K1 Team | Australia, Penrith | 3 October 2005 | 2005 | Women | 254.37 | 1 | Best result |
| World Championships | K1 | Germany, Augsburg | 25 July 2003 | 2003 | Women | 2:24.02 | 1 | Best result |
| World Championships | K1 Team | Germany, Augsburg | 26 July 2003 | 2003 | Women | 251.76 | 1 | Best result |
| World Championships | K1 | Spain, La Seu d'Urgell | 11 September 1999 | 1999 | Women | 226.30 | 1 | Best result |
| World Championships | K1 Team | Spain, La Seu d'Urgell | 9 September 1999 | 1999 | Women | 149.67 | 5 | |
| World Championships | K1 | Brazil, Três Coroas | 28 September 1997 | 1997 | Women | 289.79 | 2 | Best result |
| World Championships | K1 Team | Brazil, Três Coroas | 28 September 1997 | 1997 | Women | 167.95 | 4 | Best result |
| World Championships | K1 | Italy, Mezzana | 11 July 1993 | 1993 | Women | 155.98 | 8 | |
| World Championships | K1 | Yugoslavia, Tacen | 23 June 1991 | 1991 | Women | 194.23 | 8 | |
| World Championships | K1 Team | Yugoslavia, Tacen | 23 June 1991 | 1991 | Women | 251.25 | 2 | Best result |
| World Championships | K1 | United States, Bloomington, MD | 25 June 1989 | 1989 | Women | 248.37 | 4 | Best result |
| World Championships | K1 Team | United States, Bloomington, MD | 25 June 1989 | 1989 | Women | | 3 | Best result |
| European Championships | K1 | Slovakia, Liptovský Mikuláš | 15 May 2016 | 2016 | Women | 116.25 | 14 | Latest result |
| European Championships | K1 Team | Slovakia, Liptovský Mikuláš | 15 May 2016 | 2016 | Women | 135.10 | 5 | Latest result |
| European Championships | K1 | Germany, Markkleeberg | 31 May 2015 | 2015 | Women | 127.45 | 8 | |
| European Championships | K1 Team | Germany, Markkleeberg | 31 May 2015 | 2015 | Women | 142.86 | 5 | |
| European Championships | K1 | Austria, Vienna | 1 June 2014 | 2014 | Women | 108.35 | 19 | |
| European Championships | K1 Team | Austria, Vienna | 1 June 2014 | 2014 | Women | 108.65 | 1 | Best result |
| European Championships | K1 | Poland, Kraków | 9 June 2013 | 2013 | Women | 100.69 | 19 | |
| European Championships | K1 Team | Poland, Kraków | 9 June 2013 | 2013 | Women | 121.98 | 3 | |
| European Championships | K1 | Germany, Augsburg | 13 May 2012 | 2012 | Women | | 11 | |
| European Championships | K1 Team | Germany, Augsburg | 13 May 2012 | 2012 | Women | 131.34 | 5 | |
| European Championships | K1 | Spain, La Seu d'Urgell | 11 June 2011 | 2011 | Women | | 23 | |
| European Championships | K1 Team | Spain, La Seu d'Urgell | 11 June 2011 | 2011 | Women | 122.05 | 1 | Best result |
| European Championships | K1 | Slovakia, Cunovo | 15 August 2010 | 2010 | Women | 105.28 | 5 | |
| European Championships | K1 Team | Slovakia, Cunovo | 14 August 2010 | 2010 | Women | 211.99 | 5 | |
| European Championships | K1 | England, Nottingham | 30 May 2009 | 2009 | Women | 114.65 | 7 | |
| European Championships | K1 Team | England, Nottingham | 30 May 2009 | 2009 | Women | 118.22 | 4 | |