Stepanka HILGERTOVA (CZE)

Czech Republic
Languages:
Czech, English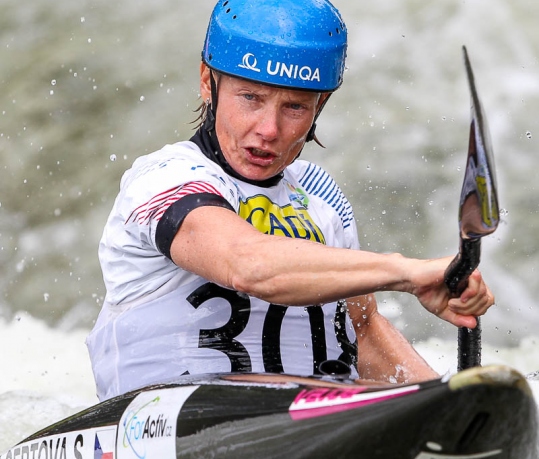 Biography
Further Personal Information
OCCUPATION
Sport instructor, HiKO team manager
HIGHER EDUCATION
Physical Education - Charles University: Prague
WHEN/WHERE DID YOU START CANOEING/ KAYAKING?
I began at age 12 in Prague, CZE
REASON FOR TAKING UP THE SPORT
I started with no idea about what kind of sport it is - only that it will be some boats and water :-)
But I liked it from the first moments - nature, good friends and especially a lot of different courses all arround the world...
NAME OF COACH
Luboš Hilgert - my husband
NATIONALITY OF YOUR COACH
SINCE WHEN HAVE YOU BEEN COACHED BY HIM/ HER?
We were sparing partners (1988-1997), than he became my coach.
TRAINING REGIME
The most important is feeling of the water and technique, and we need power as well.
And I do some special balance exercizes - they help me in my technique, but also as a prevention of injuries...
SENIOR INTERNATIONAL DEBUT YEAR
SENIOR INTERNATIONAL DEBUT COUNTRY
SENIOR INTERNATIONAL DEBUT COMPETITION
SENIOR INTERNATIONAL DEBUT LOCATION
MEMORABLE SPORTING ACHIEVEMENT
My first olympic gold in Atlanta 1996 - I started to believe in myslelf after this.
Carrying national flag during Opening ceremony in Bejing 2008.
Participating in London Olympics - age 44, start number 4, 4-th place :-)
MOST INFLUENTIAL PERSON IN CAREER
My first coach Renata Knýová - kayaker from the sixties
SUPERSTITIONS/ RITUALS/ BELIEFS
breathe deeply for better concentration
SPORTING PHILOSOPHY/ MOTTO
"You think you ought to stop trying things because you had a few too many birthdays? I do not."
FAVOURITE PADDLING COURSE
FAVOURITE FOOD
salads, cheeses, chocolate
AMBITIONS
keep in touch with top paddlers
AWARDS AND HONORS
Czech canoeist of century - 2000. She was flag bearer for Czech Republic at the opening ceremony of the 2008 Olympic Games in Beijing
OTHER INFORMATION
She represented Czechoslovakia at the 1992 Olympic Games in Barcelona then Czech Republic five times in a row from Atlanta 1996 to London 2012. She won gold at the 1996 Olympic Games in Atlanta and 2000 Olympic Games in Sydney. (hilgertova.cz, 14 May 2016)
SPORTING RELATIVES
Her husband Lubos Hilgert competed in canoe slalom at international level and won bronze in K1 at the 1985 World Championships in Augsburg, West Germany. Her son Lubos III and her niece Amalka Hilgertova have represented Czech Republic in the sport. (aktualne.cz, 08 Jul 2015; sportscene.tv, 14 May 2013)