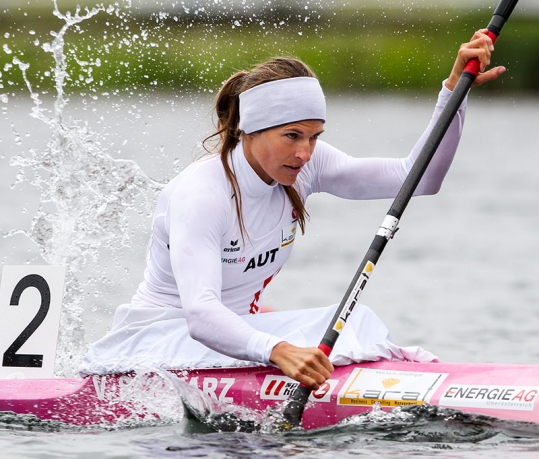 Viktoria Schwarz (AUT)

Austria
Canoe Sprint
Date of birth
02 July 1985
Family
Partner Fernando Fernandes
Languages
English, German
Biography
General Interest
Nicknames
Vicki (viktoriaschwarz.at, 24 May 2008)
Hobbies
Baking, shopping, spending time with friends. (kanu2er.at, 15 Apr 2013)
Hero / Idol
US boxer Muhammad Ali. (freizeit.at, 29 Mar 2015)
Injuries
In May 2016 she broke her shoulder, nose, teeth and heel after sleepwalking off a balcony. (Facebook page, 27 Jul 2016)
Sporting philosophy / motto
"You don't get what you wish for. You get what you work for." (Facebook page, 23 Jul 2016)
Awards and honours
She was a torch bearer for the 2012 Winter Youth Olympic Games in Innsbruck, Austria. (viktoriaschwarz.at, 17 Feb 2012)
Famous relatives
Her partner Fernando Fernandes has competed for Brazil in para-canoe at international level. (ots.at, 25 Feb 2015; rio2016.com, 14 Jan 2014)
Other information
ACCIDENT
In May 2016 she broke her shoulder, nose, teeth and heel after sleepwalking off a balcony. "Many people told me I was out for the season, but I never stopped believing in myself. When I woke up full of pain and my mind was tired, I went to the gym and on the bike with a broken heel and shoulder. Everybody called me crazy and now I am going to my third Olympic Games." (Facebook page, 27 Jul 2016)
Sport Specific Information
When and where did you begin this sport?
Her father was a paddler and introduced her to the sport at age 10.
Why this sport?
"I come from a family of sports people and I grew up practising canoeing, athletics and swimming and especially sports that are in close contact with nature."
Club / Team
UKRV Schnecke Linz: Austria
Name of coach
Guglielmo Guerrini [national], ITA
Results
Competition
Event
Location
Date
Season
Gender
Result
Rank
Mentions
Olympic Games
K1 200m
Brazil, Rio de Janeiro
16 August 2016
2016
Women
43.072
21

Latest result

Olympic Games
K2 500m
England, London
9 August 2012
2012
Women
5

Best result

Olympic Games
K2 500m
China, Beijing
23 August 2008
2008
Women
1:44.965
9

Best result

World Championships
K2 500m
Italy, Milan
22 August 2015
2015
Women
1:43.995
12

Latest result

World Championships
K2 500m
Russia, Moscow
10 August 2014
2014
Women
1:43.277
10
World Championships
K2 200m
Germany, Duisburg
1 September 2013
2013
Women
40.204
9

Best result

World Championships
K2 500m
Germany, Duisburg
31 August 2013
2013
Women
1:52.349
8

Best result

World Championships
K2 500m
Hungary, Szeged
20 August 2011
2011
Women
1:37.071
1

Best result

World Championships
K2 200m
Poland, Poznan
22 August 2010
2010
Women
38.294
7

Best result

World Championships
K2 500m
Poland, Poznan
22 August 2010
2010
Women
1:42.684
3

Best result

World Championships
K4 500m
Poland, Poznan
22 August 2010
2010
Women
1:38.778
19
World Championships
K2 200m
Canada, Dartmouth
16 August 2009
2009
Women
38.114
4

Best result

World Championships
K2 500m
Canada, Dartmouth
16 August 2009
2009
Women
1:43.669
6

Best result

World Championships
K2 200m
Germany, Duisburg
12 August 2007
2007
Women
38.801
4

Best result

World Championships
K2 500m
Germany, Duisburg
12 August 2007
2007
Women
1:43.627
7

Best result

World Championships
K2 200m
Hungary, Szeged
20 August 2006
2006
Women
38.467
7

Best result

World Championships
K2 500m
Hungary, Szeged
20 August 2006
2006
Women
1:44.764
6

Best result

World Championships
K2 200m
Croatia, Zagreb
28 August 2005
2005
Women
38.367
4

Best result

World Championships
K2 500m
Croatia, Zagreb
28 August 2005
2005
Women
1:42.458
2

Best result

European Championships
K2 200m
Czech Republic, Racice
3 May 2015
2015
Women
39.828
6

Latest result

Best result

European Championships
K2 500m
Czech Republic, Racice
3 May 2015
2015
Women
1:49.604
9

Latest result

European Championships
K2 200m
Portugal, Montemor-o-Velho
16 June 2013
2013
Women
39.993
6

Best result

European Championships
K2 500m
Portugal, Montemor-o-Velho
16 June 2013
2013
Women
1:49.339
8
European Championships
K2 200m
Croatia, Zagreb
24 June 2012
2012
Women
37.050
6

Best result

European Championships
K2 500m
Croatia, Zagreb
24 June 2012
2012
Women
1:40.792
5

Best result

European Championships
K2 200m
Serbia, Belgrade
19 June 2011
2011
Women
39.050
8
European Championships
K2 500m
Serbia, Belgrade
19 June 2011
2011
Women
1:42.703
4

Best result

European Championships
K2 200m
Spain, Trasona
4 July 2010
2010
Women
38.549
6

Best result

European Championships
K2 500m
Spain, Trasona
4 July 2010
2010
Women
1:42.817
6

Best result

European Championships
K2 200m
Germany, Brandenburg
26 June 2009
2009
Women
38.087
6

Best result

European Championships
K2 500m
Germany, Brandenburg
28 June 2009
2009
Women
1:42.747
7
European Championships
K2 500m
Italy, Milan
18 May 2008
2008
Women
1:50.382
5

Best result

European Championships
K4 500m
Italy, Milan
17 May 2008
2008
Women
10
European Championships
K2 200m
Spain, Pontevedra
1 July 2007
2007
Women
41.192
6

Best result

European Championships
K2 500m
Spain, Pontevedra
1 July 2007
2007
Women
1:49.337
5

Best result

European Championships
K2 200m
Poland, Poznan
31 July 2005
2005
Women
39.276
6

Best result

European Championships
K2 500m
Poland, Poznan
31 July 2005
2005
Women
1:46.369
9
World Cup
Individual Kayak
23 August 2015
2015
Women
33

Latest result