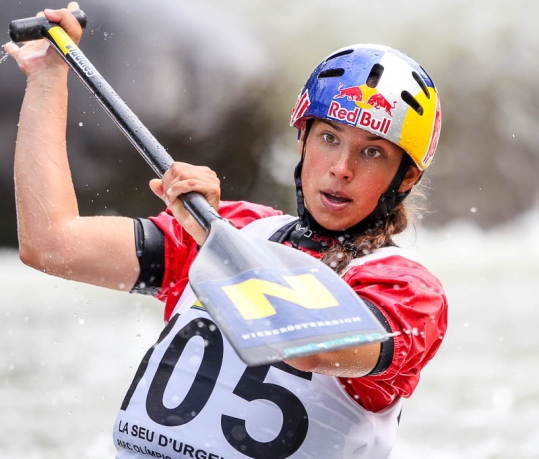 Viktoria Wolffhardt (AUT)

Austria
Canoe Slalom
Date of birth
26 June 1994
Residence
Tulln an der Donau, AUT
Occupation
Armed Forces, Athlete
Higher education
Biology, English - University of Vienna: Austria
Biography
General Interest
Nicknames
Viki, Kivi (redbull.com, 03 Jun 2015; Facebook profile, 31 Oct 2014)
Hobbies
Sports, unicycling, spending time with friends, listening to music. (sporthilfe.at, 2014)
Memorable sporting achievement
Winning bronze in K1 at the 2013 European Championships in Krakow, Poland. (redbull.com, 03 Jun 2015)
Sporting philosophy / motto
"Everything in life has a meaning." (redbull.com, 03 Jun 2015)
Awards and honours
She was one of three athletes to win the 2012 Youth Sport Prize in Salzburg, Austria. (salzburglive.com, 23 Nov 2012)

She was named Lower Austria's Junior Athlete of the Year in 2010 and 2012. (Facebook page, 31 Aug 2015)
Ambitions
To compete at the 2016 Olympic Games in Rio de Janeiro. (projektrio.at, 07 Apr 2015)
Sport Specific Information
When and where did you begin this sport?
She first tried paddling at a young age.
Why this sport?
She was introduced to the sport by her parents.
Club / Team
Paddelsportclub Tulln: Austria
Name of coach
Michael Seibert [national], GER
Training Regime
She has up to six 90-minute paddling sessions each week. She also does body stabilising exercises, lifts weights and does circuit training.
Results
Competition
Event
Location
Date
Season
Gender
Result
Rank
Mentions
World Championships
C1
England, London
20 September 2015
2015
Women
137.90
12

Best result

World Championships
C1 Team
England, London
20 September 2015
2015
Women
150.72
3

Best result

World Championships
K1
United States, McHenry, MD
21 September 2014
2014
Women
170.59
27

Best result

World Championships
K1 Team
United States, McHenry, MD
21 September 2014
2014
Women
139.46
2

Best result

World Championships
K1
Czech Republic, Prague
15 September 2013
2013
Women
129.27
22

Best result

World Championships
K1 Team
Czech Republic, Prague
15 September 2013
2013
Women
160.77
8

Best result

World Championships
K1
Slovakia, Bratislava
10 September 2011
2011
Women
122.49
16

Best result

World Championships
K1 Team
Slovakia, Bratislava
11 September 2011
2011
Women
136.67
4

Best result

World Championships
K1
Slovenia, Tacen
11 September 2010
2010
Women
128.89
37

Best result

World Championships
K1 Team
Slovenia, Tacen
11 September 2010
2010
Women
233.78
13

Best result

World Championships
K1
Spain, La Seu d'Urgell
13 September 2009
2009
Women
104.25
25

Best result

World Championships
K1 Team
Spain, La Seu d'Urgell
12 September 2009
2009
Women
130.90
6

Best result

European Championships
C1
Slovakia, Liptovský Mikuláš
14 May 2016
2016
Women
272.39
10

Latest result

Best result

European Championships
K1
Germany, Markkleeberg
31 May 2015
2015
Women
121.34
28

Best result

European Championships
C1
Germany, Markkleeberg
30 May 2015
2015
Women
128.88
5

Best result

European Championships
C1 Team
Germany, Markkleeberg
30 May 2015
2015
Women
163.96
5

Best result

European Championships
K1 Team
Germany, Markkleeberg
31 May 2015
2015
Women
142.16
4

Best result

European Championships
K1
Austria, Vienna
1 June 2014
2014
Women
102.44
24

Best result

European Championships
K1 Team
Austria, Vienna
1 June 2014
2014
Women
213.87
10

Best result

European Championships
K1
Poland, Kraków
9 June 2013
2013
Women
103.48
3

Best result

European Championships
K1 Team
Poland, Kraków
9 June 2013
2013
Women
181.28
9

Best result

European Championships
K1
Spain, La Seu d'Urgell
11 June 2011
2011
Women
28

Best result

European Championships
K1 Team
Spain, La Seu d'Urgell
11 June 2011
2011
Women
122.87
2

Best result

Oceania Open Championships
K1
Australia, Penrith
20 February 2016
2016
Women
112.16
13

Latest result

Best result

Oceania Open Championships
C1
Australia, Penrith
21 February 2016
2016
Women
139.07
6

Latest result

Best result

World Cup
K1
11 September 2016
2016
Women
14

Latest result

Best result

World Cup
C1
11 September 2016
2016
Women
4

Latest result

Best result

World Cup
K1
16 August 2015
2015
Women
41

Best result

World Cup
C1
16 August 2015
2015
Women
3

Best result

World Cup
K1
17 August 2014
2014
Women
24

Best result

World Cup
K1
25 August 2013
2013
Women
22

Best result

World Cup
K1
2 September 2012
2012
Women
27

Best result

World Cup
C1
2 September 2012
2012
Women
24

Best result

World Cup
K1
14 August 2011
2011
Women
47

Best result

World Cup
K1
4 July 2010
2010
Women
64

Best result

World Cup
K1
3 August 2009
2009
Women
69

Best result