#Paddle100 - the OFFICIAL top 100 places to paddle in the WORLD
THE MOMENT IS HERE - the OFFICIAL top 100 places to paddle IN THE WORLD as voted by you, top athletes and canoe, kayak and SUP influencers.
You've taken us around the globe and shown us horizons new. From secret spots to iconic landscapes and we've loved every second.
To create this first ever top 100 list of the world's greatest paddling locations, our judges, Jessica Fox, Pedro Goncalves, Nevin Harrison, René Holten Poulsen, Connor Baxter, and Mary Stults, (find out more about our judges) rated each nomination on beauty, tranquillity, excitement, uniqueness, and accessibility.
Finally we relied on YOUR opinion and took it to a public vote. Now the reults are in...here is #Paddle100
100- Black Sea Coast, Ukraine  
With six different countries bordering the Black Sea, where Western Asia meets Eastern Europe, intrepid paddlers looking for a unique experience and cultural variety are spoilt for choice. On the north side, Ukraine boasts beach resorts popular with families and for nightlife, and unspoilt stretches such as Dzharylhach, a long white sand island nicknamed the "Ukrainian Maldives".  
The SUP Yuzhne training academy shared images of peaceful paddle-boarding from their local Yuznhy beach in the Odessa region. 
99- Stanley Main Beach, Hong Kong
Hong Kong might be most famous for its futuristic skyscrapers, top-class cuisine and frenetic pace of life, but its beaches are to be applauded too.  One of the most famous, Stanley Main Beach, on the east side of a peninsula, is a laid-back spot with water-sports centres that's fun for families or improving paddlers. The more proficient can paddle out to a UNESCO Geo Park famed for its rock formations, and to far-flung islands.
98- Uzbekistan Lakes, Uzbekistan
Landlocked Uzbekistan has no access to the sea, but it does have several large lakes. The shrinking saltwater Aral Sea, which borders Kazakhstan to the north was once the world's largest inland waterbody, while the bright blue Charvak Lake is dubbed the "pearl of the Tien-Shen Mountains." Small reservoirs include Tuyabuguz, which our contributor highlighted for its tranquility. 
97- Odet river, Finistere, Brittany, France
Pretty pink buildings line the shores in Sainte Marine, one of the nicest places on the river Odet in western France, according to our kayaking contributor Breizh Surge. The river runs through the extreme west of Brittany, through Quimper and into the Atlantic at Benodet, and is a charming route for paddlers of all levels.
96- Saalach River, Salzburg State, Austria 
In the Zell Am See region of Alpine Austria, the Upper Saalach is easy and placid enough for beginners, but becomes progressively wilder as the river descends, with plenty of thrills and spills on fast whitewater near the town of Lofer. Here the river enters St Martin Gorge, goes through a World Championship slalom course and into the seriously difficult Devil's Gorge.
95- The Bay of Kotor, Montenegro
Near the border with Croatia, the fjord-like Bay of Kotor is a fascinating waterway for developing paddlers to explore. Sheer cliffs and rocky crags surround sparkling water leading into the Adriatic, making it highly photogenic. At night, sunset-seeking paddlers can witness the lights of the lively bars of Kotor town reflected in the inky depths.
94- Lac Leman, Lausanne, Switzerland
One of the largest lakes in western Europe, Lac Leman— also referred to as Lake Geneva, is hard to miss, as it lies on one of the main routes into the Alps.
As our commenter Narelle Emily wrote: "It's incredible to have the looming French Alps to the south, the Swiss Alps to the east, the vineyards of Lavey in the north and the Jura to the west. The views change with the seasons, from the majestic snow of the winter to the pastels of spring, the fiery sunsets of summer and the amazing storms in autumn." Exactement. 
93- Sangkhla Buri, Kanchanaburi province, Thailand
A wonderland of waterfalls and temples, mountains and palm trees, this off-the-beaten-track part of northern Thailand is a haven for adventurous souls. Paddling around the Mon Bridge, the longest wooden bridge in Thailand which spans the Songaria river, at sunset is a highlight, so too at dawn, when monks gather along it to receive food from locals.
92- Menorca, Balearic Islands, Spain
A wilder, lesser-known sister island to Mallorca, Menorca is blessed with dazzling virgin sands and clear-water coves. Gorgeous for sunsets, long-distance voyages or just playing around in warm gentle waves. Mary Susan Stults, a keen paddle-boarder and yoga teacher from Hawaii, shared this as one of her favourite spots in the world.
91- Urdaibai Reserve, Basque Region, Spain
In the Biscay estuary of northern Spain's Basque region, the Urdaibai Biosphere Reserve is a rich and diverse marine landscape of sandbanks, marshes, cliffs and beaches where the river Oka meets the sea. Rare flora and fauna and migratory birds will win over nature-loving paddlers.

90- Wimberley, Texas, USA
Forty miles from the music-loving city of Austin, the Texas Hill Country area near Wimberley is home to incredible lakes and rivers, including Canyon Lake and the rapids of the Guadalupe and Blanco. Wimberley is best known for an unfathomably deep swimming and diving pool, Jacob's Well. This karstic spring has a small, round opening at the surface which extends for a mile below ground into a dangerously intricate cave system. While there's no paddling there, it's near emerald green Cypress Creek, with dams at either end making it a safe spot for families.
89- River Rur, North Rhine-Westphalia, Germany
The striking red castle of Burg Hengebach towers above the forested banks of the river Rur, near the charming town of Heimbach. It's a pretty stretch of river, where members of the German Canoe Federation like to train. The Rur, also known as the Roer, flows from Belgium and has some of the only whitewater sections in the region. 
88- Isle of Wight, England
Off England's south coast near Hampshire, the jolly Isle of Wight draws holidaymakers with its beaches, bays and coastal walking. Paddlers with sea experience can head out under high white cliffs and around The Needles chalk stacks. Solid kayakers have been known to tackle a 60-mile circumnavigation of the island in a day, or cross the busy shipping canal to the Isle of Wight from Hayling Island, attached to the mainland. Photographers Leon Butler and Stephen Perfect both tipped about loving it here. 
87- Velenjsko Jezero, Velenje, Slovenia
This little lake in central Slovenia, near Velenje, is a popular recreation site, recognised as one of the country's best natural swimming spots, with inflatable obstacle courses, beach volleyball and other activities that make it a hit with families. Anyone with an oar in hand can escape to the quieter treelined shores. Slovenian SUP racer Aljaz Pozes likes to chill here with his kids.
86- Storms River Gorge, Tsitsikamma National Park, South Africa
Fast-flowing rivers tumbling down from the mountains along the Garden Route have carved deep canyons such as the Storms River Gorge, where dark green waters are overhung by cliffs clung to by luscious foliage and indigenous forest. Serious paddlers might smirk at the fact the narrow upper reaches are often explored on lilo by those on excursions, but the lower stretches will wow nature-lovers and photographers, who can snap an impressive suspension bridge. 
85- Pfalzgrafenstein Castle on the Rhine, Rhein-Lahn-Kreis, Germany
The stretch of the Rhine near Kaub, passes some amazing-looking castles, such as the 14th-century Pfalzgrafenstein, set on its own tiny island in the middle of the river. It was originally used to collect tolls from passing boats and is now a museum. Those on water will get the best view while paddling around it. An easy but quirky trip for families, photographers and beginners, which could be extended for those wanting to put in the mileage, to include as much of the 760-mile Rhine as they can handle.
84- Lake Llanquihue, Chile
Towered over by the conical, snow-capped Osorno volcano— surely one of the most volcano-shaped volcanoes on earth— and coloured intensely blue, this whopping 330sq-mile lake is one of the finest— and largest— in southern Chile's Lake District. Adventurous paddlers will never run out of water, making tours between the interesting villages around its fringes, full of German architecture, breweries and pastry shops. Beginners can try short sessions and camera-wielding water-lovers will be in their element.
83- Lisbon, Portugal
Exploring a city from the water gives a different perspective, and Lisbon, built where the River Tagus meets the Atlantic, has plenty to see from the waves. Sightseeing paddlers might set out from Oeriras Harbour to see riverside forts with fairytale architecture, and several coastal castles. Surf-loving paddlers can hit the Atlantic waves and visit beaches such as Praia das Fontainhas and Praia de Carcavelos.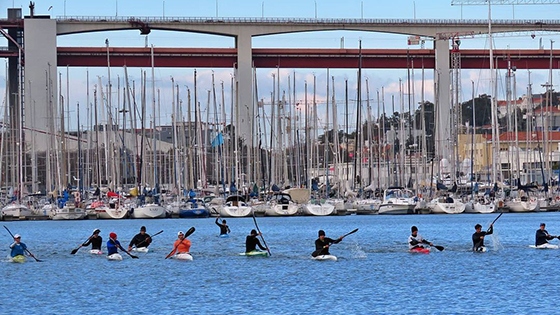 82- Fjords of Bandar Al Khayran, Muscat, Oman
Not all fjords are in the frozen north. In Oman, where dry craggy mountains descend straight into the Gulf of Oman, the crystal clear Fjords of Bandar Khayran are an epic paddle spot for sunsets, scenery and adventure. Kayakers can camp on secret beaches and make nighttime voyages over water made brilliant by bioluminescence. 
81- Koh Pha Ngan and Ko Tao, Thailand
Palm trees— check, white sands—check, lagoons with water the colour of an Eighties cocktail —check. Yep looks like your typical South East Asian paradise here. These two iconic Thai islands, part of the Chumphon Archipelago, are an idyllic location for those getting to grips with sea paddling, for families looking for adventure, for nature lovers and sunset admirers— drinking cocktails on SUPs at sunset isn't unknown here. They're popular islands but to escape the crowds, strong paddlers could attempt the 30 mile stretch between the two.

80- South Devon, England, UK
The charming south Devon coastline is pocked with pretty bays and coves that are a joy to explore for paddlers of all standards. Beginners might prefer the calm water of the River Dart, which winds from the fishing and sailing harbour of Dartmouth past pubs and historic buildings to the hippyish town of Totnes. Our tipper Rhi recommends the gorgeous beaches of Blackpool Sands, to the south of the river, and Broadsand Beach to the north. 
79- Jupiter, Florida, USA
Sea turtles lay their eggs on the sandy beaches of Jupiter, an off-radar seaside town in Florida. Beginner paddlers and families will adore drifting across gentle turquoise waves, looking out for the tall red lighthouse, manatees, palm trees and starfish, as they paddle inland along the Loxahatchee river. Local SUP fan Bill Silliman, who contributed this secret spot, likes to catch the odd green wave on the coast here.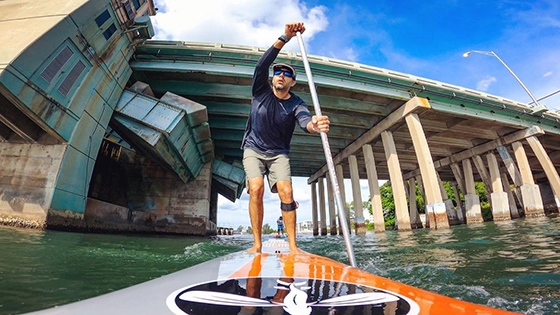 78- Cape Wrath, Sutherland, Scotland, UK
Wildly beautiful and one of the most remote parts of mainland Great Britain, Cape Wrath, at its most north-westerly corner, with the vast white sand beach of Sandwood to the south, is an otherworldly outpost. Huge cliffs topped with an iconic lighthouse are spectacular for an expert sea kayaker to survey from beneath. 
77- Jelgava County, Latvia
Latvia is a superb paddle destination for nature-lovers and beginners as well as those wanting to tackle a long distance trip. South of the capital Riga, the region around the smaller city of Jelgava is veined by two green and tranquil rivers, the Lielupe and Driksa, which feel ethereal when explored during a misty sunrise.
76- Brady's Lake, Tasmania, Australia
Epic Tasmania has plenty of magical paddle spots along its coasts, rivers and lakes, but canoe slalom's Olympic silver medallist Jessica Fox suggested Bradys Lake, in the Central Highlands, for its fantastic whitewater. The lake is one of four created as stores for a power station on the Nive River, with two of them connected by a tasty section of rapids called Woodward's Canal, which has hosted World Cup events.
75- River Tisza, Szolnok, Hungary
With thousands of miles of waterways to tour, Hungary is a country of paddlers. While the Danube might be the longest and most famous of its many rivers, others such as the Tisza, which crosses the Great Hungarian Plain in the remote east, make for an off-radar adventure. It meanders through authentic villages and is most compelling upriver from the river's main town of Szolnok. 
74- Larrabee State Park, Washington, USA
Washington's first state park, just south of the Canadian border under the delightfully-named Chuckanut Mountain overlooks the clear waters of Samish Bay and the San Juan Islands in the Georgia Strait, famed for their sea kayaking and orca. Peace-seeking paddlers and nature lovers can take in beauty spots such as the forested Wildcat Coves, which our contributor, the founder of one local SUP tour company, loves so much she named her business, Wildcat Cove Paddle, after it.
73- Lake Chelan, Washington, USA
The beauty of isolated Lake Chelan, a narrow, 50-mile long waterbody in the wilderness of Washington State, may be slightly distracting for those trying to train. Waterfalls drop into the lake and low-slung mountains, thick forest and protected state parks surround its peaceful shores. It's perfect for relaxed, exploratory paddle trips, or as one commenter said: "a gorgeous place to paddle your butts off!". 
72- Lake Illawarra, New South Wales, Australia
This stunning saltwater lagoon 60-miles south of Sydney has a narrow tidal entrance to the Tasman Sea, and shallow waters, making it a well-protected waterbody for paddlers improving their skills. Don't let the fact the occasional great white shark turns up there put you off. The original custodians of the land are the Tharawal and Wadi Wadi Aboriginal people, whose ancient burial sites have been discovered in the area. 
71- Kananaskis River & Calgary, Alberta, Canada
Super fun waterfall drops, mini canyons and friendly Class II rapids make the lower Kananaskis river, which flows down from the Rockies in the Calgary area, a blast of a ride for experienced paddlers. The river is dam-controlled and hosts the Kananaskis Whitewater Festival. The judges applauded the destination's excitement factor and uniqueness. 


70- Marina Bay, Singapore
Futuristic skyscrapers, the giant Singapore Flyer observation wheel and mindbendingly unique architecture form a dramatic backdrop on the city's super-modern Marina Bay. Singaporean water-sports athletes (including canoe polo player Li Xingfu Roy) train here, but recreational paddlers of all standards can enjoy these waters too.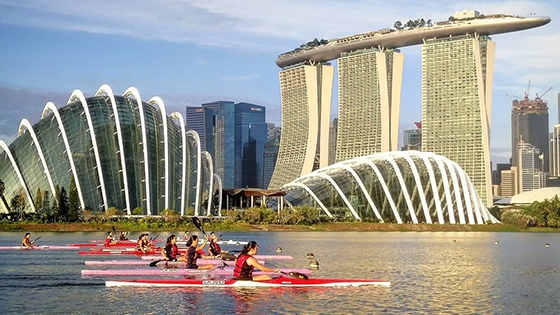 69- Epava Evangelia, Costinesti, Northern Dobruja, Romania
Exploring the huge shipwrecked rust-bucket of an abandoned cargo ship, the MV Epava Evangelina, makes for an unusual paddling mission in the Black Sea. She ran aground in 1968, just off the beach resort of Costinesti.
Romanian SUP athlete Carmina Hionia, who shared this destination with us, is among those to have paddled through a hole in the hull into the flooded interior. Definitely one of the quirkiest spots on the list, great for photos and adventurous paddlers who can steer their way through safely.
68- Lake District, England, UK
There's no shortage of good paddling in this rainy, mountainous region and national park in the north of England— the clue's in the name. From the deep and somewhat intimidating Wastwater, backed by near-vertical scree slopes, to Windermere, England's largest lake, there are many stunning waterbodies for hammering out distance sessions or trying a beginners' trip. 
The SUP Sisters, paddling twins who provided us with several great tips, recommend the tranquil, glassy waters of Buttermere.
67- Marne River, Ile-de-France, France
Near Paris, before it enters the Seine, the Marne river passes through a pretty region of lakes and willow trees that's a little slice of heaven near the city. SUP and kayak excursions explore little canals and drift along teal-coloured water, passing old boat houses on Fanac island. Distance paddlers could follow the river all the way to Epernay, in the Champagne region. French canoe sprint athlete Julien Delaporte tipped about training in this peaceful stretch.
66- Lago di Mergozzo, Piedmont, Italy
Without the crowds of nearby Lake Maggiore and Lake Orta, little Mergozzo is a drop of undisturbed freshness in the popular Italian Lakes region. Fed by clear mountain streams and linked to Maggiore by canal, with an eponymous lakeside village of cobblestones and gelatarias, this sub-alpine lake is a tranquil spot for a relaxing paddle, or flat water training — Joosep Karlson, an Estonian canoe sprint and marathon athlete, likes to let rip across its glassy surface. 
65- St Vincent, Caribbean
One of the greatest benefits of paddle sports is being able to reach beauty spots that are otherwise inaccessible. Several stunning black sand beaches backed by thick jungle or cliffs along the coast of St Vincent, the largest island in the Grenadines, can only be reached by sea. This green, banana-farming island offers amazing snorkelling and an authentic slice of Caribbean life. Experts can tackle long mileages to the smaller islands, families can dabble for fun and sunset seekers can lie back and prepare to be astounded.
64- Skellig Islands, County Kerry, Ireland
These green, pyramidal islands off the Irish Atlantic coast of Kerry are a mysterious mix of culture and nature that  make a fun mission for proficient sea kayakers. Thousands of breeding pairs of puffins, gannets, manx shearwaters and storm petrels flock here, making it a site of wonder for nature-loving paddlers. Mighty Skelling Michael is a UNESCO World Heritage Site that was settled by monks a millennium ago. Paddling here was a highlight of 2020 for professional Irish kayaker David Horkan. 
63- Zambezi, Zambia
For a mega adventure on some of the world's wildest whitewater, the Zambezi, the fourth longest river in Africa, has to be one of the world's most exciting paddle destinations. Boiling water, whirlpools and huge waterfalls with seven times the volume of Niagara Falls make sections in Zambia a hardcore challenge only serious experts can survive.  On tamer stretches, multi-day safari trips reward paddlers with glimpses of hippos, lions and crocodiles. 
62- Istrian Peninsula, Croatia
With gorgeous sunshine warming the cliffs, and sparkling clear water, Croatia's Istrian peninsula is a delight for new paddlers wanting to hit the sea for the first time. The heart-shaped hunk of land juts into the Adriatic and is hugely popular with holidaymakers, but secret secluded spots are best found by the waterborne. Umag, a fun seaside town in the north of the peninsula, and Cape Kamejak, at the southern tip were recommended as two favourite spots of local SUP racer Aljaz Pozes, who claims "recovery is faster in this beautiful landscape."
61- Upper Seti, Nepal
The scenery's not too shabby in Nepal, with the majestic Himalayas rising above powerful rivers, plus it's a focal point for the global whitewater community. Running the Upper Seti river from Pokhara makes an exciting short trip for developing paddlers to gain practise on rapids, or there are multi-day expeditions in the Everest region for superior bragging rights.


60- Newport Beach and Santa Barbara, California, USA
America's three times national surf-ski champion and sprint kayaker Renae Angelique, and her buddy high performance sprint kayaker Hayley Plante, like to train on this sunny stretch of the Pacific, speeding over the calm waves between the two resorts on still days, then chilling on Laguna Beach, watching kaleidoscope sunsets erupt over the water. 
59- Tahiti, French Polynesia
Ahh beautiful Tahiti, where Jurassic Park-style mountains that look like they've been torn from the earth tower above a verdant paradise of waterfalls, lush tropical forest, coconut palms and white beaches. Surfers come for the turquoise barreling waves, paddlers to grace the calm, shallow protected lagoons where the water is so clear they can see colourful tropical fish beneath their feet. A magical place to try the sport for the first time, which nature lovers, sunset-snappers and families would love too. 
58- Porto, Portugal
Culture-vultures, foodies, wine connoisseurs and architecture lovers descend on the historic city of Porto, a gem on the Douro river, but paddlers should come too, to zip past the elegant buildings along its banks. 
SUP athlete and former world champion Bruno Hasulyo likes to do speed training here, passing under the spectacular Ponte de Dom Luis bridge at pace, but easy going paddlers who want to take epic photographs offshore will be just as happy.
57- Lago di Cà Selva, Fruili-Venezia Giulia, Italy
A secret gem of the Dolomites mountains of northern Italy, this small but stunning manmade reservoir, built in the 1960s, lies in a hidden side valley off the Val Tramontina, surrounded by staggering crags that are reflected in its deep, calm greeny-blue water. The H20 takes on a very different form though, after the reservoir dam and along the Via Superiore to the scenic village of Chievolis, with rocky whitewater chutes offering adrenalin kicks to thrill seekers, including "extreme kayaker" and ex-pro slalom paddler Babu, who tipped about it. 
56- Abrolhos Archipelago, Bahia, Brazil
Five small uninhabited islands 50-miles off the captivating Bahia coast form the Abrolhos Marine National Park, Brazil's first protected marine reserve. Surrounded by flourishing coral reefs they are frequented by loggerhead turtles and seabirds such frigates and white-bellied boobies. Only one island is open to visitors but adventurous, nature-loving paddlers can take a boat out to explore them all from the waves, perhaps catching sight of a leaping humpback whale. Brazilian contributor Selma Oliviera said it offered a "unique experience in a place where the senses and positive vibrations emerge."
55- South Greenland
Any serious kayaker must surely yearn to visit the Arctic region, where the sport originated. Greenland is one astonishingly beautiful option, with calving glaciers, ice fjords, leaping humpback whales, the Aurora Borealis and fascinating Inuit villages to paddle between. Adventurous tourers might explore the blue icebergs of South Greenland, or intermediates can head out on SUPs or kayaks from the small-but-funky capital, Nuuk.
54- Fuerteventura, Canary Islands, Spain
Windswept and wild, with perfect white sand beaches, sea cliffs and a landscape of volcanic peaks, Fuerteventura is one of the less developed Canary Islands, renowned for its natural beauty. 
Six times SUP World Champion Sonni Honscheid, from Germany, trains here— it's good for hammering along when it's calm, or beginners can book paddling excursions here, often taking along snorkels to discover the rich marine life below the waves. 
53- Downpatrick Head, Ballycastle, County Mayo, Ireland 
From the Downpatrick headland near Ballycastle village, the colossal 50-metre-high striped rock stack of Dun Briste is the backdrop for many a selfie taken from the shore, but paddlers with sea experience can get a closer look, and a better shot. The site is a highlight of Ireland's wild Atlantic coast, and recommended by professional Irish kayaker David Horkan.
52- Praia de Augas Santas, Galicia, Spain
Wildly sculptural rock formations resembling Gothic architecture have led this amazing stretch of sand to be nicknamed "Cathedrals Beach",  though its real title translates as "Beach of the Holy Water". At low tide, intriguing caves and tunnels are revealed. Paddlers with enough sea experience to manage the waves and wind can have some fun between the rock stacks. 
51- Old Harry Rocks, Dorset, England, UK
The paddle out to Old Harry Rocks, a series of prominent chalk tower-like formations off the white-cliff coast of Dorset, is a favourite among locals, including paddling twins the SUP Sisters, and a fun short expedition for families with older children to try. Nearby Studland Bay has gorgeous beaches to cruise by, and lies at the eastern end of the Jurassic Coast, where dinosaur fossils are frequently revealed.



50- Perito Moreno Glacier, Patagonia, Argentina 
Like a moving ice mountain, the awesome Perito Moreno Glacier is a gobsmacking 250-square kilometres of frozen water, 74-metres high, which can shift a metre or two a day. That's some ice lolly. While others view it from afar, kayak excursions allow travellers— even those who've never paddled before—to get up close, something relished by our contributor Narelle Henderson, who reported that: "Paddling in front of the Perrito Moreno glacier was an amazing experience. A 70m high wall of ice broke off in huge chunks and crashed into the ice cold water." Enough said. 
49- Sumatra Island, Indonesia
Volcanoes and earthquakes, orang-utans and rhinos, oversized tropical vegetation and fascinating culture: the world's sixth biggest island is an intoxicating mix. Remote surf spots on the southern coast and off-shore Mentawai Islands are for adventure seekers; but easier hits come at the bright blue Danau Toba lake, Asia's biggest, and dazzling shorelines waiting to be explored. 
48- Tysnes, Sunnhordland, Norway
A popular region for canoeing and kayaking, Tysnes, a group of islands south of Bergen, has thousands of little fjords, inlets, lakes and islands to explore. Those with experience could set out on spellbinding tours to remote spots where lighthouses, old wooden cabins and towering fir trees dot the banks. "The two best reasons to go kayaking are sunsets and sunrises," said Elisabeth Hatteberg, who makes the most of living in the area and shared her amazing images with us.
47- Ljubljana, Slovenia
Another city that's wonderful to discover from the water, the Slovenian capital of Ljubljana is sliced through by the river Ljubljanic. Wide emerald green waterways lined with willow trees weave through the centre, passing sights the castle, street cafes and candy-coloured architecture. Visitors can book unique urban SUP sightseeing tours that are fun for first-timers. 
46- Copenhagen, Denmark
Calm waters and Scandinavian cool make Copenhagen a great city to explore with a paddle. Sightseeings can explore the marinas and wooded shorelines of the band of water that separates Denmark and Sweden, linked by the famous Oresund Bridge, while athletes can take advantage pf the space and flat water to train hard. Canoe sprint coach Niklas M. Hansen likes to head out under the glow of sunset from the harbour of seaside neighbourhood Vallensbæk, to the south west of the centre, while kayak athlete Gustav Bock hammers it from the Royal Danish Yacht Club in Hellerup, a district on the east side of town.
45- Sylt, Schleswig-Holstein, Germany
Those in on the secret know the low-slung island of Sylt as one of the most attractive and fashionable places in Germany. Its 25-mile long ribbon of white sand wouldn't look out of place in the Caribbean. On the east side, the Wadden Sea is calm and good for beginners, while the west is rougher and choppier, fun for surfing waves. Six times SUP World Champion Sonni Honscheid, who was born on Sylt, wanted to share her love of this spot.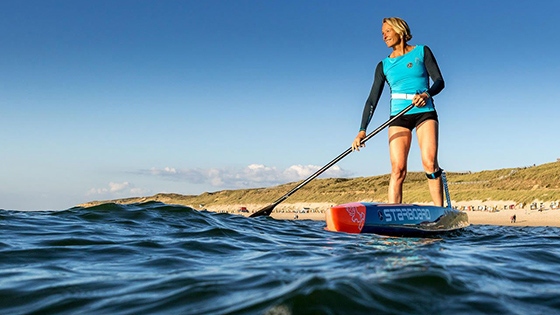 44- Maui, Hawaii, USA
Experiencing Maui, Hawaii's second biggest island, from the water is a total dream. All the typical paradise island stuff is present: white sands, water the colour of mouthwash, gentle surf, but for extra magic paddlers might find themselves riding a wave with a sea turtle, or watching the sunset as humpback whales surface and the sky turns pink behind the Haleakala volcanic crater. A unique and mesmerising location even beginners and kids can enjoy.
43- Rio Claro, Maule Region, Chile
Deep, narrow, gnarly and frankly terrifying to anyone but the top experts, the Rio Claro pours down from the Planchon Volcano through some of the tightest paddlable rock corridors on earth. Overhanging rock walls, chutes and drops treat the paddler like a pinball. Not surprisingly this one was highly rated by the judges for its excitement factor.
42- Isere river, Bourg Saint Maurice, Savoie, France
The Trois Vallees area is famously home to many of the French Alps' most epic winter ski resorts, but in summer there are just as many thrills to be hand on the Haute Isere river, which surges through the Haute Tarentaise, fed by glacier meltwater. Anyone with a decent level of fitness and a taste for adrenalin can give the whitewater a go in certain sections, and there are beautiful calm stretches for peaceful paddling. The experts, however, come to test their mettle on the Aime and Centron rapids and the slalom course near Bourg St Maurice, which hosts international competitions.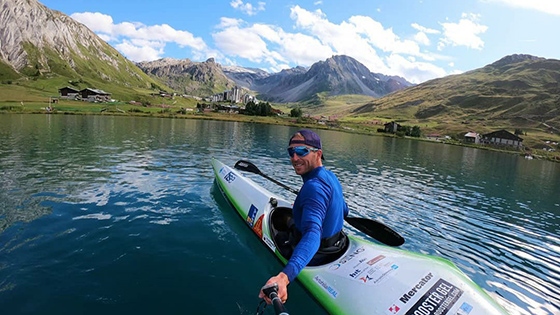 41- U.S. National Whitewater Center, Charlotte, North Carolina, USA
The world's largest manmade whitewater river has class II-IV rapids, standing waves holes and a big drop, providing the best sort of carnage for experienced paddlers wanting to perfect their game. Self-proclaimed paddle-board enthusiast Emily Critcher, who tipped about this place, can't help but let out "shouts of pure wave-train joy" when she practises there. Novices can enjoy flat water paddling here too on the park's Catawba River and Long Creek.


40- Lake Union, Seattle, Washington State, USA
Seattle's freshwater lake provides city-folk with all manner of water-based recreation, under views of the city skyline and the iconic Space Needle building. Whether they're training for speed and distance or making a gentle sightseeing tour, paddlers will find themselves sharing the water with dinghies, giant yachts, and seals. Floatplanes take off and land, and at the locks, boats transition to the saltwater Puget Sound.
39- Guatapé, Antioquia, Colombia
A wonderland of manmade emerald lakes, tropical islands and the vertigo-inducing, Rock of Guatape, a towering sheer cliff-face, make this an unbelievably photogenic destination for sightseeing paddlers. The colourful waterside town of Guatapé, two hours from Medellin, comes alive with a festival vibe at weekends, but the serene waters offer a relaxed escape to paddlers of all levels. 
38- Ushuaia, Tierra del Fuego, Argentina
Icebergs, majestic snow-capped mountains, pristine waters and icy fjords make sea kayaking from Ushuaia, the city at the southern tip of Patagonia, a gobsmacking experience. While expert paddlers can create their own adventures here, anyone can try taster tours to experience this awesome environment at the end of the earth.
37- Cartagena, Colombia
The walled Caribbean city of Cartagena is not only a vibrant jewel packed with culture and history, but also an enchanting starting point for trips for even beginner paddlers. That might be  a peaceful sunset voyage over turquoise water before cocktail hour, or a more adventurous excursion to silver-sand beaches and the tropical island of Tierra Bomba.
36- River Szamos, eastern Hungary
Paddling through forests on the calm Szamos river in this rural area of eastern Hungary allowed outdoors enthusiast Attila Kovacs to reconnect with the "childlike joy and feeling of discovery" that comes from travelling to unfamiliar locations you haven't seen on social media a thousand times before. It's a romantic spot for easygoing paddlers to enjoy nature. The 258-mile long river crosses the border from Romania where it is known as the Somes, coursing through Transylvania and breaking into several branches on the Satu Mare plain.
35- Gold Coast, Queensland, Australia
Surfer's Paradise might be the most famous beach near the loud, proud coastal city of Gold Coast in Queensland, but paddlers will find lots more to explore along its 44-miles of honey-coloured sand. A little way off shore, Wavebreak Island is a great spot to snorkel with subtropical fish, nearby South Stradbroke Island is home to wallabies, and inland are endless creeks and rivers to explore. With crystal water and white sand beaches as it nears the sea, mangroves, natural canals and tempting swimming holes higher up, the long Currumbin Creek is popular with paddlers of all kinds: nature lovers, families and sprint kayakers wanting to get some speed up on steady water.
34- Lacul Tarnita, Transylvania, Romania
Like a painting in green and blue, where vibrant forested hills careen down to the cobalt water's edge, this gorgeous reservoir in the Cluj-Napoca area of Romania would be a hit with keen photographers, beginners and families seeking still, beautiful waters. Romanian SUP athlete Carmina Hionia picked this as a favourite spot. 
33- Ezaro Waterfall, Jallas River, Spain
The Galicia region of Spain is laced with exciting rivers, which flow from its mountains to the golden sands on the Bay of Biscay and Atlantic, forming inlets called "rias". It's here Galician whitewater kayaker Antoni Otero says the stretch of wild white water on the Jallas River, towards the border with Portugal, "always gives us memorable days". 
32- Pusiano, Lombardy, Italy 
A secret gem near the more famous darling of the Italian lakes, Lake Como, lovely little Pusiano is a peaceful body of water that's perfect for a chilled and scenic paddle. Keen photographers can get gorgeous shots of colourful old stone mansions lining the banks, backed by low, undulating green hills.
31- Empuriabrava, Girona, Spain
One of the world's biggest marinas, a playground for wealthy yacht-owners, Empuriabrava on the Gulf of Roses has been nicknamed the "Venice of Costa Brava" for its 15 miles of canals and thousands of private jetties. A massive sandy beach and tons of water sports make it a fun spot for families taking to the water for the first time. 


30- Vitória, Espirito Santo, Brazil
Paddling out between colourful wooden boats from the palm-fringed beaches at the edge of this south-east Brazilian city is a visual extravaganza. Views of the impressive 70-metre high Third Bridge spanning the bay, with the lush forested hills behind are made all the more spectacular by going at sunset. A gorgeous easy spot for paddlers of all abilities.
29- The Nile, Egypt
A river as legendary, historic, romantic and unique as the Nile was always going to rank highly. Its 4,000 miles pass through 11 countries, but in Egypt, paddling beside the sultry, palm-lined riverbanks is a calm, escapist method of exploring the frenetic city of Cairo. Equally amazing is the still water at Aswan, where paddlers can admire the ancient temples from the water. Both spots are recommended by Charif Khedr, co-founder of the Nile Kayak Club, Egypt's first recreational kayak club. Those those up for a bigger challenge could take on a seriously epic 200-km paddle from Aswan to Luxor, stopping at temples and to speak to fishermen along the way. 
28- Inn River, Tirol, Austria
"A spectacular river with large waves, but friendly for intermediates too" is how the guys from Czech SUP brand Tambosup described the Inn, which flows from Switzerland (where it's called the Engadin) through Austria and Germany. Fun sections in the Austrian Alps include the rapids of the Landeck Gorge, rated IV on the six-level scale.
27- Leipzig, Saxony, Germany
The beautiful city of Leipzig impressed the judges as a super easy destination for even the wobbliest novices to take to the water. Sightseeing by paddle power is always more fun, and tours here along the White Elster river take in parks, stunning architecture and industrial zones, or lead out through forestland to pretty Lake Cospuden. More practised paddlers could hit the artificial whitewater courses at the city's olympic Kanupark.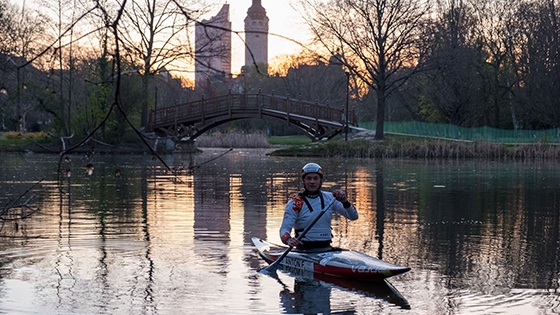 26- Indian Harbour Beach and Satellite Beach, Florida, USA
How many metropolises can say endangered North Atlantic right whales calve off their shoreline? That green sea turtles nest on the city's beaches? And West Indian manatees swim its canals? The incredible wildlife near these two small Atlantic coast cities, on a barrier island famed for its superb beaches, make this an extraordinary yet easy and accessible paddle destination. Night paddles across water glowing with bioluminescence brings the thrill factor.
25- Valcellina, Friuli-Venezia, Italy
With emerald water that looks like it's wearing a filter IRL and surrounded by the snow-capped crags of the Dolomites, the Cellina river carves a spectacular limestone gorge through a nature reserve. Its fast torrents can be tackled by thrill-seekers, while nearby the luridly-coloured Lake Barcis offers a more sedate paddle. Recommended by Nereus Sport, an Italian kayak school, the Cellina scored high for beauty and peacefulness. 
24- Kamchatka peninsula, Russia
The world's biggest country has limitless opportunities for trips, but one of the great adventures is sea kayaking the fringes of remote Kamchatka, a vast wilderness peninsula of volcanoes and hot springs far to the east in the north Pacific. Even beginners can join operations for tours where getting splashed by breaching orcas and sea-lions lumbering from the rocks is the norm.
23- Lake Ontario, Toronto, Canada
So vast it looks more like a sea, Ontario is one of the five Great Lakes of North America, forming a border between Canada and the state of New York, and at 193 miles long there's tons to explore.  Beginners on the Canadian side might weave between the islands off Toronto's harbour front, home to beaches, cafes and bird sanctuaries.
22- Rio Jalacingo, Veracruz, Mexico 
Narrow rapids and canyons, portages and a 20-foot drop make this a seriously thrilling river run— no wonder our judge Jessica Fox gave it 10/10 for excitement. The river has only recently been tackled by paddlers; it's tricky to get in and out of, not to mention down, making it one for the experts. The guys from Kyiv Kayaks described it as a "very cool place" with "picturesque gorges and a lot of fun".. though they also mentioned they did find a broken oar at the end of their session there!
21- Ilhabela, State of Sao Paulo, Brazil
The translation of its name says it all: "Beautiful Island". Serene water laps palm-fringed beaches backed by rainforest and volcanic peaks ribboned with waterfalls at this protected biosphere reserve off Brazil's south-east coast. Novices can enjoy easy paddling here, while those with more experience might explore the island's wilder east side, and float over shipwrecks to the south. 


20- Kasai Rinkai Park, Japan, Tokyo
The whitewater venue for the summer Olympics 2020/21 looks set to be a smasher. The new purpose-built canoe slalom course, adjoining Kasai Rinkai Park beside Tokyo Bay in Edogawa, will be the first man-made course in Japan, and is set to become a leisure venue after the event. Easy paddling of the sightseeing rather than competitive variety can be enjoyed on the Bay, and along the Sumida, the main river through the city, and its backwater canals.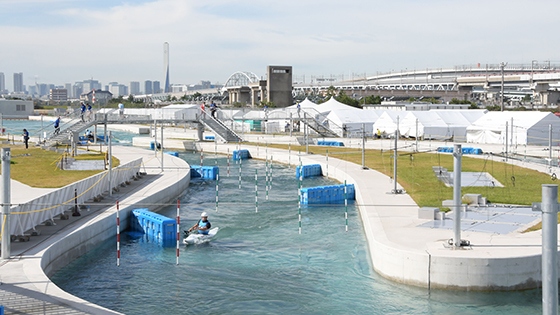 19- Durdle Door, Dorset, England, UK
The iconic Durdle Door on the Jurassic Coast is one of Dorset's, and indeed, the United Kingdom's, most celebrated coastal beauty spots, a perfect limestone arch rising above the waves next to a golden crescent beach. Paddling through the gap under the arch and getting a photo while doing it is a must-do for kayakers and SUPers coming to the area. 
18- Antarctica
Icebergs and silence. Glaciers calving into the sea. Whales and penguins dipping and diving close by. Kayaking in Antarctica is unfathomably epic.It may not be the most accessible, or affordable, place for a paddle, but all those who make it there are rewarded with a life-defining experience in a place of awe and wonder.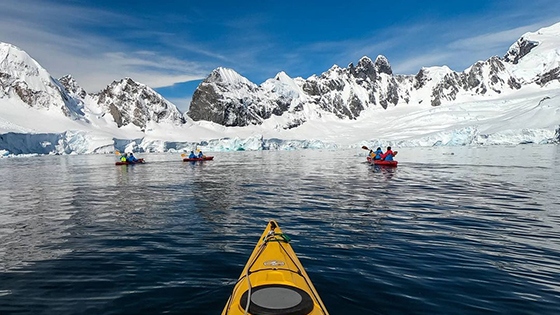 17- Guadaloupe, French Caribbean
Paddling through deliciously warm water, relaxing on white sand beaches and watching ludicrous sunsets explode across the sky make a trip to the Caribbean archipelago of Guadeloupe, part of the French Antilles, a pretty tempting prospect. The two main islands are connected by a bridge, and between their north shores and the Caribbean is a shallow lagoon, the Grand-Cul-de-Sac-Marin, a protected biosphere reserve with mangroves and coral islets, manatees, tropical fish and rare birds, that's a wonderful destination for nature-loving paddlers to explore.
16- West Coast, South Island, New Zealand
The long stretch of the West Coast on the South Island in New Zealand is a phenomenal untamed playground, for adventure sports of all kinds, but particularly those involving a paddle. The wild Southern Alps and glaciers region around the Franz Josef glacier has everything, from calm SUP routes across Lake Mapourika, edged with Jurassic rainforest, to white water sections through the sky blue Hokitika Gorge. The area was highly recommended by local outfit Pack Raft New Zealand who shared some favourite spots with the judges.
15- Kerala, Southern India
Houseboat tours of Kerala's backwaters have been a classic traveller experience for years, but it's even more fun to explore the steamy mangroves, lagoons and natural canals near the historic port of Alleppey by kayak or SUP. Grand mansions, farms and coconut "toddy" shops line the lush green shores, creating a fascinating experience for nature-lovers, explorers and families.
14- Algonquin Provincial Park, Ontario, Canada
More than 1,500 lakes make this vast national park of almost 3,000 square miles a paradise for adventurous, nature-lovers and families. Crowded with maple and poplars and home to beavers and moose, it's hugely popular for backcountry canoe camping trips, when intrepid paddlers might spend days portaging between lakes and camping out on different islands, swimming in the warm waters and cooking over fire at the end of the day.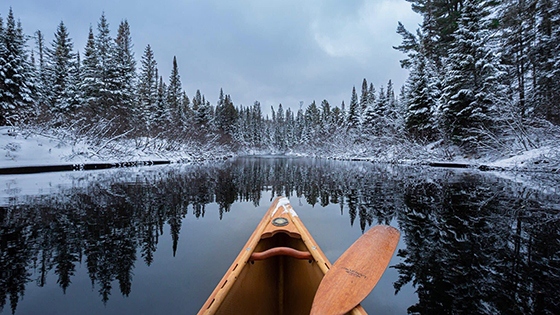 13- Basingstoke Canal, Hampshire, England, UK
Perhaps a surprising entry to folk who know Basingstoke as an average English market town, but its canal won over the judges through the gorgeous photographs taken by our tipper, SUP-loving Gill Ryan, while paddling through autumn leaves on this mirror-like waterway. A section of the canal between Up Nately and the Greywall Tunnel is a nature reserve, then it continues east to join the Wey Navigation, connecting to the River Thames.
12- Okere Falls, North Island, New Zealand
Emerald depths turn to rushing white water at the Okere Falls, a fun drop for progressing paddlers to tackle that's tucked into the northern corner of Lake Rotoiti in the Bay of Plenty. This area of the North Island is a centre of rafting and kayaking, with awesome paddles to the natural Manupirua geothermal hot mineral pools on the other side of the lake, or to ride the rapids of nearby Kaituna River. Camping out here afterwards means seeing the Milky Way with spectacular clarity. 
11- Futaleufú river and Rio Azul, Patagonia, Chile
Called "Big River" in the local Mapuche dialect, the Futaleufú, in the north of Patagonia, is as wild and dramatic a river as you'll find anywhere. Huge white waves, Class V rapids with intimidating names such as Terminator, a section called the "Wild Mile", chunky boulders and a forested Alpine setting are the ingredients for an adrenalin-fuelled adventure for experienced paddlers. But there are some chill sections too, where paddlers can relax and admire the dazzling blue water, including on the calmer tributary, the Rio Azul.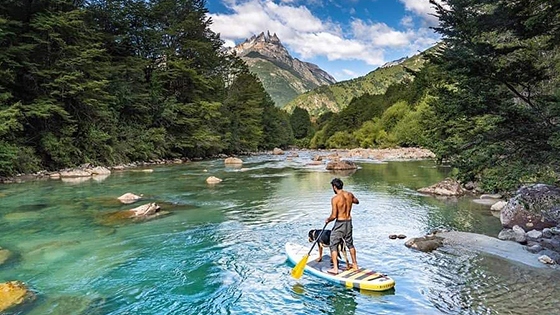 10- Soca and Koritnica rivers, Slovenia
Deep gullies in smooth white limestone, mint green water, forested banks and the mountainous backdrop of the Julian Alps make the River Soca and its tributary the River Koritnica set the scene for some of the most stunning paddling in Eastern Europe.
Expert and progressing paddlers can tackle Grade 1 to Grade V rapids and the Koritnica's 70-metre-deep Kluze Canyon, though even beginners can learn here too, on water that's clean enough to fill your water bottle with.
Multi-world champion Slovenian canoeist Nejc Znidarcic, recommended the Soca as his beloved local river; it's where he trains and has won whitewater sprint events. 
9- Iguacu Falls, Parana state, Brazil
Between Argentina and Brazil, the semi-circular Iguacu Falls are some of the widest, mightiest and most impressive waterfalls in the world, with almost 300 separate falls and cataracts. No one is suggesting paddlers go over the top of them, but the contributor of this tip, Luciano Menghello, of Aloha Spirit Media, claims to be the first to make an SUP expedition to near the foot of the falls, a place, he says, is "known worldwide for the beauty and strength of the waters".
As the Iguacu river pours through subtropical rainforest, home to howler monkeys, tapirs and giant ant eaters, lower sections feature Grade 3 rapids to test proficient paddlers.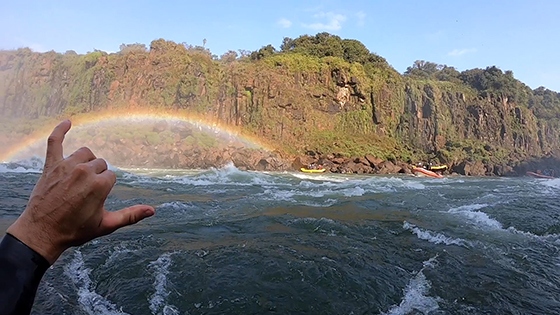 8- Lake Tekapo, South Island, New Zealand
Mesmerising scenery defines Lake Tekapo, where the snow-capped pyramids of the Southern Alps encircle the luminous lake, whose water is a delicious milky turquoise thanks to the fine "rock flour" ground down by glaciers and suspended in the water.
Sunset admirers and after-dark paddlers can experience incomparable star-gazing here, in one of the world's largest Unesco Dark Sky Reserves. Nature lovers should come in November and December, when a haze of pink and purple lupins are in bloom along the shore. And if that weren't enough, there are natural hot springs at the southern end to bathe in once you're all paddled out.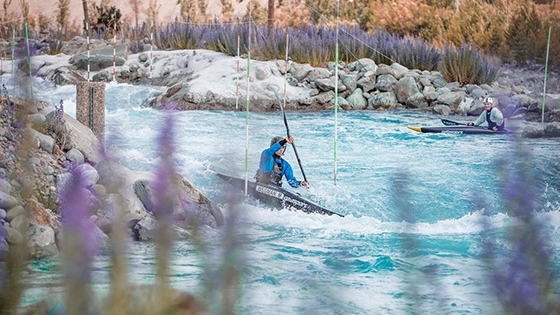 7- Lagos beaches, Algarve, Portugal
Floating beneath the dramatic arch at Praia do Camilo beach at sunset, or around the rocky islets off the Praia de Don Ana at sunrise are romantic and moving experiences, a world away from the busy resort of Lagos nearby on the Algarve coast. Clear, calm waters lap against buttery sands at a series of impeccable beaches, whose off-shore limestone rock stacks are a thrill to paddle around. Best of all perhaps is the Ponta da Piedade headland, a watery wonderland of sea pillars, arches and hidden caves that beg to be explored by sunset admirers, photographers and progressing paddlers, and was recommended by our tippers Nowhere2FarSUP, who run trips in the area.
6- River Meuse, Dinant, Wallonia, Belgium
Fairytale buildings and craggy cliffs overlook the gleaming River Meuse in Dinant, one of Belgium's most attractive cities. Sightseeing from the water can be particularly rewarding in off-radar destinations such as this hub in the Wallonia region, whose showstopper is the 13th-century Gothic Notre-Dame collegiate church, with an onion-domed tower. Behind it the Citadel of Dinant crowns sheer cliffs with a fortress, while colourful mansions line the riverbanks. Adolphe Sax, inventor of the saxophone, was born here, and those who paddle beneath the main bridge will see it is dotted with sculptures of the instrument. Dinant is also the hometown of Leffe beer, so post-paddle thirsts are well-catered for here. Along the tranquil river are more castles and historic sites to see with an oar in hand. A great place for keen photographers and developing paddlers wanting to explore an easy stretch of moving water. 
5- The Calanques National Park, Bouches-du-Rhone, France
Fjord-like channels of turquoise water penetrate dramatic limestone karst rocks along the coastline between the fishing town of Cassis and the vibrant city of Marseille, forming one of Europe's most stunning national parks, and a fantastic setting for paddle sports. Crystal clear and calm waters backed by white sand beaches, are towered over by cliffs that are as popular with nesting kestrels and eagles as they are with rock climbers. Dramatic enough to impress seasoned paddlers, yet water friendly enough for newbie paddlers and families, they are easily accessible, with the largest, Calanque Sormiou, connected by road. A popular suggestion from our contributors, and highly rated on all aspects by the judges.
4- Mondego River, Portugal
The magnificent Mondego is the longest river in Portugal that doesn't cross a border and runs only through the country itself. It weaves down from the Serra da Estrela mountains, through several districts of the Centro region to the funky Atlantic surf town of Figueira da Foz. A number of dams along its course have created wide expanses of tranquil water that are great for learning to paddle or for training at speed. The area north of the Aguiera dam where the river creates a border between the Coimbra and Viseu districts, and the beach at Praia Fluvial da Senhora da Ribeira are two gorgeous options.
3- Valle Verzasca, Ticino, Switzerland
In an isolated valley running for 16 miles in the underrated Ticino region, the Verzasca river is an epic route for experienced canoeists and kayakers. 
While the upper section is much easier, the lower part is an experts-only pinball rally of waterfalls, drops, chutes, granite boulders and narrow churning rapids through spectacular gorges.
Thrills abound round here. At the top of the valley, the Verzasca Dam is one of Europe's most recognisable bungy jump sites, featured in the James Bond film Goldeneye. Down river near Lavertezzo, divers of one sort leap from the Ponte dei Salti bridge into deep tranquil green pools, while Scuba divers explore the depths.

2- Emerald Lake, Yoho National Park, British Columbia, Canada
The colour of the water is everything at this astonishing waterbody in the Canadian Rockies. Surrounded by the glaciated peaks of the President Range, Emerald Lake is tinted a vivid peacock blue-green, thanks to the silty glacial meltwater that refills it each summer.
It's the largest of 61 lakes in the Yoho National Park, famed for its vertical rock faces, waterfalls, rare pine tree species and as a habitat for grizzly bears and mountain goats.
Around its fringes wild orchids grow, moose graze on surrounding meadows, and there are views of the important 508-million year-old Burgess Shale fossil beds. It's a dreamy paddle spot for nature lovers and photographers, with calm, cool waters even beginners can try a session on. 
1- Minaouët river, Brittany, France 
A pretty river dotted with inlets and turquoise coves leads to a stretch of glorious coast strung with white beaches in this wild and artistic part of Brittany. The river flows through countryside north-west of Pont-Aven (a village made famous by post-Impressionist artists such as Paul Gauguin), west to Pont Minaouet, past the sailing boats and out to sea at Pointe de Grignallou. White sand beaches line the coast, making a gorgeous location for paddlers progressing to moving water.
This secret gem is a favourite playground of Hector Henot, the French canoe sprint athlete, and was a slam dunk with the judges who gave it top ratings on every category — tranquillity, beauty, excitement, uniqueness, and accessibility.
Sponsored by
climate-positive apparel brand:

Check out SOMWR's channels: 
Website | Instagram | Facebook | Twitter