Top 10 places to visit and paddle (canoe, kayak, SUP) in UK and Western Europe
The beautiful city of Leipzig impressed the judges as a super easy destination for even the wobbliest novices to take to the water. Sightseeing by paddle power is always more fun, and tours here along the White Elster river take in parks, stunning architecture and industrial zones, or lead out through forestland to pretty Lake Cospuden. More practised paddlers could hit the artificial whitewater courses at the city's olympic Kanupark.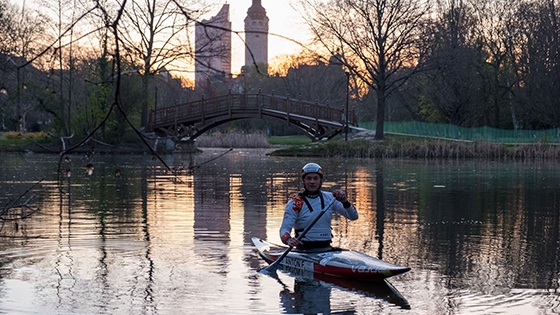 With emerald water that looks like it's wearing a filter IRL and surrounded by the snow-capped crags of the Dolomites, the Cellina river carves a spectacular limestone gorge through a nature reserve. Its fast torrents can be tackled by thrill-seekers, while nearby the luridly-coloured Lake Barcis offers a more sedate paddle. Recommended by Nereus Sport, an Italian kayak school, the Cellina scored high for beauty and peacefulness.
The iconic Durdle Door on the Jurassic Coast is one of Dorset's, and indeed, the United Kingdom's, most celebrated coastal beauty spots, a perfect limestone arch rising above the waves next to a golden crescent beach. Paddling through the gap under the arch and getting a photo while doing it is a must-do for kayakers and SUPers coming to the area. 
Perhaps a surprising entry to folk who know Basingstoke as an average English market town, but its canal won over the judges through the gorgeous photographs taken by our tipper, SUP-loving Gill Ryan, while paddling through autumn leaves on this mirror-like waterway. A section of the canal between Up Nately and the Greywall Tunnel is a nature reserve, then it continues east to join the Wey Navigation, connecting to the River Thames. 
Floating beneath the dramatic arch at Praia do Camilo beach at sunset, or around the rocky islets off the Praia de Don Ana at sunrise are romantic and moving experiences, a world away from the busy resort of Lagos nearby on the Algarve coast. Clear, calm waters lap against buttery sands at a series of impeccable beaches, whose off-shore limestone rock stacks are a thrill to paddle around. Best of all perhaps is the Ponta da Piedade headland, a watery wonderland of sea pillars, arches and hidden caves that beg to be explored by sunset admirers, photographers and progressing paddlers, and was recommended by our tippers Nowhere2FarSUP, who run trips in the area. 
Fairytale buildings and craggy cliffs overlook the gleaming River Meuse in Dinant, one of Belgium's most attractive cities. Sightseeing from the water can be particularly rewarding in off-radar destinations such as this hub in the Wallonia region, whose showstopper is the 13th-century Gothic Notre-Dame collegiate church, with an onion-domed tower. Behind it the Citadel of Dinant crowns sheer cliffs with a fortress, while colourful mansions line the riverbanks. Adolphe Sax, inventor of the saxophone, was born here, and those who paddle beneath the main bridge will see it is dotted with sculptures of the instrument. Dinant is also the hometown of Leffe beer, so post-paddle thirsts are well-catered for here. Along the tranquil river are more castles and historic sites to see with an oar in hand. A great place for keen photographers and developing paddlers wanting to explore an easy stretch of moving water. 
4- The Calanques National Park, Bouches-du-Rhone, France

(5 in the global 100 list)
Fjord-like channels of turquoise water penetrate dramatic limestone karst rocks along the coastline between the fishing town of Cassis and the vibrant city of Marseille, forming one of Europe's most stunning national parks, and a fantastic setting for paddle sports. Crystal clear and calm waters backed by white sand beaches, are towered over by cliffs that are as popular with nesting kestrels and eagles as they are with rock climbers. Dramatic enough to impress seasoned paddlers, yet water friendly enough for newbie paddlers and families, they are easily accessible, with the largest, Calanque Sormiou, connected by road. A popular suggestion from our contributors, and highly rated on all aspects by the judges.
The magnificent Mondego is the longest river in Portugal that doesn't cross a border and runs only through the country itself. It weaves down from the Serra da Estrela mountains, through several districts of the Centro region to the funky Atlantic surf town of Figueira da Foz. A number of dams along its course have created wide expanses of tranquil water that are great for learning to paddle or for training at speed. The area north of the Aguiera dam where the river creates a border between the Coimbra and Viseu districts, and the beach at Praia Fluvial da Senhora da Ribeira are two gorgeous options.
In an isolated valley running for 16 miles in the underrated Ticino region, the Verzasca river is an epic route for experienced canoeists and kayakers.  
While the upper section is much easier, the lower part is an experts-only  pinball rally of waterfalls, drops, chutes, granite boulders and narrow churning rapids through spectacular gorges. 
Thrills abound round here. At the top of the valley, the Verzasca Dam is one of Europe's most recognisable bungy jump sites, featured in the James Bond film Goldeneye. Down river near Lavertezzo, divers of one sort leap from the Ponte dei Salti bridge into deep tranquil green pools, while Scuba divers explore the depths. 
A pretty river dotted with inlets and turquoise coves leads to a stretch of glorious coast strung with white beaches in this wild and artistic part of Brittany. The river flows through countryside north-west of Pont-Aven (a village made famous by post-Impressionist artists such as Paul Gauguin), west to Pont Minaouet, past the sailing boats and out to sea at Pointe de Grignallou. White sand beaches line the coast, making a gorgeous location for paddlers progressing to moving water. 
This secret gem is a favourite playground of Hector Henot, the French canoe sprint athlete, and was a slam dunk with the judges who gave it top ratings on every category— — tranquility, beauty, excitement, uniqueness, and accessibility.
Sponsored by
climate-positive apparel brand:

Check out SOMWR's channels: 
Website | Instagram | Facebook | Twitter