The 2015 ICF Canoe Slalom World Championships in Lee Valley delivered a thrilling spectacle and also underlined the venues Olympic legacy by becoming the first of the 2012 Games constructed venues to host a World Championship. 
Reporting throughout the thrilling championships @PlanetCanoe - with the limit of 140 characters on twitter - John Gregory (@gregiej) has outlines his his top ten observations from the action with a rather more generous number of character.
One: Fastest doesn't always equal champion
The commanding performances of Jess Fox (AUS) and David Florence (GBR) reinforced why they topped the ICF World Rankings coming into the championships. Bizarrely, Florence dropped a place to two following the championships behind Benjamin Savsek (SLO).
Young guns, Fox (C1W) and Jiri Prskavec (CZE, K1M) set the leading times in their respective classes, both in the finals.  Fox, 21, has now secured gold in the C1W event for three years in succession.
Meanwhile, 22-year-old Prskavec has completed a hat-trick of the worlds top titles in 2015, with gold at the Senior and U23 World Championships and the same result at the 2015 Senior European Canoe Slalom Championships.
In the other three classes the fastest runs of the competition occurred in the semifinal with Savsek (SLO), Maialen Chourraut (ESP) and Florence and Richard Hounslow (GBR) each breaking the line quickest, but none of the three were able to replicate this in the final. 

| | | | |
| --- | --- | --- | --- |
|   | Heat 1 | Semi | Final |
| C1M | Matej Benus | Benjamin Savsek 93.42 (0) | David Florence 94.32 (0) |
| C1W | Kimberley Woods | Jess Fox 116.45 (0) | Jess Fox 113.51 (0) |
| K1M | Michael Dawson | Ondrej Tunka 89.28 (0) | Jiri Prskavec 88.99 (0) |
| K1W | Emilie Fer | Maialen Chourraut 100.87 (0) | Katerina Kudejova 103.62 (0) |
| C2 | Klauss/Peche | Florence/ Hounslow 100.95 (0) | Anton/Benzien 101.17 (2) |

Two: The Czech Republic continued winning ways
The Czech Republic topped the medal table in London as they did when they hosted the championships in 2013. This was a successful season for the red, white and blue who also ran away with the national honours in the World Cup Series.
With an uncharacteristically poor season, Germany bounced back to find themselves third in the medal table, with Australia just edging ahead of them to secure second. This was determined by a final combined tally of gold-silver-bronze across both individual and team races.
Two more nations stepped on the podium in 2015 with medals going to a total of 11 nations. In the two previous championships - Deep Creek 2014 and Prague 2013 - nine nations medalled.
Nations who placed all three boats in the final included; Slovakia and Great Britain in C1M, Great Britain in C1W, Great Britain in K1W and Poland in C2M.
| | | | | |
| --- | --- | --- | --- | --- |
|   | Gold | Silver | Bronze | Total |
| CZE | 4 | 2 |   | 6 |
| AUS | 2 |   |   | 2 |
| GER | 1 | 3 | 1 | 5 |
| GBR | 1 | 1 | 3 | 5 |
| FRA | 1 | 1 | 2 | 4 |
| SVK | 1 | 1 |   | 2 |
| SLO |   | 1 | 1 | 2 |
| POL |   | 1 |   | 1 |
| ESP |   |   | 1 | 1 |
| USA |   |   | 1 | 1 |
| AUT |   |   | 1 | 1 |

Three: Lee Valley crushed dreams



Lee Valley reinforced why it is considered the toughest and most unpredictable course in the World. Some key names found the course designed by Marianne Agulhon (FRA) and Thomas Schmidt (GER) to be too tricky and failed to make their respective finals. Sideris Tasiadis (GER) fell at the semifinal stage in the C1M. In the men's kayak, world number one Boris Neveu (FRA), Vavra Hradilek (CZE), Sebastien Schubert (GER), Hannes Aigner (GER) and Matthieu Biazizzo (FRA) all faulted at the semifinal stage. 
Corinna Kuhnle (AUT) and Emilie Fer (FRA) were the top two to miss the final cut in the women's kayak.
Meanwhile, perhaps the biggest shock was in the C2M where Slovakia failed to qualify a boat of the final for the first time in decades with both the Hochschorners and Skantars exiting at the semifinal stage.
That said, amongst all the medallist only Ryan Westley (GBR) and Michal Smolen (USA) were not already ranked in the top 12.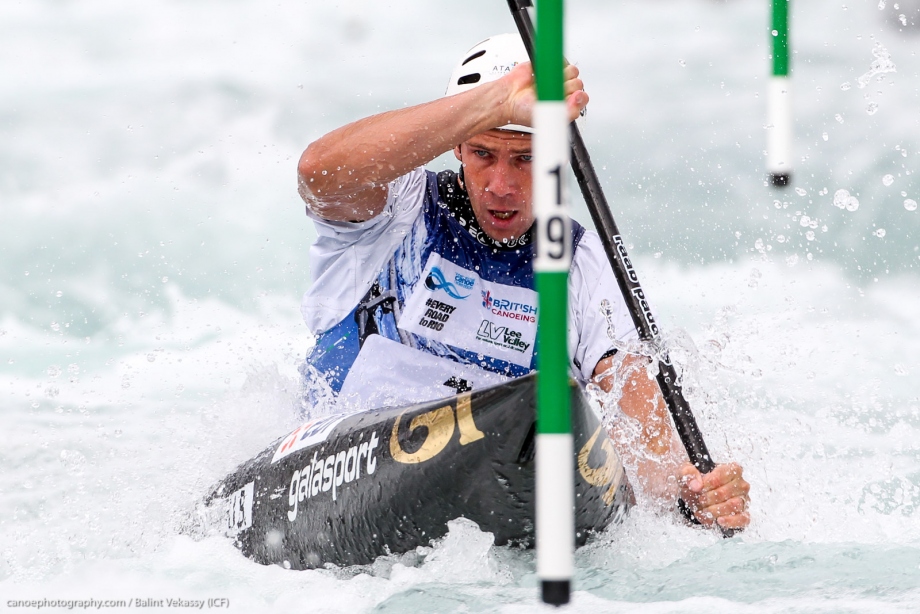 Four: New Era
Lee Valley also continued to usher in the new era of paddlers with six of the medallist 23-years-old or under.
Ryan Westley (GBR, 22) Bronze C1M
Jess Fox (AUS, 21) Gold C1W and C1W Team
Nuria Vilarrubla (ESP, 23) Bronze C1W
Jiri Prskavec (CZE, 22) Gold K1M and K1M Team
Michal Smolen (USA, 22) Bronze K1M
Ricarda Funk (GER, 23) Silver K1W 
Five: British record
Great Britain maintained its record of new World Champions at its home Worlds; Richard Fox at Bala '81; Lynn Simpson at Nottingham '95 and Florence at Lee Valley '15. Add to that the Olympic gold for Tim Baillie and  Etienne Stott in C2M and not forgetting that Florence and Mallory Franklin also won the 2014 Lee Valley World Cup race in their respective C1 classes.
Great Britain also achieved the top federation at the Lee Valley Worlds, in part as a result of all its athletes in each class making the semifinal. The host nation also had eleven boats in the final three in C1M, C1W and K1W, plus two in C2M.
 Six: Online chatter
The championships also created a lot of online chatter. On Twitter alone there were 3,175 tweets that included the #ICFslalom hashtag during the week, with the last day an impressive  10 million twitter impressions.
During the month there were also 2,248 tweets including the #slalomworlds hashtag creating more than 12 million timeline deliveries.
Seven: Family connections

It is an interesting fact that six of the athletes who raced at these Lee Valley Worlds are related to those who raced in Bala 24-years-ago in 1981. They are: Richard Fox and Myriam Jerusalmi (Jess Fox), Beatrix and Edi Wolffhardt (Viktoria Wolffhardt), Henryk Popiela (Dariusz Popiela), Peter Kauzer (Peter Kauzer), Marie Francois Grange and Jean Yves Prigent (Yves Prigent) and Lubos Hilgert (Stepanka Hilgertova). Over and above these family connections there are a host of coaches, managers and officials who were involved in both the Bala and Nottingham Worlds that were water side at Lee Valley.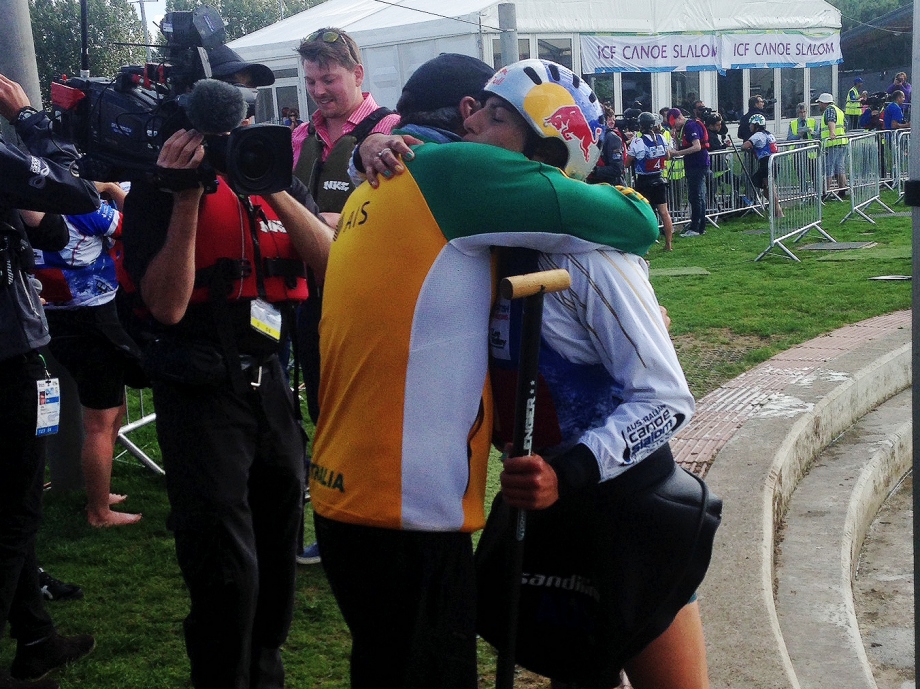 Eight: Olympic qualification
The Lee Valley Worlds also served as an Olympic qualification for national federations to secure spots in the respective four classes for next year Games in Rio.

With one spot per class for those nations that have secured a spot in Rio, the national federation selection for which paddler or crew will be selected are likely to be the hottest contested races.
Nine: Lee Valley legacy
Running in parallel with the ICF World Championships, the UK organisation Go-Canoeing was able to get more than 800 children and adults into kayaks on the lake that feeds the whitewater course. A presenter from the UK BBC Children's TV programme Blue Peter, Lindsey Russell paddled the course with Tim Baillie as part of a three-month challenge coached by Russ Smith. She was cheered down the course by many of the 250 school children who came to watch the heats.
Ten: A memorable Worlds
We witnessed great spectator support through the semifinals and finals benefiting from clear sunny skies. An incredible amount of media attention was created. This was complemented by excellent live race commentary across the venue from Andy Maddock, Tim Baillie, Kev McHugh, Dave Rogers and 16-year-old GB talent ID paddler Fraser Smalley.
Congratulations to the Lee Valley Worlds organisers, technical officials, volunteers and of course all the athletes.

<br>
An updated table of all current champions is available to view here

The medallist results by class (penalties in brackets)

C1M
| | | | |
| --- | --- | --- | --- |
| 1st | David Florence | GBR | 94.32 (0) |
| 2nd | Benjamin Savsek | SLO | +0.04 |
| 3rd | Ryan Westley | GBR | +2.01 |
 
C1W
| | | | |
| --- | --- | --- | --- |
| 1st | Jess Fox | AUS | 113.51 (0) |
| 2nd | Katerina Hoskova | CZE | +4.91 |
| 3rd | Nuria Vilarrubla | ESP | +8.04 |
K1M
| | | | |
| --- | --- | --- | --- |
| 1st | Jiri Prskavec | CZE | 88.99 (0) |
| 2nd | Mateusz Polaczyk | POL | +0.44 |
| 3rd | Michal Smolen | USA | +3.02 |
 
K1W
| | | | |
| --- | --- | --- | --- |
| 1st | Katerina Kudejova | CZE | 103.62 (0) |
| 2nd | Ricarda Funk | GER | +2.29 |
| 3rd | Melanie Pfeifer | GER | +2.71 |
 
C2M
| | | | |
| --- | --- | --- | --- |
| 1st | Franz Anton & Jan Benzien | GER | 101.17 (0) |
| 2nd | Pierre Picco & Hugo Biso | FRA | +1.08 |
| 3rd | Gauthier Klauss & Matthieu Peche | FRA | +2.17 |
 
Percentages
| | | | | |
| --- | --- | --- | --- | --- |
|   | Athlete | Nation | Time | Percentages |
| K1M | Jiri Psrkavec | CZE | 88.99 | 100% |
| C1M | David Florence | GBR | 94.32 | 106% |
| C1W | Jess Fox | AUS | 113.51 | 128% |
| K1W | Katerina Kudejova | CZE | 103.62 | 116% |
| C2 | Anton/Benzien | GER | 101.17 | 114% |
 
Medallists by Nation
| | | | |
| --- | --- | --- | --- |
|   | Gold | Silver | Bronze |
| C1M | GBR | SLO | GBR |
| C1W | AUS | CZE | ESP |
| K1M | CZE | POL | USA |
| K1W | CZE | GER | GER |
| C2 | GER | FRA | FRA |
| C1M Team | SVK | GER | SLO |
| C1W Team | AUS | CZE | AUT |
| K1M Team | CZE | SVK | GBR |
| K1W Team | CZE | GBR | FRA |
| C2 Team | FRA | GER | GBR |