On Sunday afternoon in Bratislava, while teams of exhausted battle-scarred canoe slalom paddlers finally got their chance to rest their aching bodies, a beaming teenager from Bryson City in the United States was lining up for her 12th race of the weekend.
15-year-old Evy Leibfarth didn't understand what all the fuss was about.
All around her, Olympians and world champions had been floundering on the wild and unforgiving Bratislava torrent, collecting 50-second penalties over three days of competition like they were supermarket tokens.
But here was this American teenager, who had been waiting for what seemed like an eternity to turn 15 so she could compete with the old paddlers, cruising around like it was a casual paddle down the Mississippi River.
The general consensus, and the results certainly backed it up, was that the Bratislava course over the weekend was incredibly challenging. The water was, as usual, fast. Gate placement made it even more difficult. The world's best were falling like flies.
What chance would a kid from the States, competing at her first ever world cup, have of even getting to the bottom of the course, let alone recording a respectable time?
A few noticed her first run on the water, a respectable 24th in the first heat of the women's K1 with three gate touches. It meant she'd have to back up in just over an hour for a second run in the stifling summer conditions – surely that would bring her undone.
 Under the watchful eye of her father and coach, Lee, himself a former top-level paddler, Leibfarth managed to put together a good enough second run to squeeze into the semi-finals in last position.
 "We're very proud of Evy, she's just having an incredible experience," Lee said.
"To be around some of the best athletes in the world has been amazing. It's fun for her to go from watching this on television to actually being part of it."
Fun. It was a word used a lot on the weekend, even though for most of the athletes it seemed a strange kind of fun. But anyway, 15-year-old Evy Leibfarth had made a K1 semi-final at her first world cup – she would be happy with that.
Except she wasn't finished. Leibfarth backed up again in the afternoon in the women's C1. On her first run, she picked her first 50-second penalty for missing a gate. It meant she would have to do a fourth run on the energy-sapping Bratislava course.
Logic told you it was a lot to ask of a 15-year-old who was also dealing with the emotional excitement of competing at her first world cup. But logic had already been thrown out the window, and Leibfarth's final run of a demanding day turned out to be her best.
She posted a fault-free second run, the only one in the top ten to do so, to book herself a second semi-final appearance.
"I looked at the course, and I thought 'whoa, this is hard'," she said.
"But the more I thought about it, I realised that we trained in this sort of stuff, so I just have to treat it like it was training and really push through it."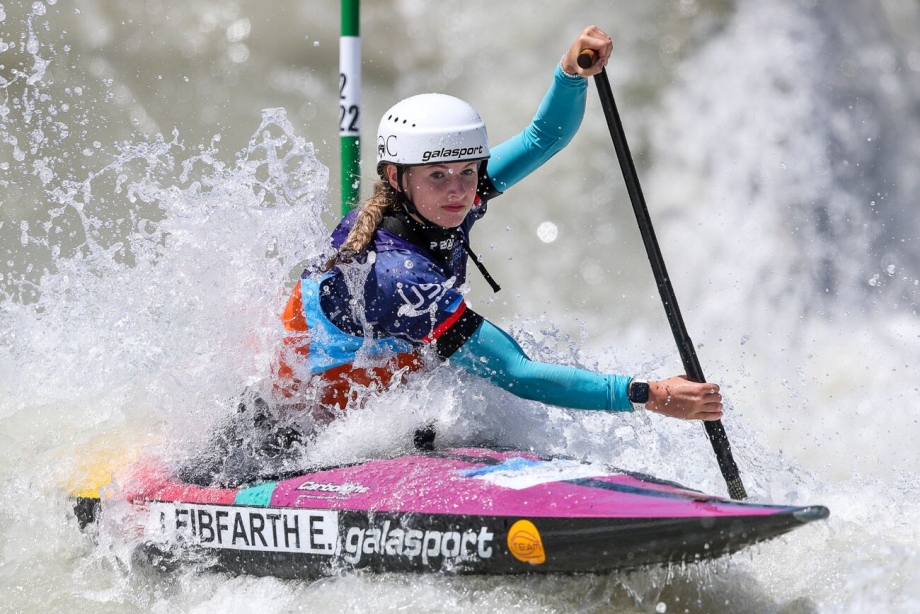 Now everyone was taking notice. Battle-hardened warriors who had been to numerous Olympics and world championships were thinking back to when they were 15, and especially their first ever world cup, and remembering just how scary it was.
But if this tiny 15-year-old was scared, she wasn't showing it.
Saturday morning she qualified fourth fastest into the K1 final, leaving behind her the Olympic gold, silver and bronze medalists from Rio. The beaming teenage smile that had been constant since day one grew even wider.
But then, for the first time for the week, Leibfarth finally came unstuck. She missed three gates in the K1 final to finish tenth. Maybe, other paddlers speculated, she had finally succumbed to the pressure and the fatigue.
No chance. She bounced back on Sunday, posting the ninth fastest into the women's C1 final, but with six seconds of penalties. Her raw time was the second quickest of the field.
And this time she held her nerve in the final, finishing a respectable seventh. She was also one of only two athletes in the top ten not to pick up a penalty on the incredibly challenging C1 course.
Evy Leibfarth had arrived, and now everyone knew.
"It's been really crazy, there are so many top performing athletes here, and it's so great to be competing with them," the girl from North Carolina said.
"I feel pretty proud of my runs. I didn't really feel nervous. I've just been trying to treat it like another race, because you race like you train."
In the US, those in the know have been talking about the young girl from Bryson City for a couple of years. Because she was too young to even compete in the ICF's junior world championships, the rest of the world was completely oblivious.
But her results were incredibly impressive, beating much older opponents regularly at US senior team trials and national championships. She turned 15 in January, booked tickets to Europe, and now the paddling world has seen first hand what the fuss is about.
Leibfarth's rapid rise should be no surprise, given her breeding. Father Lee was not only an elite paddler, he was also a coach on the US national team. Mum, Jean Folger, was a whitewater rafting guide.
"We'd like to think we left it to her to make her own decision, but we are very happy that she has got into canoe slalom the way that she has, because we love travelling to these places around the world, and showing her places that we've competed at in the past," Lee said.
"I'm so lucky to have such supportive parents, and it's so amazing to have my dad as my coach," Evy said.
"I think we get along really well most of the time. He always pushes me to do my best, which can be hard, but it's really helpful for my paddling."
While recreational canoeing in the States is very popular, competition paddling is going through a period of regrowth. It has meant the Leibfarth's have had to spend a lot of time in Europe, competing in junior competitions.
"It can be challenging," Lee said.
"We certainly don't have the field strength that we have in Europe. Evy started out racing in the ECA junior cup races, where you would have 400 kids there. Our big races you would have 50 kids.
"But it's a start. We're hoping to keep growing our programs in the States, but it's been slow growth. We really want to see paddling grow in the United States, because there is a lot of potential for it.
"We're excited to see the Olympics in Los Angeles, and hopefully we will get more people involved, maybe even as a result of Evy's performance, and other athletes who are performing at a top level."
To get where she is, Leibfarth has had to enrol in online schooling. But she is getting to travel the world, and if everything goes to plan, she could be at the next Olympics as a 16-year-old. Her first goal was to make a world cup final, and she made two at her first attempt.
"I really dream of winning a medal at the Olympics, but to do that there are so many small goals that I have to accomplish," she said.
"Tokyo is definitely a goal. The first step for that is to qualify a spot at this year's World Championships in La Seu. I really have to put a lot of focus on that race.
"The Olympics in LA would just be so incredible. It would be so great for the US paddling community to have the Olympics there, so people can see what our sport is, and hopefully get more people involved in the sport."
On Sunday afternoon, when most of the athletes who had competed over the weekend were nursing their aching limbs, Evy Leibfarth had her 11th and 12th run down the Bratislava course. On the final run, she picked up a silver medal in the women's extreme canoe slalom final.
With two world cup finals and an extreme canoe slalom world cup silver medal, Lee and Evy packed up, checked the GPS, and headed to Tacen, Slovenia.
Her second world cup awaits. The journey has just begun.