Austria's Kuhnle ends the perfect slalom run of Australia's Fox
Like a European summer, the incredible gold-medal winning run of Australian canoe slalom athlete Jessica Fox had to end eventually.

On a day more resembling winter in Tacen, Slovenia, Austria's Corinna Kuhnle delivered the run that finally snapped the historic dominance of the 24-year-old Australian.

In the men's C1, Germany's Sideris Tasiadis won his third World Cup gold of the season, relegating Slovakia's Alexander Slafkovsky to his fourth consecutive silver medal.

Fox was unbeaten in both K1 and C1 after three ICF World Cups this year, and it took something special from the two-time Olympian from Austria to stop the rampaging Australian in the pelting rain.

"I think everyone came here wanting to beat Jess, she's the one that's being chased and that's what I wanted to do," Kuhnle said.

"That's what I was trying to do, and it's worked out.

"I do love this course, I've won a couple of races here and championships, so I really feel comfortable here."

Kuhnle posted a clean time of 107.94, with Fox second in 109.01, and another Austrian, Viktoria Wolffhardt, winning her first ever K1 medal by finishing third.

Fox said she was thrilled to win another medal.

"After each weekend I was telling myself 'wow, it's going to be really hard to back that up'. It's just been an amazing season, my best season ever," Fox said.

"I'm just really happy to be on the podium again, I'm really happy with my run except for the last two gates and the finish line.

"To be on the podium like this, and be consistent, I think that's what is important."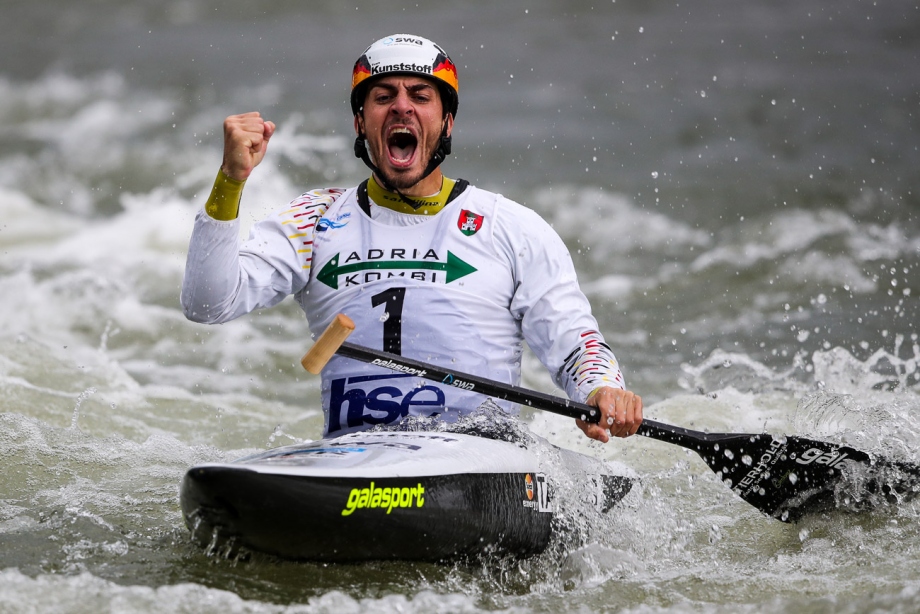 Tasiadis followed up his gold medal winning performances in Liptovsky and Augsburg with a faultless run in Tacen, his time of 103.00 pipping Slafkovsky's 103.68.

It was a breakthrough win for the German in Tacen.

"This is my first gold medal here, in fact my first medal on this course," Tasiadis said.

"I like the course very much, you can go with the water. But today the course was tough. You have to be awake the whole time, because if you sleep just a little bit then you will lose the gate.

"I'm really happy about my final, because my semi-final was not so good."

Another German, Franz Anton, won the bronze on the course where he won his first ever World Cup medal.

The fourth 2018 ICF World Cup finishes in Tacen on Sunday with finals in the men's K1, the women's C1 and the extreme slalom.
In the mixed C2, Czech's Veronika Vojtova and Jan Masek won gold ahead of France's Yves Prigent and Margaux Henry. Czech's Jana Matulkova and Vojtech Mruzek finished third.

RESULTS

MEN'S C1
TASIADIS Sideris             (GER)    103.00  (0)
SLAFKOVSKY Alexander (SVK)    103.68  (0)
ANTON Franz                   (GER)   104.29  (0)
WOMEN'S K1
KUHNLE Corinna             (AUT)   107.94  (0)
FOX Jessica                      (AUS)    109.01  (0)
WOLFFHARDT Viktoria  (AUT)    113.10  (0)
MIXED C2
VOJTOVA/MASEK            (CZE)   142.47  (2)
PRIGENT/HENRY              (FRA)  220.86   (54)
MATULKOVA/MRUZEK   (CZE)   270.56   (62)