Britain's Joe Clarke and Mallory Franklin have set the early pace at the 2017 ICF Wildwater and Canoe Slalom World Championships in Pau on Wednesday.
Clarke, the 2016 Rio Olympic K1 gold medallist, was fastest in the perfect race conditions in France, while Franklin had her best run of the season to qualify quickest in the women's C1.
Clarke's time of 77.90 put him more than half a second ahead of 2017 World Cup series champion, Czech Vit Prindis, with Spain's Samuel Hernanz third.
"I didn't realise it was going to be quite that good," Clarke said.
"I just went out there to do the best I could possibly do, and that was good.
"I feel quite positive, I've done quite a lot of training here to prepare for this event as best as possible. The sun is shining, so I can't complain.
"I would have liked to have won some races this year, but it's kind of building back up. It's a four-year cycle, I'm trying to get back to where I was last year."
Franklin had her best run ever on the Pau course to qualify fastest in the women's C1.
23-year-old Franklin whistled down the course in 95.52 seconds, 1.59 seconds ahead of local hope Claire Jacquet, with Spain's Nuria Vilarrubla, a winner in La Seu at the last World Cup of the season, qualifying third.
Jacquet picked up a two second penalty for a gate touch, but there could be no denying Franklin.
"It was a really good run today, I kept everything together," Franklin said
"It was probably the best ever run I've done on Pau, which is quite nice. It's a good way to start the racing so I'm looking forward to the rest of it.
"The team run gave me a bit of confidence to keep the pressure on the blade and feel more in control on this course, so I really enjoyed my run."
Three-time World Champion Jessica Fox of Australia was fifth fastest, picking up four seconds in penalties for gate touches.
"I knew the girls had gone quite fast, the times were quite close together and it's a fairly open course, so I tried to attack it a bit more than I would normally do in a qualifying run," Fox said.
"But I'm happy with that, fifth place is where I want to be for now."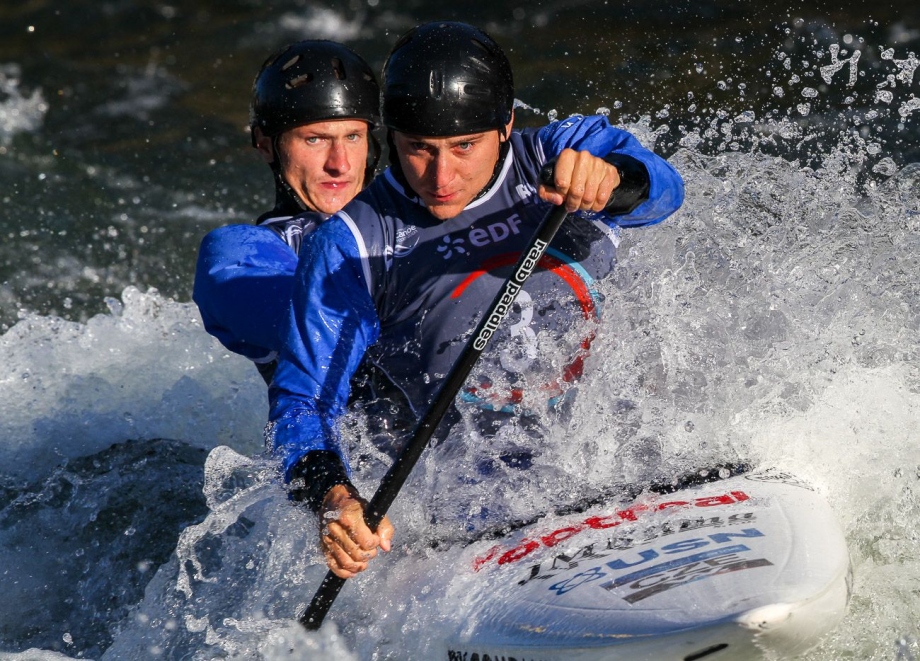 In the men's C2 it was the Czech Republic's Jonas Kaspar and Marek Sindler who qualified fastest. They posted a time of 90.04 to edge out Olympic gold medallists Peter and Ladislav Skantar of Slovakia.
Among the big surprises of the day was the failure of Poland's Mateusz Polaczyk, a two-time World Championship silver medallist and 2013 bronze medallist, to make the K1 semi-finals.
Polaczyk, the reigning silver medallist, will be joined on the sidelines by USA's Michal Smolen, the bronze medallist at the last World Championships.
Pics by Balint Vekassy