The 18 women who will make canoeing history in Tokyo on Thursday have been decided, of which 14, including the fastest qualifier, are making their first ever appearance at an Olympic Games.
After a long campaign, women's canoe finally made its Olympic debut on Wednesday, with 22 athletes taking to the water in stifling hot conditions. For the record, Jane Nicholas from the Cook Islands was the first female canoe paddler at an Olympic Games.
Sadly, Nicholas was one of the four athletes who didn't progress to the semi-finals. That list is headed by Great Britain's Mallory Franklin, who posted two solid qualifying runs to earn her slice of history.
27-year-old Franklin is one of the more experienced of the women canoe athletes, but is trying not to get caught up in the excitement of the sport's Olympic debut.
"There's definitely a hint of wanting to get caught up in the moment and what it means, but I think I'm just trying to be present," Franklin said.

"This whole environment, I'm going to be out of it in a couple of days, so I'm just trying to make the most of every moment."
Only four athletes in Wednesday's field – Australia's Jessica Fox, Brazil's Ana Satila, New Zealand's Luuka Jones and Ukraine's Viktoriia Us – have competed at an Olympics before.
Satila said being able to do two events at the Games is a real bonus.
"I love both K1 and C1, and I really try and train for both, but I feel so much more comfortable doing C1," she said.

"I don't use so much power as I do in K1, I feel the boat moving, it's so much lighter.

"Of course it is my dream to win a medal, it doesn't matter which one, I just want to put my best on the water. All I want to do is be happy."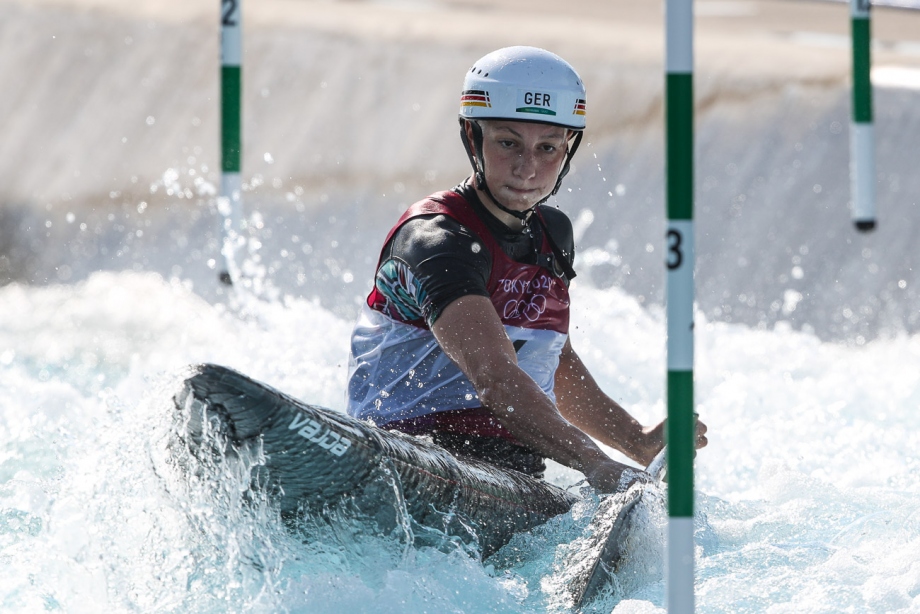 Germany's Andrea Herzog is the reigning world champion and is also at her first Olympics. She was second fastest behind Franklin, and is looking to continue the strong German performance at the canoe slalom this week.
She was trying not to get too carried away with the win by teammate Ricarda Funk in the women's kayak on Tuesday, and to deal with her own expectations and pressure.
"I had dinner with Ricarda last night so we could settle down together, and then we had breakfast together this morning," she said.

"Sometimes there's pressure, sometimes its confidence. It's not so easy to handle, but I'm just looking forward to the races. I know that there are a lot of good girls, and that I will need to show my best to win a medal."
Nadine Weratschnig will go into her first Olympic semi-final as sixth fastest qualifier. The Austrian is one of only a handful of women who only paddle C1, and said watching the racing on the opening days has been tough.
"I was really unsure about the course, it looked so hard, and I knew many good athletes had already made so many mistakes," she said.

"This is my first chance, I just do canoe, so this is something special."
The women's canoe semi-final and final will be held on Thursday.
Pics by Bence Vekassy