A 21-year-old Frenchwoman competing at her first world championships and two Czech sisters stole the show on day four of the ICF junior and U23 canoe slalom world championships in Slovenia on Friday.
Coline Charel shocked even herself by winning gold in the women's U23 canoe slalom kayak final, Klara Kneblova and Tereza Kneblova finished first and second in the junior women's canoe final, while another Czech, Jakub Krejci, won gold in the men's U23 kayak final.
The final gold on offer on Friday went to Italian Martino Barzon in the men's junior canoe final.
The Kneblova sisters became the first siblings in the history of international canoe slalom to win a gold and silver medal, when they finished one and two in the junior canoe final.
16-year-old Klara said it was one of the first times she had ever finished ahead of her 18-year-old sister. She was the last paddler on the course, and was unaware it was her sister's time she would need to beat to take the gold.
"I didn't know that until I got to the finish line and saw, it was amazing," Klara Kneblova said.
"She said to me 'oh my God, we did it, can you believe it?' We have a good relationship. I have never been better than her on water, so this maybe the first time. It's amazing."
Bronze went to American Evy Leibfarth, in her final race before the Olympics. Leibfarth picked up six seconds in penalties, which dropped her from first to the bronze medal position.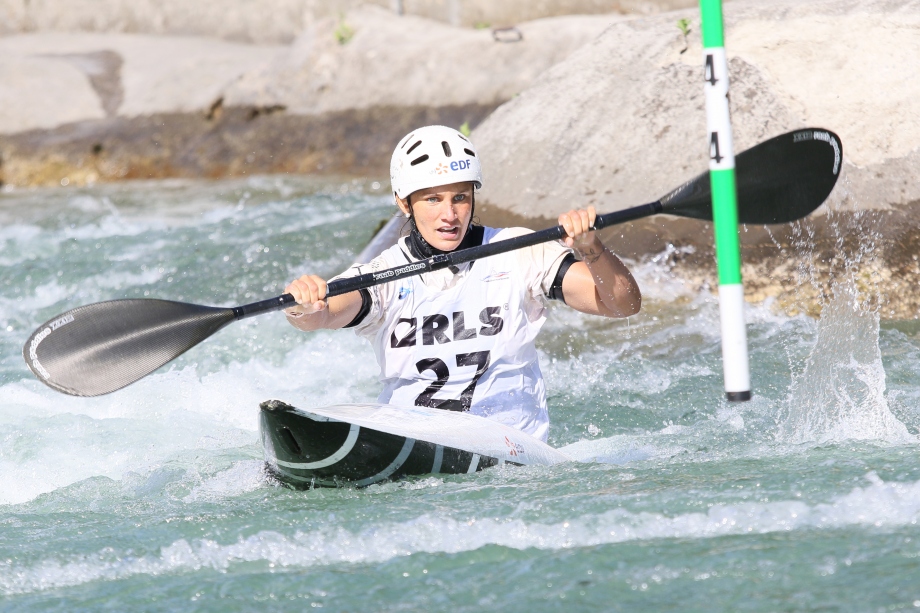 Coline Charel was the slowest qualifier into the women's kayak final, but went into the race knowing she had already recorded her best ever result.
She wasn't confident of winning a medal after picking up four seconds in penalties, but then watched on as the remainder of the field struggled to tame the difficult course.
"I don't believe it, it's amazing at my first world championships,"
"On the finish line I didn't think I could do it, I thought other runners would be better. I went in knowing I had nothing to lose, everything to win."
Charel finished just 0.14 seconds ahead of French teammate, Romane Prigent, with American teenager Ria Sribar winning her first international medal by finishing third, just 0.32 off the gold.
Many of the more highly rated paddlers failed to make the final of the men's U23 K1, throwing the race wide open. But the performance of Czech Krejci, paddling in his first U23 world titles after winning silver at a junior level, left the gold medal in no doubt.
"I love this channel, I love this experience, I have such good memories of this course," Krejci said.
"I was very nervous before the start, but I wanted to win. I felt very good during the race, I felt confident.
He finished 2.36 seconds ahead of Great Britain's Jonny Dickson, with another British paddler, Christopher Bowers, in third.
In the men's C1 junior final Italy's Martino Barzon produced one of the most impressive runs of the day, posting a time of 91.92 with a two-second penalty to secure the gold.
"It was a good race, I really like this course," the Italian said.
"I have Olympic dreams, I want to win a gold medal. That is my dream."
Martin Kratochvil and Adam Kral added to the Czech Republic's medal haul with silver and bronze.
The ICF junior and U23 canoe slalom world championships will continue on Saturday, with semi finals and finals in the men's and women's U23 canoe and the junior kayak.
RESULTS
WOMEN'S U23 K1
CHAREL Coline  (FRA)     99.10 (4 seconds of penalties)
PRIGENT Romane (FRA)  99.24 (2)
SRIBAR Ria (USA)             99.42 (0)
MEN'S U23 K1
KREJCI Jakub      (CZE)          81.89 (0)
DICKSON Jonny      (GBR)    84.25 (0)
BOWERS Christopher (GBR) 84.55 (0)
WOMEN'S JUNIOR C1
KNEBLOVA Klara (CZE)      101.59 (0)
KNEBLOVA Tereza (CZE)   102.18 (0)
LEIBFARTH Evy (USA)         107.10 (6)
MEN'S JUNIOR C1
BARZON Martino (ITA)       91.92   (2)
KRATOCHVIL Martin (CZE) 92.19   (0)
KRAL Adam (CZE)               93.78   (2)
Pics by Nina Jelenc