Dragon Boat World Record Broken in Spain
21-paddlers from the San Pedro del Pinatar club, Spain have broken the Guinness World Record for the longest distance travelled in a Dragon Boat with an astonishing tally of 188 kilometres in 24-hours.

The Spanish paddlers overcame difficult conditions to go beyond the previous tally of 186.54 kilometres set by Australian crew, Komodo Dragons.

The new mark now stands at 188 kilometres and was reached at 11:00am in the morning after a long night of paddling with winds topping the 20-knots-per-hour mark.

The rules of the challenge would not allow relay, therefore, the team decided to take a break for 15 minutes every four hours as they pulled towards their impressive tally.




The New World Record Holders

David Alejandro López Maya, Enric Sánchez González de la Rubia, Alan Ávila Taberner, David López Granados, Alberto Gómez Moreno, Sergio Gómez Pérez, Francisco Javier Martínez Ruiz, Samuel Aznar Albertos, David Garcia Fernandez, Ruben Alvarez AMEZ, Aleix Serrat Oliva, Daniel Gil Vives, Maria Salud García Martínez, Fernando Sánchez Meoro, Pedro López Sánchez, Isaac García-López Alcalá, Miguel Jesus Canovas Sanchez, Carlos Reina Alcaina, Conesa Enrique Segura, Mario Castro Alvarez, David Fernández Márquez and Jorge Cervantes Carracedo (Team Manager).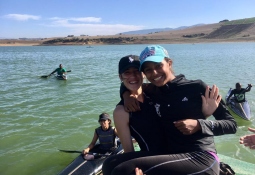 Canoe Slalom Canoe Freestyle