There were more gold medals for Germany, a new world's best time for Canada's powerhouse C2 team, and Czech Martin Fuksa triumphed in a world championship C1 re-match on day two of the ICF Canoe Sprint World Cup in Duisburg.
Max Rendschmidt in the K1 1000, and Yul Oeltze and Peter Kretschmer once again in the C2, brought the home crowd to life in perfect racing conditions.
The very knowledgeable crowd also witnessed Canada's Laurence Vincent-Lapointe and Katie Vincent once again lower the world's fastest ever time in the C2 500, and World Champions Lisa Carrington and Caitlin Ryan again stamping their authority on the K2 500.
Sweden's Linnea Stensils broke through for a maiden K1 500 world cup win, Hungary's Levente Apagyi and Kolos Csizmadia won the men's K2 200, Slovakia's Peter Gelle and Adam Botek broke through to win the K2 500, and China's Wenjun Lin and Luqi Zhang won the C2 200.
The C1 1000 match-up between Fuksa, Germany's World and Olympic champion, Sebastian Brendel, and Brazilian Olympic silver medallist, Isaquias Dos Santos, was one of the most eagerly anticipated races of the weekend.
But Fuksa, a winner at last week's opening World Cup in Szeged, took the race out hard and had the gold medal sown up well before the finish line, despite the passionate home-town support for triple Olymic gold medallist Brendel.
"I had a lot of power and a lot of strength, so I knew I would be winning with 200 metres to go," Fuksa said.
"But these are World Cups, I have been focussed on this, but now I have two weeks until European Cup so I hope it will be a good race like this."
Dos Santos finished second, and Brendel third.
But the German crowd had plenty more to keep them happy, including the K1 1000 gold to Rendschmidt.
"Last year I wasn't so good in the K1, so I'm very happy that today I could change it," Rendschmidt said.
"I think in the European Championships and the World Championships I can do both the K1 and the K4. The last two weeks we trained a little bit in the K4, but K1 is a very important boat, so I'm happy I could win here."
Germany's second gold medal on Saturday went to the C2 pairing of Oeltze and Kretschmer, who followed their C2 1000 win from Friday with victory in the C2 500.
"It was really satisfying yesterday, so this race was really a bonus – the cherry on the cake. This was really satisfying," Kretschmer said.
"We don't do a lot of training for 500," Oeltze said.
"In fact this was our first 500 competition together, and the first time we paddled at 100 per cent for the 500."
Carrington and Ryan, world K2 500 champions in 2017, took a break in Szeged, but were back together in Duisburg and showing they have lost none of the speed which took them to the top of the podium in Racice.
 "We worked pretty hard out there today," Carrington said.
"We had a few nerves, so we just wanted to put together a good performance, and I think we managed to do that."
"The K2 was where my first World Championship gold medal came from, so it's something I really enjoy," Ryan said.
"It's a challenge, it's doing it as a team, and I really enjoy that team aspect."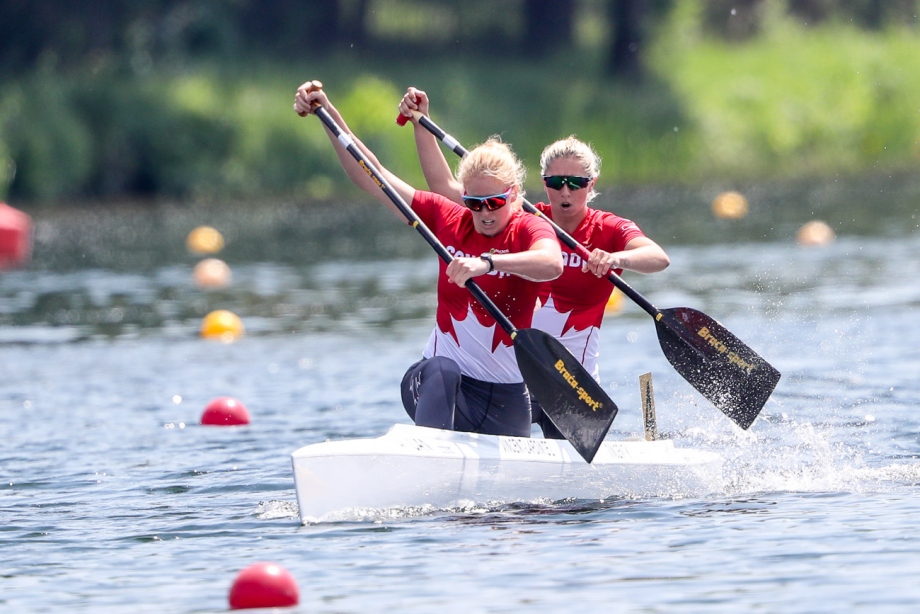 The biggest question before every international C2 500 race is not whether Canada's Vincent and Vincent-Lapointe can win, but if they can go even faster than ever before.
On Saturday, the answer was yes, with the duo posting a lightning 1.51.428, more than a full second faster than the previous world record time they set in Szeged only one week ago.
"It felt really fast out there," Vincent said.
"There was a great wind on the course, the course is really fast, we just really put it all out there today.
"We won't get to race the C2 again until the World Championships, so we wanted to leave nothing out there.
"I honestly love racing, I love coming to these events, I love racing for Canada especially. So for me to wake up in the morning and know I get to race for Canada, it's enough for me to put it all out there."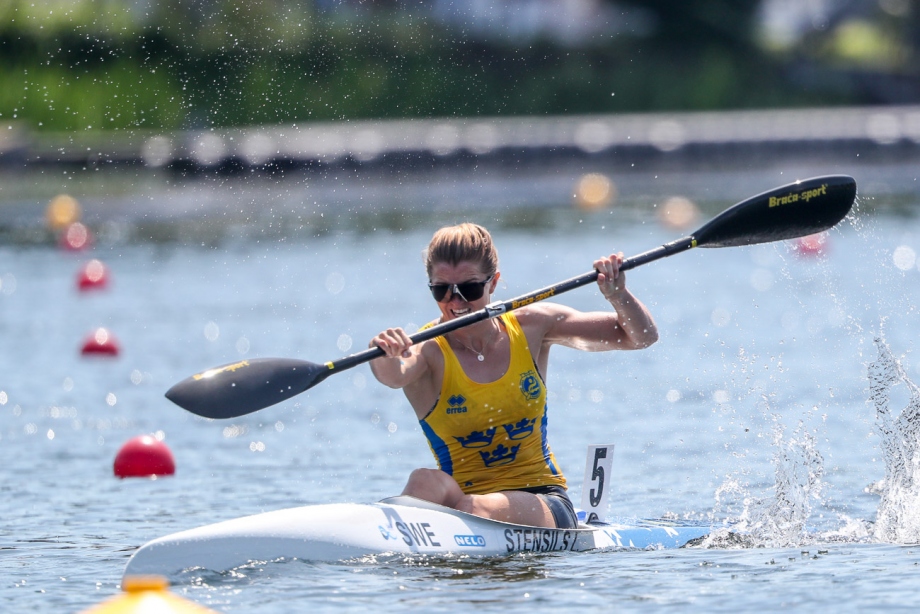 Sweden's Stensils broke through to win K1 200 gold in Belgrade last year, and on Saturday convinced herself she is also a more than competent K1 500 paddler by winning gold in a blanket finish.
"This is my best result in the 500, so I am very happy," Stensils said.
"I felt like I could win it, but I wasn't really sure. I really think that I can be a 500 metre paddler, but before I've mainly raced 200 because it was available.
"But I love both. I really hope I can race both."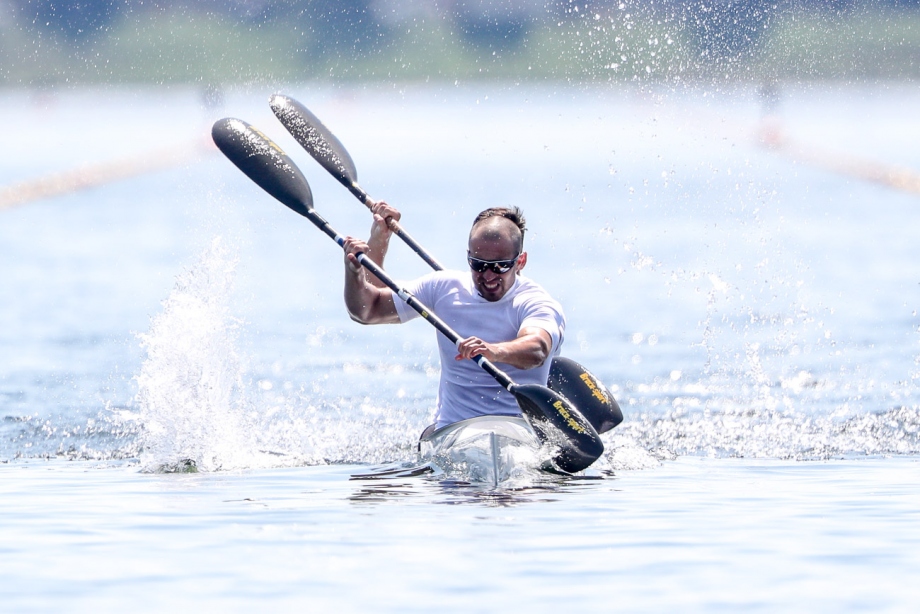 The Hungarians, usually a world canoe sprint powerhouse, have sent a small team to Duisburg. But they reminded the paddling world of their depth with Apagyi and Csizmadia's gold in the K2 200.
"Our start was a little bit of a problem, but after that we were able to go faster," Csizmadia said.
"It was perfect conditions. We have only been paddling together for three days, but this is the future."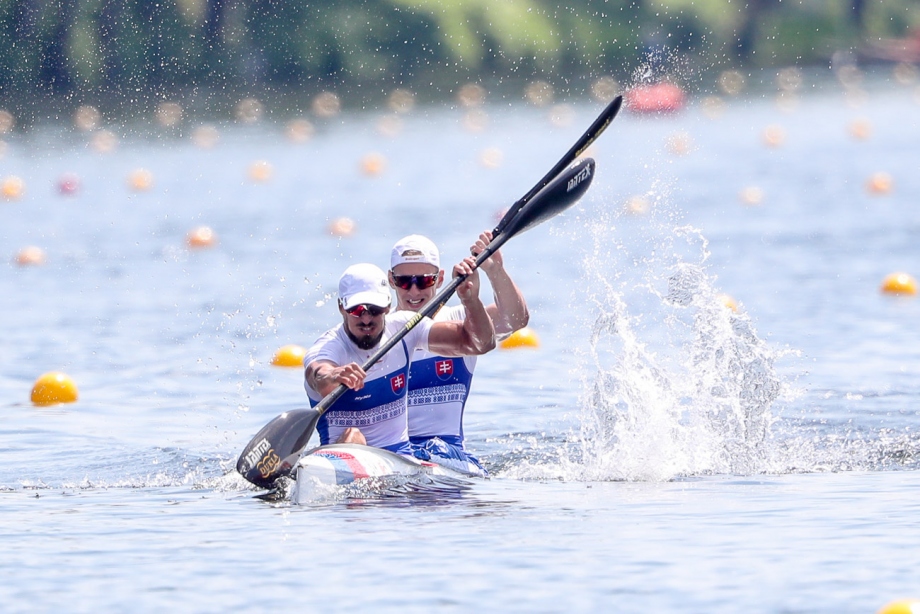 Slovakia's Gelle and Botek followed up their K2 1000 silver medal from Friday with a hard-fought K2 500 gold on Saturday.
"It's a really hard race, this 500, it's always close so we need to be really focussed," Gelle said.
"For us it was a hard day yesterday to do three really hard 1000 metre races. And then we needed to focus on this race. You have to be really focussed for this race."
RESULTS
WOMEN'S K1 500
STENSILS Linnea            (SWE)    1.48.285
PULAWSKA Anna           (POL)     1.48.342
GUYOT Sarah                  (FRA)     1.48.473
MEN'S K1 1000
RENDSCHMIDT Max       (GER)     3.26.559
PETERS Artuur                 (BEL)      3.27.179
LIEBSCHER Tom               (GER)     3.27.508
MEN'S C1 1000
FUKSA Martin                                (CZE)  3.42.385
QUEIROZ DOS SANTOS Isaquias (BRA) 3.44.708
BRENDEL Sebastian                      (GER) 3.45.727
WOMEN'S C2 500
VINCENT-LAPOINTE/VINCENT  (CAN)  1.51.428
MA/SUN                                        (CHN) 1.54.509
JAHN/KOCH                                   (GER) 1.57.905
WOMEN'S K2 500
CARRINGTON/RYAN                   (NZL)  1.38.724
HOSTENS/GUYOT                        (FRA)  1.40.752
PETERS/BROEKX                          (BEL)   1.41.090
MEN'S C2 500
OELTZE/KRETSCHMER                 (GER)  1.40.801
KITEWSKI/BARNIAK                      (POL)  1.41.811
WANG/LI                                        (CHN)  1.41.886
WOMEN'S C2 200
LIN/ZHANG                                     (CHN)  0.44.038
WANG/ZHANG                               (CHN)  0.45.093
MACINTOSH/CROSSMAN-SERB   (CAN)  0.45.193
MEN'S K2 200
APAGYI/CSIZMADIA                        (HUN)  0.32.232
LYAPUNOV/DYACHENKO                (RUS)  0.32.338
LE MOEL/MOUGET                           (FRA)  0.32.470
MEN'S K2 500
GELLE/BOTEK                                    (SVK)    1.28.627
MATVEEV/POULIN                           (CAN)    1.28.854
FITZSIMMONS/WOOD                     (AUS)    1.28.854