Jessica Fox's perfect start to the 2018 ICF Canoe Slalom season has continued, with the Australian making it four gold medals from as many starts by winning the women's C1 in Krakow, Poland.
The C1 gold followed a gold medal in the women's K1 24 hours earlier, and a golden double on the opening weekend of the ICF season in Liptovsky Mikulas, Slovakia.
Great Britain's Rio Olympic gold medallist, Joseph Clarke, had his best race since the Games to win the men's K1, finishing more than one second ahead of his closest opponent.
Fox picked up six seconds in penalties during her C1 semi, which put her into the final in fifth position. The two-time Olympic medallist had gate troubles again in the final, but her raw speed more than compensated for the four seconds in penalties.
Fox was the only woman to go under 100 seconds, her time of 96.51 leaving her 4.53 seconds ahead of Spain's Nuria Vilarrubla, with Brazil's Ana Satila third.
The Australian also had the advantage of the best of the weather conditions, with strong wind and rain arriving near the end of the final.
"The conditions changed so much towards the end, I think I was lucky to go down when it wasn't raining, wasn't windy," Fox said.
"I had a great run, a couple of touches though that I was a bit frustrated with, but it was a fast run and I'm very happy to win again.
"I feel bad for the girls who raced at the end when the conditions were really difficult."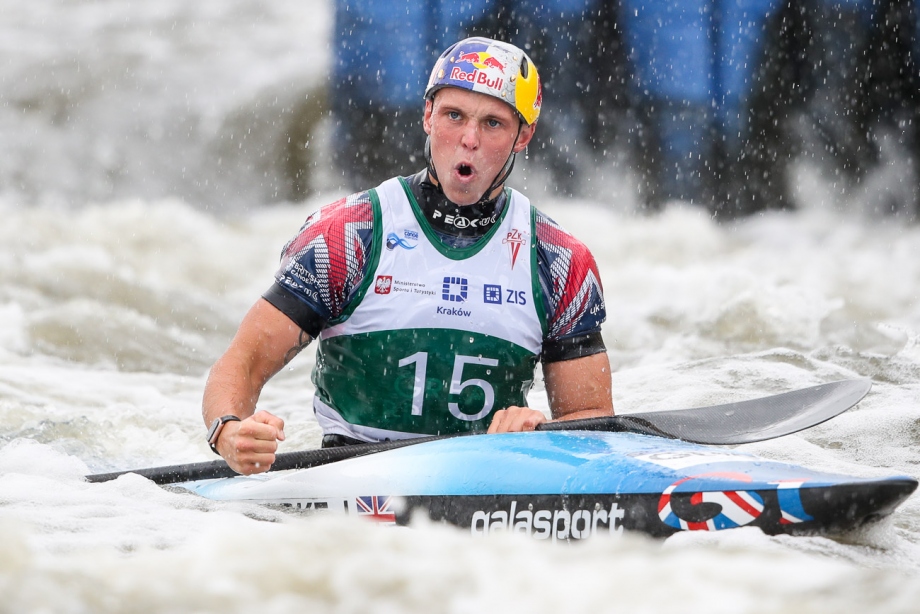 Clarke broke through for his first ever World Cup win, but he almost missed the final. His final time of 76.93 put him 1.31 seconds ahead of Slovenia's Peter Kauzer.
"I've been training well, so it's absolutely great to put it down in a race," Clarke said.
"It's my first World Cup win, so I'm really happy. I only just scraped into the final in ninth with a touch, but I put it down in the final so I'm really really happy."
Sunday's results put Fox a clear overall World Cup leader in the women's C1, while Joseph Clarke now leads the men's K1 after two weekends of action.
Russia dominated the extreme kayak finals, with Polina Mukhgaleeva taking the women's gold, and teammate Nikita Gubenko winning the men's.
RESULTS
WOMEN'S C1
FOX Jessica                (AUS)   96.51 (4)
VILARRUBLA Nuria   (ESP)  101.04 (0)
SATILA Ana                (BRA) 101.73 (2)
MEN'S K1
CLARKE Joseph           (GBR)   76.93 (0)
 KAUZER Peter            (SLO)   78.24 (0)
PRSKAVEC Jiri             (CZE)    78.70 (0)
EXTREME KAYAK
MEN
GUBENKO Nikita        (RUS)
DAWSON Mike           (NZL)
SMOLEN Michal         (USA)
WOMEN
MUKHGALEEVA Polina  (RUS)
ESTACIA NETA Omira     (BRA)
YANG Jie                           (CHN)