Australia's Jessica Fox has already created history in 2018, and on Friday she showed every sign that her total domination of canoe slalom this year may extend into a fourth weekend.
The two-time Olympic medallist is unbeaten in both the women's K1 and C1 this year, winning golden doubles in Liptovsky, Krakow and Augsburg, a record without peer in the history of both men's and women's paddling.
On Friday in the rain at Tacen, Slovenia, the 24-year-old safely navigated her way into both the K1 and C1 semi-finals this weekend.
She was seventh quickest behind Germany's Ricarda Funk in the K1, and five seconds quicker than the next best in the C1.
"It's been an incredible start to the season, my best ever in both K1 and C1," Fox said.
"It would be amazing to go four, five, but the competition is always tough, especially in Tacen, so I'm looking forward to getting out there and having a good crack at it.
"It's very special, and obviously I'm very proud of the way I raced. It means a lot because I've never won three gold medals in the K1 before in the World Cups, and I've never won the overall title before in the K1.
"I guess that's what is exciting. This is the first time I'm in the running for that."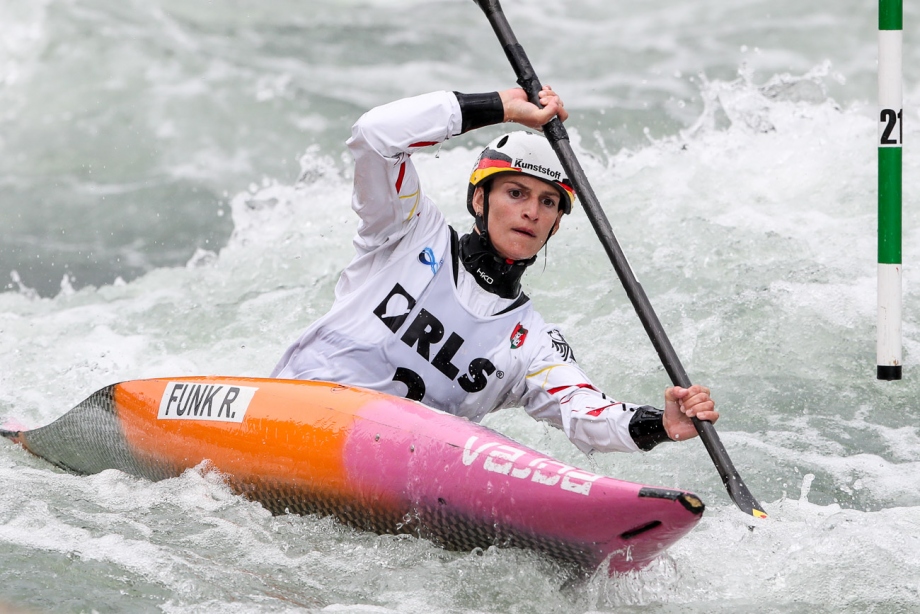 Funk, who dominated World Cups in 2017, is looming as the biggest threat to Fox's perfect record.
"Jessica is a really good paddler," Funk said.
"I will really try to be as fast as she is, but we will see how it goes."
In the men's events, hometown knowledge helped Slovenia's Zan Jakse to take a surprise top spot in the men's K1 qualifying.
Jakse, who lives just minutes from the Tacen course, finished 0.11 seconds ahead of Czech Jiri Prskavec.
Prskavec currently sits second in the overall World Cup standings, but is still to win gold this season.
"I'm pretty happy, I didn't feel all that confident on gates one and two, but I guess that's pretty normal here in Tacen," Prskavec said.
"I haven't had many good races here, but it's a lot of fun and the Slovenian fans are always good.
"I'm pretty happy with my season, but I just need to get to the top one day. I'm trying to work on clean runs because that's something I've been struggling with in finals."
In the men's C1, Slovakia's Alexander Slafkovsky continued his strong 2018 season by qualifying fastest ahead of four Slovenians, headed by Luka Bozic.
Slafkovsky has won three consecutive silver medals, but is a clear overall leader in the race for World Cup honours.