Slovakia finally lost its grip on the men's canoe team crown on Friday after nine consecutive gold medals, losing on their home course to France on the opening day of the ICF canoe slalom world championships in Bratislava.
In other results, Great Britain retained its women's K1 teams title, France won its first men's K1 team event since 2014, and the Czech Republic also returned to the top podium after a seven-year absence in the women's C1 team race.
In wildwater team events there were gold medals for France, the Czech Republic and Germany.
Slovakia began its incredible run at the top of the men's canoe teams podium in 2009, with the combination of Olympic gold medalist Michal Martikan, Olympic silver medalist Matej Benus, and two-time world championship silver medalist Alexander Slafkovsky proving unbeatable for more than a decade.
For the first time since 2009 a different combination took to the water on Wednesday, with former U23 and junior world champion Marko Mirgordsky replacing Martikan. But two gate touches proved costly for the hosts, dropping them back to the bronze medal position.
The French combination of 2016 Olympic gold medalist Denis Gargaud Chanut, 2020 Olympian Martin Thomas and two-time U23 world champion Nicolas Gestin edging out the Czech Republic for the title.
France was the last team to win gold, in 2007, before the Slovakian streak began.
"We are happy to beat the Slovakians at their home, it is never easy when you are home," Gargaud Chanut said.
"It was a very impressive record, but eventually it has to terminate. It is better that it is the French, because we have a good battle, the French and the Slovaks, so maybe we can now try and follow their footsteps.
"I don't know that we can do nine, it will be very difficult, but we can try."
Tokyo Olympians Mallory Franklin and Kimberley Woods teamed up with two-time Olympian Fiona Pennie to defend the women's K1 teams title they won in 2019, finishing more than five seconds ahead of the Czech Republic, with Slovakia another second behind in third place.
"We had a gold at the Europeans as well, following on from the 2019 world titles, so we're really pleased to carry that on and get another one under the belt," Pennie said.
"We don't train for this at all, I think we had one run at it during the training camp in August while we were here. We've done it enough now with each other, we know how each other paddles in our different positions, we're quite experienced at it now."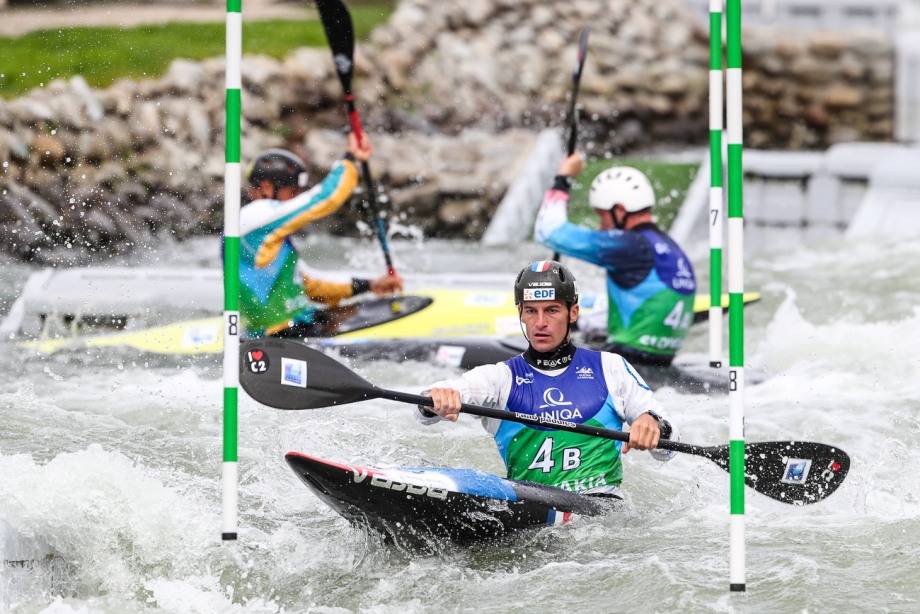 France's second gold medal in the team's event came in the men's K1, with Boris Neveu, Mathieu Biazizzo and Benjamin Renia posting a clean run to finish more than a second ahead of Slovakia, with Slovenia taking the bronze.
Neveu and Biazizzo were both members of the French team who last won gold in 2014.
"This is my first title in senior competition, and my first year with the French team, so I'm very proud of it," Renia said.
"I'm very proud to share it with these kayak men, because I have watched them for a long time, and now I am on the podium, the best place with them.
"I wasn't nervous because my goal was simple, just to follow Mathieu, so he could feel nervous for both of us."
The Czech women's C1 team also returned to the top of the podium for the first time since 2014, with Gabriela and Martina Satkova teaming up with 2021 ICF world cup winner Tereza Fiserova to defeat reigning world champions Spain, with the Russian Canoe Federation taking the bronze.
"It's really nice to be back on top, we had such a good run here, it was such a good feeling with the girls on the water, it's nice to have the title back after such a long time," Martina Satkova said.
"I love this course, I think we all love it. It's so hard but we all enjoy racing here, so I'm really glad we won this gold medal," Gabriela Satkova said.
In wildwater team events, Nicolas Sauteur, Etienne Klatt and Charles Ferrion won the men's C1 gold by just 0.14 of a second from the Czech Republic, with Italy more than two seconds back in third.
"It's the first time for us to be world champions in the senior, so its a great achievement and I think we can all be very happy," Klatt said.
"It has been difficult not having races and not being able to see other competitors," Sauteur said. 
"We are very happy to be wearing the bibs again."
In women's K1 the Czech team of Barbora Dimovova, Marie Nemcova and Tereza Kneblova finished ahead of Germany and France.
"It's amazing, I can't describe the feeling when we crossed the finish line," Kneblova said.
"It's such a hard course. I was very surprised we coiuld do such a good run in the final."
Germany turned the tables in the men's K1, with Bjoern Beerschwenger, Yannic Lemmen and Till Fengler defeating France and Slovenia.
"It was such a close race, so it was so good to be in the front at the end," Lemmen said.
"All our hard work paid off. It's a very technical course, quite difficult. It's so nice to be back, it was so hard to keep going and work through to the world championships."
The 2021 ICF canoe slalom and wildwater world championships continue on Thursday in Bratislava.
Pics by Dezso Vekassy