Frenchman Noic Garioud won his second world title in as many days while Spain's Esperanza Barreras successfully defended her crown as attention turned to long distance races at the International Canoe Federation Stand Up Paddling championships in Pattaya, Thailand, on Friday.
24 hours after claiming back his men's sprint crown, Garioud won his first ever men's long distance title. The paddler from New Caledonia has previously won both the sprint and the technical events at earlier world championships, and was thrilled to break through for his first distance crown at Jomtien Beach in Pattaya.
"I've been looking for this, my coach told me I could do it, but I didn't really believe him because my thing was more sprinting," Gerioud said.
"I felt a bit sore to be honest, and after that race I'm going to be even sorer. The Japanese were pushing really hard so it wasn't easy to sit in their draft, but I tried to rest as much as possible, even though they didn't make it easy.
"And then the sprint at the end, this is what I know to do best, I just tried that and it worked out."
Garioud, who also revealed after the race that his partner is expecting their first child, sat in third position during the 15 kilometre race behind the Japanese pairing of Shuri Araki and Rai Taguchi, before taking the lead in the final sprint to the beach.
The women's race quickly developed into a race between four, but Barreras spent most of the 15 kilometres leading the pack. As the group approached final buoy, the Spaniard broke away, leaving her teammate Duna Gordillo and American Kimberly Barnes in her wake.
"Being a world champion two times in a row, I'm really happy but I don't quite believe it," Barreras said.
"I was trying to save some energy, but I felt good at the end and I trusted in all the work I had done to get here so I just pushed more and more. I wasn't going to stop until I got to the finish line, and it worked for me."
Barnes finished with the silver, with Gordillo third.
In junior races Vaic Garioud emulated the performance of his older brother by taking the men's crown, defending the title he won in Poland last year. Japanese pair Shimazu Nariakira and Kotaro Miyahira filled the minor placings.
In the women's junior race 15-year-old Claudia Postiglione caused a minor boilover by outsprinting her teammate and last year's champion, Cecilia Pampinella, to take the gold. Hungary's Csillag Kocsis finished third.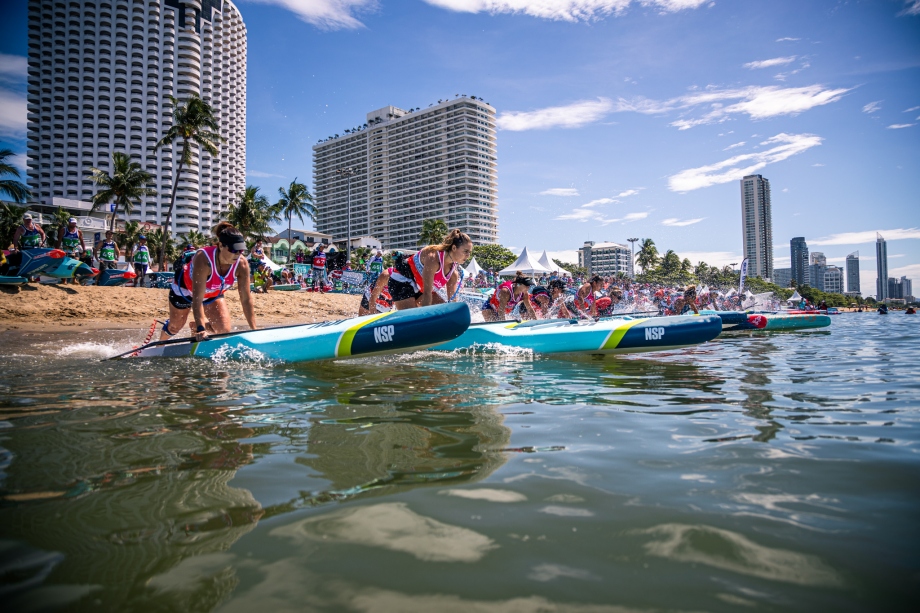 One day after winning his third consecutive men's 50 plus sprint crown, Germany's Peter Weidert was celebrating a long distance title. Weidert finished ahead of the Spain's defending champion, Daniel Parres, with fellow Spaniard Marc Foraster third.
The men's 40 plus title went to Dutchman Joep Van Bakel, ahead of Greece's Georgios Fragkos and Canada's Tommy Buday.
"Most of the time it is not a good thing to become 40, but sometimes it helps, my first world title so I'm really happy to have achieved this goal," Van Bakel said.
It was a double celebration for the Dutch, with Petronella Van Maslen taking the gold in the women's 40 plus ahead of Japan's Takayo Yokoyama and Germany's Susanne Lier.
"I came here to take the gold in the distance so I'm really happy," Van Maslen said.
"I was a bit nervous last night, so I didn't sleep very well. But when you start you know you can get it done."
Great Britain's Marie Buchanan won the women's 50 plus, adding to the 40 plus title she won in Poland last year. Italy's Anna Occhiogrosso finished second and Greece's Penny Tsaoutou third.
In the inflatable races Australia's Michael Booth defended the title he won 12 months earlier in the men, while in the women's competition the gold went to Korea's Su Jeong Lim.
The action continues on Jomtien Beach on Saturday, with the early rounds of the technical competition.
RESULTS – LONG DISTANCE
OPEN MEN
GARIOUD Noic (FRA) 01:29:36.17
ARAKI Shuri (JPN) 01:29:36.83
TAGUCHI Rai (JPN) 01:29:38.37
OPEN WOMEN
BARRERAS Esperanza (ESP) 01:43:44.57
BARNES Kimberly (USA) 01:43:58.26
GORDILLO Duna (ESP)  01:44:06.68
JUNIOR MEN
GARIOUD Vaic       (FRA) 01:02:02.63
NARIAKIRA Shimazu (JPN) 01:02:38.68
MIYAHIRA Kotaro (JPN) 01:03:37.14
JUNIOR WOMEN
POSTIGLIONE Claudia (ITA) 01:12:25.61
PAMPINELLA Cecilia (ITA) 01:12:29.42
KOCSIS Csillag (HUN) 01:12:31.62
MEN 40 PLUS
VAN BAKEL Joep (NED) 01:37:31.89
FRAGKOS Georgios (GRE) 01:37:32.31
BUDAY Tommy (CAN) 01:37:53.11
WOMEN 40 PLUS
VAN MASLEN Petronella (NED) 01:54:59.94
YOKOYAMA Takayo (JPN) 01:55:07.62
LIER Susanne (GER) 01:56:52.38
MEN 50 PLUS
WEIDERT Peter (GER) 01:07:33.63
PARRES Daniel  (ESP) 01:08:08.94
FORASTER Marc (ESP) 01:08:43.57
WOMEN 50 PLUS
BUCHANAN Marie (GBR) 01:22:04.87
OCCHIOGROSSO Anna (ITA) 01:27:41.98
TSAOUTOU Penny (GRE) 01:29:30.98
Pics by Georgia Schofield