It was a gold day for Australian Canoeing's slalom paddlers on the third and final day of the 2018 Canoe Slalom Oceania Championships in Auckland, New Zealand, with Olympians Jessica Fox and Lucien Delfour winning the women's C1 and men's K1 respectively.
It was a good turnaround for Fox after she missed a gate in the women's K1 final 24 hours earlier to rule herself out of a medal.
"All in all I'm pretty happy with this weekend. It was our first selection trial and we'll have two more races in the K1 and C1 at the Australian Open mid-Feb," Fox said. 
 "I was disappointed with the K1 but the speed was there - it was just some technical errors that cost me dearly.  I put it behind me and came back well today and put down some good paddling in the C1."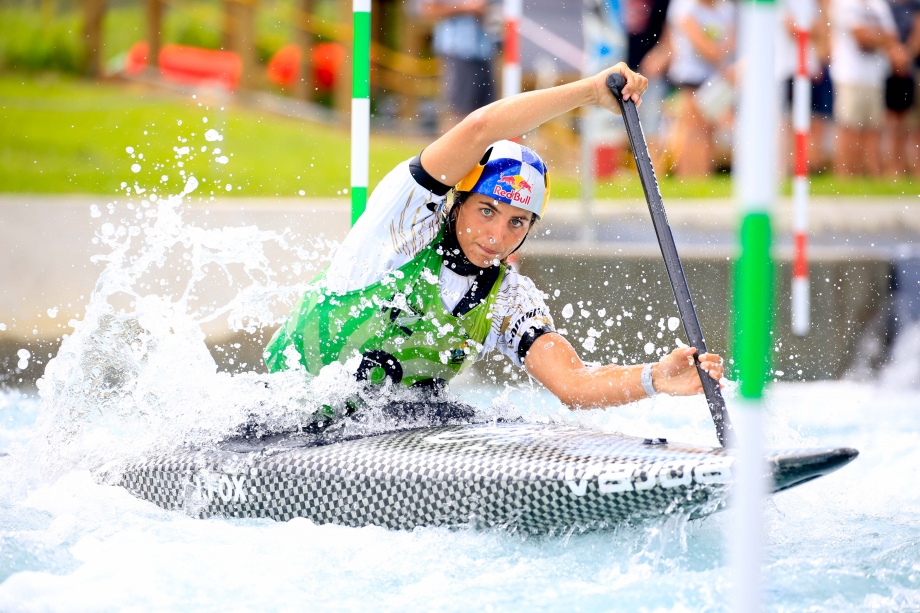 It was a good day for the Australian team, with Delfour holding off defending champion
Michal Smolen
(United States) to win a tight men's K1 final. The top six men all posted clean runs, with Delfour's 88.89sec effort just 0.04secs in front of Smolen, with
Mathieu Biazizzo
(France) 0.39secs further back.
"I did the Whitewater XL at the end of last year which was super-early in the season but it gave me more time on this course,"  Delfour said.  
"It's one of the hardest courses in the world - it's not big but it's so technical. You've got to find balance and smooth paddling, which luckily suits me - I try not to paddle too hard, otherwise you just waste energy."
In the space of a year, New Zealand canoe slalom star Luuka Jones has gone from a half-drowned, last-placed wreck to an Oceania C1 silver medalist.
Just 15 months after adding the C1 discipline to her arsenal, she's now within touching distance of the sport's undisputed queen, Jess Fox, having finished second to the Australian at the Oceania championships at the Vector Wero Whitewater Park in Auckland today.
Jones was just 2.71 secs behind Fox; a far cry from the 2017 final at the same venue when Fox won by a massive 13 secs and the Kiwi rolled after missing a gate and finished more than 6 mins off the pace once all her time penalties were added up.
"Last year, I nearly drowned in the C1 and was basically just trying to make it to the bottom upright!" Jones said.
"This year, to come second and to be right in the mix was really good - any race where I'm getting closer to Jess is a good race and I've still got a bit of time until the Tokyo Olympics to keep improving in C1 and hopefully not drop off too much in K1."
Her C1 improvement saw her make a series of world cup finals last year, although she saved her best result for an historic fourth-placing in the K1 at the world championships in France.
Fox picked up her fifth world title in the same race - she now has three C1 world titles and two K1 crowns - and has been a keen follower of her Kiwi rival's progress.
"Luuka's really pushing it in C1 and she paddles a C1 a lot like a K1, in that she attacks it a lot more," Fox said.
"I'm a bit more open and try for wider lines to keep my boat speed, whereas she'll come right in and get right up close to the gate.  She's an exciting paddler to watch and she had some great results in the world cups last year."
Fox and Jones both picked up touches in Monday's final, with Fox clocking 109.42 secs and Jones 112.13, while another Australian,
Rosalyn Lawrence
, was third in 116.39.
It was a relief for Fox, who missed a gate in Sunday's K1 final - ironically, so did Jones - and ended up eighth.
The fairytale finish was nearly provided by Tauranga's
Jack Dangen
, the only New Zealander to make the men's K1 final.
The 19-year-old has only come back into the sport after having a year off to start his building apprenticeship but posted the fastest qualifying time at last week's New Zealand Open and backed it up in style this week, finishing seventh.  It could've been even better too, picking up a touch on gate 15 which dropped him back a spot and cost him momentum.
Results:
Women's C1: Jessica Fox (Australia) 109.42, Luuka Jones (New Zealand) 112.13 2, Rosalyn Lawrence (Australia) 116.39 3, Noemie Fox (Australia) 120.17 4, Sage Donnelly (United States) 123.95 5, Kelly Travers (New Zealand) 131.99 6, Kate Eeckhardt (Australia) 135.27 7, Alison Borrows (Australia) 142.93 8, Claire Jacquet (France) 164.15 9, Martina Wegman (Netherlands) 261.18 10.
Men's K1: Lucien Delfour (Australia) 88.89 1, Michal Smolen (United States) 88.93 2, Mathieu Biazizzo (France) 89.32 3, Daniel Watkins (Australia) 89.84 4, Ondrej Tunka (Czech Republic) 90.08 5, Titouan Dupras (France) 93.26 6, Jack Dangen (New Zealand) 93.67 7, Yves Prigent (France) 94.60 8, Timothy Anderson (Australia) 94.92 9, Benjamin Pope (Australia) 96.64 10.
For more info & all results see: http://www.slalomnz.org.nz/events-1/oceania-champs
Words and pics by Jamie Troughton