On the eve of the Tokyo Olympics American teenager Evy Leibfarth came across an old video of herself, pre-teen, making a pledge that one day she would compete at the Games herself.
And now here she is, and on Tuesday she will be competing in the semi-finals of the women's kayak. At 17 she's the youngest competitor not just in the field, but in the entire canoe slalom competition.
"I came across a video of me in 2016 where 11-year-old me is saying how I wanted to go to the Olympics one day, so being here is quite incredible, Leibfarth said after qualifying for the next round on Sunday.

"I think it's really cool being the youngest person here. There's not as much pressure on me from other people, but I'm definitely putting that pressure on me because I am here to medal."
Evy Leibfarth's story is by no means unusual at an Olympics, among athletes who have often had to overcome enormous challenges just to get to Games. Mexico's Sofia Reinoso, making history as the first paddler from her country to compete in slalom at an Olympics.
And she made it into the semi-finals.
"I feel like this is a big start for Mexico, I've had so much support and I feel that this will be the start of something big, so I'm really excited that it's me who is starting now," Reinoso said.

"It's definitely been a hard path. Doing slalom in Mexico is not an easy thing, so I'm very proud that I am here and so happy and grateful to have had so much support from so many people."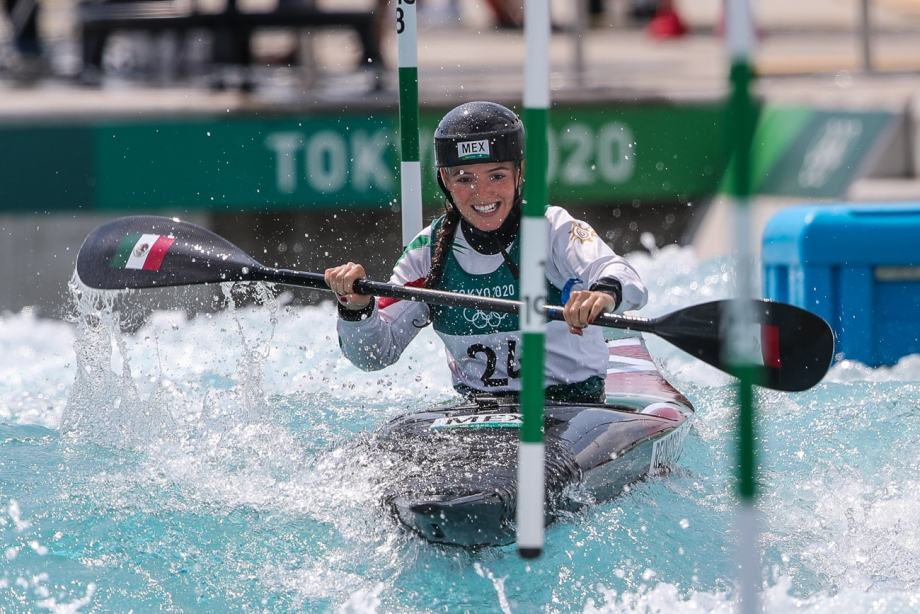 Austria's Viktoria Wolffhardt, who thought she had her Tokyo ticket locked away last year, only to be told her Federation was re-opening the qualification process.
"It was a very hard year for me physically and mentally," she said after qualifying for the semi-final.

"First I had shoulder surgery, and then they re-opened our Olympic selection, which was very hard. I struggled a lot at the beginning of the season, to qualify again and defend my ticket. I'm proud of what I did and my team."
Having got to the Olympics, some are finding it hard dealing with the restrictions that have been put in place to prevent the spread of Covid. The rows of spectator seats are empty, and team support staff have been asked not to yell encouragement to their athletes, but to clap their hands.
Which for a paddler on the wild water makes very little impact.
"It's really strange because they say they can't shout, and for me, when I go out of an upstream gate I really like it when my coaches are shouting at me, so I go faster," Italy's Steffi Horn said.

"It felt quite strange the first time, so I asked him to at least at the finish line give me a shout, and he did and I heard him, so it helped me a lot."
Poland's Klaudia Zwolinska, making her Olympic debut, is feeling a little short-changed.
"I'm angry because I don't feel the atmosphere, it's just quiet here," she said after the heats.

"I don't like it, it's pretty hard for the athletes. I prefer it when there are a lot of people and it is loud and I can feel the atmosphere."
Pride is a common emotion being felt by the athletes lining up in Tuesday's kayak semi-final. Getting to an Olympic Games can be a long and challenging process, both physically and mentally.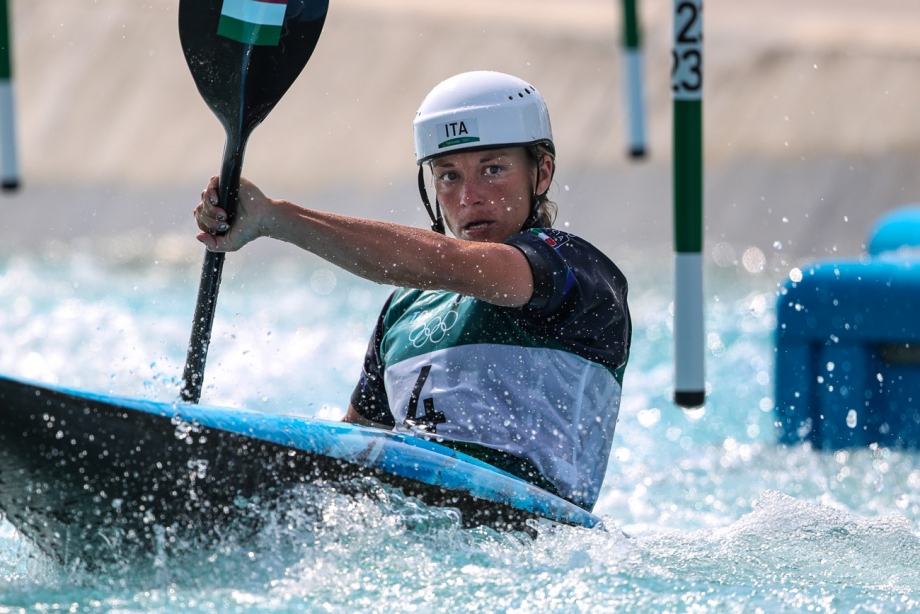 Great Britain's Kimberley Woods has ridden a roller coaster of emotions since earning selection to Tokyo, especially in a country hit especially hard by Covid and where lockdown restrictions have made it incredibly difficult to prepare.
"I'm so happy and proud to be wearing the British flag on my chest and to finally be able to call myself an Olympian," Woods said.

"I think my arms felt more nervous than my head, especially towards the end of my run. I'm proud of myself for just getting here."
Also dealing with aching arms was Dutch debutant Martina Wegman, who got stranded in New Zealand for months on end during the height of the Covid pandemic. It gave her plenty of time to think about her upcoming Olympic appearance, so she was surprised how calm she felt on race morning.
"It's a pretty cool and awesome experience," she said.

"I have felt relaxed all day, even at the start line I was surprised that I didn't feel nervous at all. But when my run started my arms felt like jelly, so I'm sure my body is feeling all the stress but my mind doesn't."
Jane Nicholas is the third member of her family, after her sister and brother, to represent the Cook Islands at the Olympics.
"It feels pretty incredible to make it through to the semi-finals. I'm very happy to be able to represent the Cook Islands here and to make it through, it's a real honour," she said.
Reigning world champion Eva Tercelj is also one of the most experienced kayak paddlers in Tokyo. She made her Olympic debut in London, didn't qualify for Rio, but is back and looking to build on the gold medal-winning performance of her Slovenian teammate, Benjamin Savsek, on Monday.
But she's very wary of the Kasai course.
"Its technically and physically demanding, so you really need to focus from the start to the finish line," she said.

"I didn't really achieve what I was aiming for in the heats, but I got some good feelings on the water. I just tried to take it like any other race. It's nice to be here, that was my big wish, so I will do my best to enjoy it and be happy at the end."
Giving it all some perspective is Ukraine's Viktoriia Us, competing at her second Olympics.
"I'm happy to be here, and happy to be in the semi-finals," she said.

"It's very different. There are no people on the tribunes, no support, but the organisation and the organisers are very nice."
The women's kayak semi-finals and final will be held on Tuesday.