Four nations shared the gold medals on the opening day of the ICF Canoe Slalom World Championships at Lee Valley on Tuesday, including a first ever title for the Australian women's K1 team.
Host nation Great Britain, Paris 2024 host France, and the Czech Republic also picked up gold medals in the team events in challenging conditions at the London 2012 Olympic venue.
The teams event features three athletes from each country racing down the slalom course together.
In women's K1, Australia showed the benefit of posting clean runs to win its very ever teams gold medal. Jessica and Noemie Fox and Kate Eckhardt were one of just two teams to not pick up any penalties, which was enough to take them to the top of the podium for the first time.
Spain, with a single gate touch, took second, while Great Britain had the fastest raw time on the course, but two gate touches saw the home nation relegated to third. The same Australian trio had also contested the women's C1 team event, where a 50-second penalty knocked then out of medal contention.
"It's definitely a bit of an advantage, but we don't get to practice teams all that often, especially compared to the other European nations," Noemie Fox said.
"But we worked really well as a team, so to put down that run is truly special."
Ellis Miller only got the call up to compete in the women's C1 teams event on the eve of the world championships following a shoulder injury to Sophie Ogilvie, and on Tuesday Miller got the chance to celebrate Great Britain's first gold medal in the event since 2018, and their third overall.
Teammates Kimberley Woods and Mallory Franklin were both part of the winning teams in 2018 and 2017.
"It's obviously nice to do this at home, and it was a really good solid clean run, I felt pretty confident when we got to the finish line," Franklin said.
"It's the first time we've done the team run together, so it was just making sure that we knew the water well, we knew how to paddle on this course, we're all good on this course, and we worked well together," Woods said.
The Czech Republic kept up its perfect record of a medal at every women's C1 team event by finishing second, while Slovenia took the bronze, winning its first ever medal in the event.
In men's C1 teams, France returned to the top of the podium after losing their title to Slovenia last year. The French combination of Nicolas Gestin, Jules Bernardet and Lucas Roisin finished just 0.03 seconds ahead of Great Britain, while Italy repeated its bronze medal performance of 12 months ago.
"I'm really happy to do this today with Jules and Lucas, we already did some team runs together in 2019, when it was not perfect," Gestin said.
"But today it was really better, and we were able to take the gold. For sure it is great to do this today, it is a step, but we have another battle. We have a hard week in front of us."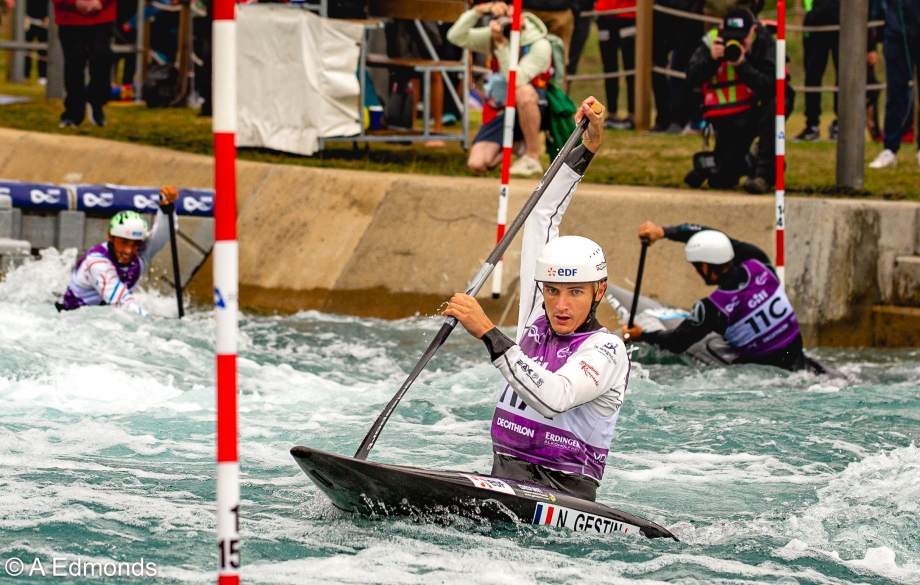 In the men's K1 the Czech Republic returned to the top of the podium for the first time since 2017. Reigning Olympic champion Jiri Prskavec, reigning world champion Vit Prindis, and U23 world champion Jakub Krejci proved too strong.
"It's been six years, but we are back here," Prskavec said.
"It's a combination of the three of us being good at individual categories, really fast. Jakub in the middle is really strong, and Jiri and I are used to paddling together because for the past ten years we have been racing in the same position, we just mixing the man in the middle. We had a good run and we really enjoyed it," Prindis said.
The ICF World Championships and Paris 2024 Olympic qualifiers continue at Lee Valley on Wednesday, with heats in the men's and women's C1.
RESULTS – TEAMS
WOMEN C1
Great Britain 45 (0 seconds penalties)
Czech Republic 114.55 (0)
Slovenia 32 (2)
MEN C1
France 17 (0)
Great Britain 99.20 (0)
Italy 31 (0)
WOMEN K1
Australia 62 (0)
Spain 91 (2)
Great Britain 109.02 (4)
MEN K1
Czech Republic 76 (0)
France 99 (0)
Poland 33 (2)
Pics by Antony Edmonds
The full Paris 2024 qualifying details can be found here.

The 2023 ICF Canoe Slalom and Kayak Cross World Championships begin on September 19 and run through to September 24. The official event website can be accessed here.

An international media guide for the event can be downloaded from here.

A guide for all media attending the world championships can be downloaded here.