Seven-time world champion Hank McGregor of South Africa will return to individual racing and try to wrest back his ICF marathon crown at the 2019 world championships in Shaoxing, China, next week.
Hungary's Vanda Kiszli will be back to defend her women's K1 title, Ukraine's Liudmyla Babak will chase a third consecutive women's C1 crown, while Spain's Manuel Campos will be eying off his fourth men's C1 gold medal.
41-year-old McGregor admitted the lure of competition was too great to ignore after watching on from the ICF commentary box at last year's world championships in Portugal.
But to regain the crown, McGregor will need to defeat close friend and K2 partner Andrew Birkett, who won an emotional gold medal in Prada last year, and then teamed up with McGregor to also win the K2 title.
McGregor has been the biggest name in canoe marathon racing since he won his first K1 title back in 2003.  Along with his seven individual titles, he has also won four K2 titles. Birkett finished second behind his teammate in 2016 and 2017.
2018 was a special year for Birkett, not only breaking through for his first individual world title, but also becoming a father for the first time. After the emotion of holding out Hungary's Adrian Boros for last year's title, he will relish the challenge of taking on the king of marathon racing next week.
Boros has a collection of minor world championship medals, the latest a silver behind Birkett last year. He's also finished runner up behind McGregor in 2015 and took the bronze behind McGregor and Birkett in South Africa in 2017, and will be looking for a podium finish again in China.
Portugal's Jose Ramalho had big hometown support in Prada last year, but his chances of glory were dashed after he suffered a boat mishap. He has a silver medal, three bronze medals and three fourth placings to his name since his debut in 2009 and will be one to watch again next week.
Denmark's Mads Pedersen, Czech Jakub Adam, and 35-year-old Frenchman Cyrille Carre are among the leading contenders to make life difficult for the favourites on the picturesque Shaoxing course.
It's a welcome return to marathon racing for Carre, a bronze medalist at the 2013 world championships who also won bronze this year in the K2 1000 at the ICF canoe sprint world championships.
Vanda Kiszli continued Hungary's strong record in the women's K1 when she held off teammate and K2 partner Sara Mihalik for gold last year, and will start favourite next week. Her biggest challenge could come from teammate Zsofia Czellai-Voros, last year's U23 world champion.
But it's a race full of chances. 2015 world champion from the Czech Republic, Anna Koziskova, Spain's Eva Barrios, bronze medalist last year, and Ireland's Jenny Egan, one of the most consistent and hard-working paddlers on the world circuit and a bronze medalist in 2017, will all feature in the leading pack.
Serbia's Kristina Bedec, a bronze medalist in 2015 and 2016, Great Britain's Lizzie Broughton, a silver medalist in 2014, and the South African pair of Jenna Ward and Bridgitte Hartley, who have warmed up for this event in some of the toughest marathon races on the planet, will all be watched closely.
Spain's Campos just managed to hold out teammate Manuel Garrido to win his third men's C1 title last year, and the pair will lock horns again in what should be a classic Spanish bullfight on the waters of Shaoxing.
Adam Docze, a bronze medalist last year, and teammate Adam Horvath will be looking to return the C1 crown to Hungary after Spain's win last year ended a run of three consecutive titles for Hungarian canoeing legend, Marton Kover.
Russia's Kirill Shamshurin finished just outside the medals in Prada last year and will be back next week, however one notable absentee will be Portugal's Nuno Barros, a former champion and three-time bronze medalist.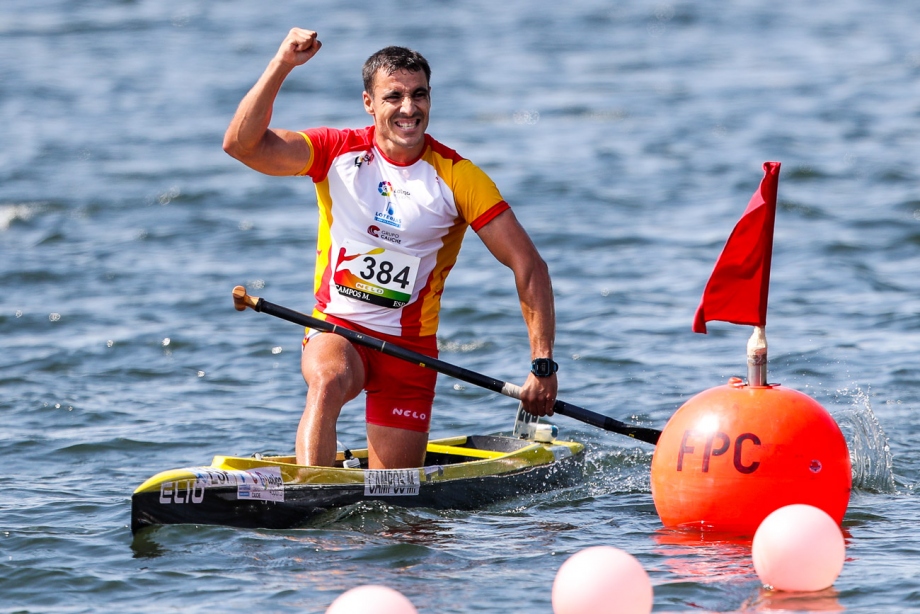 Ukraine's Liudmyla Babak will definitely be back, looking to make it a hat-trick of women's C1 world titles. Since finishing third in 2016, she has been unbeatable in the marathon, notching up three consecutive European titles to go with her world crowns.
It will be the Hungarians who will be expected to provide the toughest challenge for Babak, with last year's silver medalist, Zsofia Kisban, leading the charge. France's Marine Sansinena took bronze in Prado, while Poland's Adrianna Antos finished fourth and are both expected to be in a fight for the medals.
In the K2, South Africa's KcGregor and Birkett will start short-priced favourites for the men, while in the women's, the clash between the Hungarian boats of Czellai-Voros and marathon legend Renata Csay, and Vanda Kiszli and world U23 K1 500 champion, Noemi Pupp, will be an event highlight.
In C2 races, there's been a shuffling of the boats in the Spanish team, with last year's gold medalists now split up and racing with different partners. Diego Romero will paddle alongside Manuel Campos, while Oscar Grana will partner Pedro Abreu.
Four-time C2 gold medalist, Adam Docze, will partner Sebestyen Simon to try and win the title back for Hungary.
The 2019 ICF Canoe Marathon World Championships begin in Shaoxing on Thursday, October 17, and run through until Sunday, October 20.