The records continued to tumble for Australia's Jessica Fox on the final day of the ICF Canoe Slalom World Championships in Rio, her victory in the women's C1 confirming her status as the greatest female paddler in the history of the sport.
Germany's Hannes Aigner became Germany's first K1 world champion for more than a decade after a slashing run in Sunday's final, Brazil's Ana Satila thrilled the home crowd with a win in the women's extreme slalom, and Italy's Christian De Dionigi won the last gold medal on offer, the men's extreme slalom.
Fox was once again in a class of her own in the women's C1. She has now won the title four times, has won the K1/C1 double for a second time, and managed to paddle through an entire season undefeated in C1.
Her win takes her total world titles across all disciplines, including teams, to nine, leapfrogging her mother, Myriam Jersusalmi, to become the most successful female canoe slalom paddler of all time.
24 hours earlier the overtook her father, Richard, as the most successful individual athlete of all time.
"It's been the perfect season, the perfect world championships, I'm absolutely thrilled," Fox said.
"Yesterday was really hard because I couldn't appreciate what I had achieved because I had the C1 semis in the afternoon. But now all the emotion is there, it's amazing to share it with everyone that's here – my team, my family – I can't wait to get home and celebrate.
"Growing up with two parents who were very successful in the sport was always pretty daunting, and I never thought I would be able to beat dad's record of five titles, or achieve what mum achieved.
"To beat them is very cool, very special, but it's as much their achievement as mine."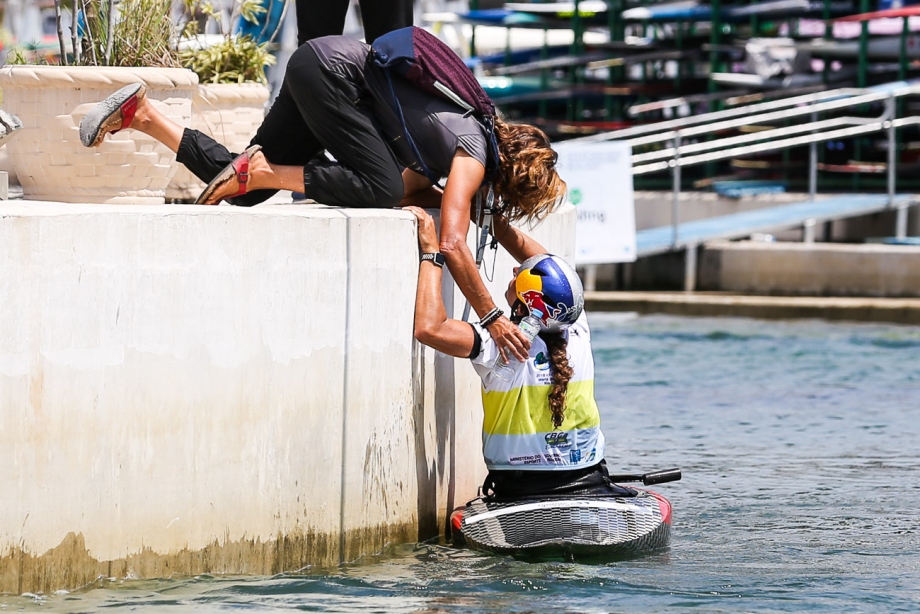 Fox posted a clean run of 109.07, almost five seconds faster than defending world champion, Mallory Franklin of Great Britain in 113.85. Czech Tereza Fiserova was third in 116.74.
Germany's Hannes Aigner broke through for the biggest win of his career, registering 89.69 in a near perfect K1 run to land his country their first world title in the discipline since Fabian Dorfler won in Sydney in 2005.
"It was pretty hard for me to make this run, I had a lot of finals and didn't make a good performance," Aigner said.
"This was the first time for me to make a pretty good run in an important final. I risked everything, I didn't want to finish in the fourth place, so it all worked out. Now this is my best season ever.
"We have a long tradition in K1 men in Germany, we have many titles, but the last title was a long time ago, so I'm happy to continue this series of success for Germany."
Czech Jiri Prskavec, a 2015 world champion, picked up his second silver medal in a time of 90.65, while Pavel Eigel won Russia's first ever world championship medal when he finished third in 92.17.
The 2019 Canoe Slalom World Championships, which doubles as a Tokyo 2020 qualifier, will be held in La Seu, Spain.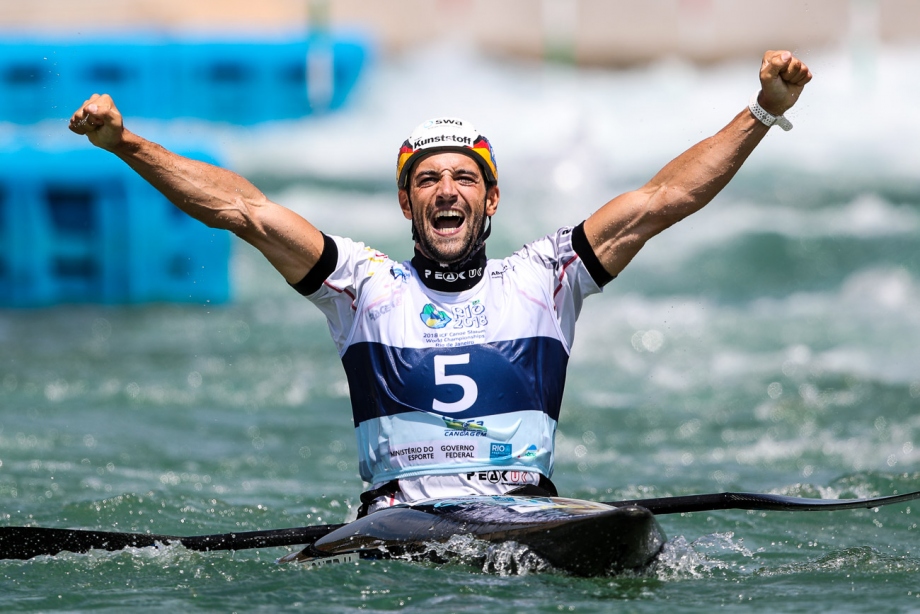 Brazil's Ana Satila finally won the gold medal she dreamed of in front of her home crowd when she won the extreme slalom final.
Satila was lucky to make the finals after being disqualified in her semi-final, but squeezed through as the fastest qualifier after two other paddlers in the four-woman race were also disqualified.
"It was a tough day, and I'm really tired," Satila said.
"The crowd here in Deodoro was really amazing, and I really enjoyed paddling and I'm just super grateful for everything I will be leaving here in Rio this time.
"I just tried to enjoy and have fun, that's all."
Christian De Dionigi of Italy emerged as the winner of the men's r
"It's so much fun, you never know what's going to happen so you have to fight from the beginning to the end," he said.
"I've done a lot of creeking so I'm very familiar with this type of boat, so I just tried to have fun."
The 2019 Canoe Slalom World Championships, which doubles as a Tokyo 2020 qualifier, will be held in La Seu, Spain.
RESULTS
WOMEN'S C1
FOX Jessica                 (AUS) 109.07 (0)
FRANKLIN Mallory    (GBR) 113.85 (2)
FISEROVA Tereza      (CZE)  116.74 (2)
MEN'S K1
AIGNER Hannes    (GER) 89.69 (0)
PRSKAVEC Jiri        (CZE) 90.65 (0)
EIGEL Pavel           (RUS) 92.17 (0)
WOMEN'S EXTREME
SATILA Ana                     (BRA)
WEGMAN Martina       (NED)
MUKHGALEEVA Polina (RUS)
MEN'S EXTREME
DE DIONIGI Christian     (ITA)
NEVEU Boris                    (FRA)
BERSINGER Thomas       (ARG)