Poland's Marcin Pochwala and Aleksandra Stach, winners of a solitary bronze medal during the 2018 ICF Canoe Slalom World Cup season, became the C2 mixed world champions on Friday in Rio.

In other highlights, Germany's Ricarda Funk bounced back to her best form by qualifying fastest for tomorrow's K1 women's final, while Slovenia's Benjamin Savsek showed he is ready to defend his world title with the quickest time in the men's C1 semis.

Pochwala, a four-time Olympian in C2, is Stach's C1 coach, and the pair have been paddling together for one year. Their best result this year was a third on their home course in Krakow.

"I feel very good, I think it's a dream," Pochwala said.

"This is my first time as a world champion. We have been together for about one year, but we don't have professional training. We don't paddle together every day.

"We thought we could maybe win a medal this week. That would have been a good result for us."

"He is my coach in C1, so in C2 mixed we maybe train together one time a month," Stach said.

Pochwala and Stach finished in 104.48, which included a two-second penalty. The French pair of Yves Prigent and Margaux Henry, second overall in the World Cup series this year, posted a clean run of 106.84 to take the silver.

Czechs Veronika Vojtova and Jan Masek finished third in 108.25. Fellow Czechs Tereza Fiserova and Jakub Jane, winner of the World Cup series, picked up two gate touches and finished fourth.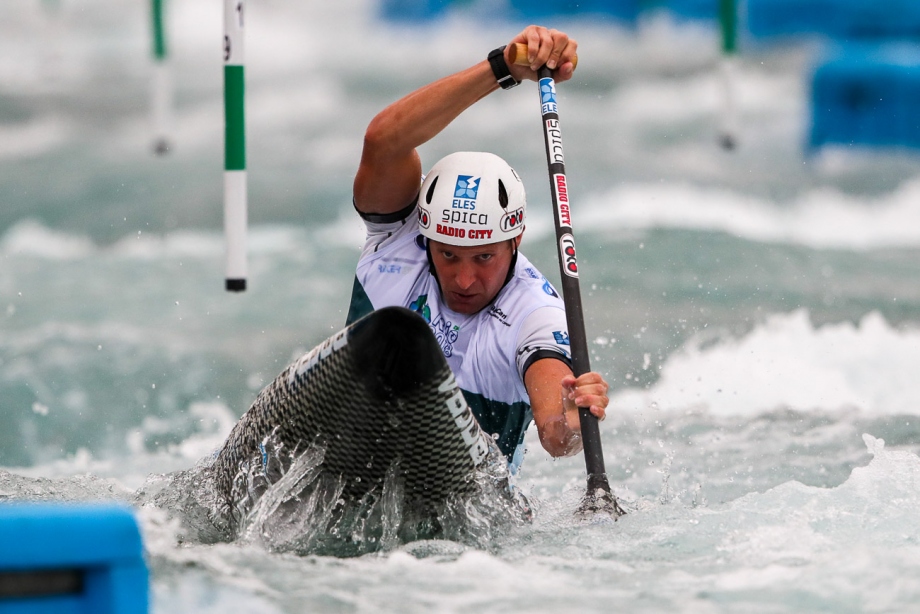 Benjamin Savsek broke through for a long overdue C1 world title in Pau last year, and looks determined to hold on to the crown with a 98.13 qualifying run.

"It was a nice run, the boat was fast and I'm happy to be in the final for tomorrow," Savsek said.

"I focus on this race, not the world title. This is a new race, and I just try to be my best. I'll try to show my best, what I can do."

World Cup winner Alexander Slafkovskyof Slovakia was second quickest in 98.24, while another Slovenian, Luka Bozic, was third in 99.44.

Among the big names to miss out was Great Britain's two-time world champion, David Florence.
Ricarda Funk caused several heart flutters when she capsized on her first qualifying run on Wednesday, but put that behind her to post a sizzling second run on the same afternoon.

She followed up with the quickest qualifying time in Friday night's gloomy conditions.

"I'm really happy I'm in the final, and I'm happy that I had a good run because in the qualifying I was really struggling," Funk said.

"This is canoe slalom. It happens sometimes.

"Training has been okay, I haven't had many training sessions, I could have had a few more, but it's the same for everyone."

Funk posted a time if 104.18, with Ursa Kragelj from Slovenia second on 105.45. Rio silver medallist, Luuka Jones, was third fastest on 105.87.

Defending world champion Jessica Fox of Australia qualified sixth fastest.

The biggest shock was the absence of Rio gold medallist Maialen Chouraut from the final, after the Spaniard missed a gate and incurred a 50-second penalty.
 
RESULTS
C2 MIXED
POCHWALA/STACH        (POL)       104.48 (2)
PRIGENT/HENRY             (FRA)       106.84 (0)
VOJTOVA/MASEK           (CZE)        108.25 (2)