Four years since the London 2012 Olympic Games our reporter John Gregory (@gregiej) takes a look at how things are shaping up as the world's best start their preparations ahead of a trip to Rio.

At present only a handful of athletes are assured of a starting spot at the Brazilian showcase with the teams of Great Britain and Australia the first to confirm, following their early team selection races. We'll see if the longer preparation time provides their athletes with the edge in August.
With the retirement of three-time Olympic Champion Tony Estanguet (FRA, C1M), plus the British duo of Tim Baillie and Etienne Stott (GBR, C2M), we are guaranteed some new faces on the top step of the podium this time round.
That said, there are several previous winners looking for another chance to shine with names such as Alexander Grimm (GER, K1M), Peter and Pavol Hochschorner (SVK, C2M), Elena Kaliska (SVK, K1W), and Stepanka Hilgertova (CZE, K1W) all in the hunt for an Olympic berth.
"One of the strongest types of competitor on the Olympic Trials start line is the experimenter with true belief", says Joe Jacobi, C2M Gold, Barcelona 1992 Olympic Games.

Significant results since London 2012
 

C1M

K1M

K1W

C2M

C1W

2012
London

Estanguet (FRA)          - retired

Molmenti (ITA)

Fer (FRA)

Baillie & Stott (GBR) - retired

 

2013 Prague

Florence (GBR)

Hradilek (CZE)

Fer (FER)

Florence & Hounslow (GBR)

Fox (AUS)

2014
Deep Creek

Lefevre (USA)

Neveu (FRA)

Fox (AUS)

Saso & Taljat (SLO)

Fox (AUS)

2015
Lee Valley

Florence (GBR)

Prskavec (CZE)

Kudejova (CZE)

Anton & Benzien (GER)

Fox (AUS)
 
Season Premiere
Our first indication of the athlete's form in 2016 was at the Oceania Championship in Perth, Australia, which also served as one of the Olympic selection races for the continental federations. 
Many of the northern-hemisphere nations use this championship as an opportunity to compete in warmer climes with the championships highlighting the strength and depth of the travelling teams from Europe and North America.

Underlining their strength, Germany placed three boats in the K1M final, two in the C2M and three in the K1W. The Czech Republic overhauled their counterparts with an astonishing four K1M in the final; Olympic silver medallist Vavra Hradilek (CZE) was the eventual race winner.
It should also be remembered that Germany secured two athletes in the top 10 of each Olympic class in the ICF 2015  world ranking.
New era for C1M
With Estanguet and his main rival Michal Martikan, five-time-Olympic medallist, (SVK) out of the equation, we are set for a new era in the C1M class.

The 2014 C1M World Champion Fabien Lefevre (USA) will also miss the trip to Rio.
The USA's Aaron Mann confirmed why, "Unfortunately, Fabien [Lefevre] has been unable to expedite his application for U.S. citizenship and will not be eligible to qualify for the 2016 Olympic Team.
"Even though he has had some tremendous results since he began racing for the United States, he knew that obtaining his passport in time for Rio would be a long-shot."
Double C1M World Champion David Florence (GBR) and Matej Benus (SVK) are the disciplines new leading lights and have secured their spots in Rio. Interestingly, Florence won the November Rio Aquece (test event).
Expect many of the other contenders to show their intentions in the early season World Cups.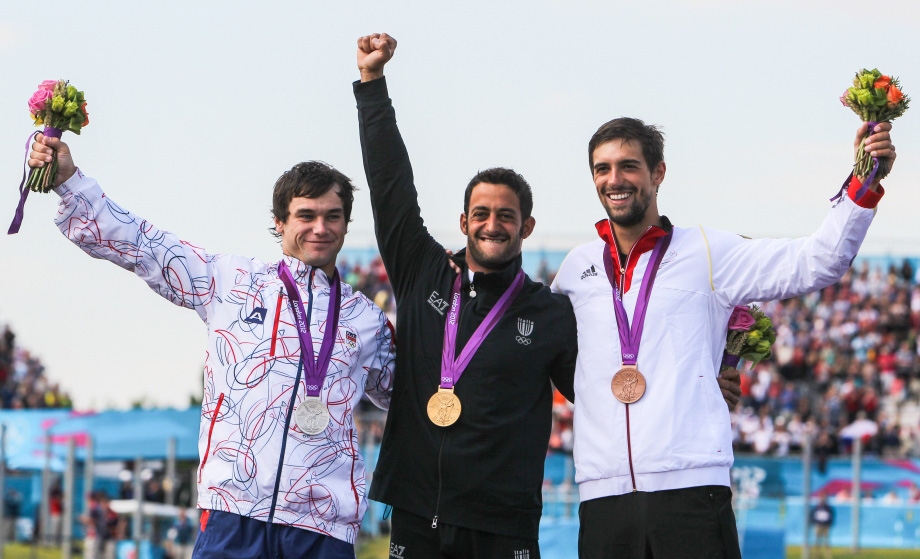 Battle of the giants in the K1M
There is serious podium competition in the K1M with two Olympic Champions (Grimm and Molmenti) and four World Champions (Molmenti, Kauzer, Hradilek and France's Boris Nevue) in the mix for the 2016 season.
The 2015 World Cup Series saw Kauzer (SLO) return to form and take top honours, finishing just ahead of Lucien Delfour (AUS) and Ondrej Tunka (CZE).
Delfour is excited about racing at the Games; "It will be the first time I race in front of thousands of people. I'm sure that's something pretty special. Rio reminds me of Seu because of the general narrowness and the small stoppers, and Krakow because of the general feel of the water and the eddies."
There are some immensely strong teams in this class.  After a sensational 1-2-3 at the 2014 ICF Canoe Slalom World Championships in Deep Creek, the French team has three paddlers in the top 10 of the ICF world ranking.
Also Mathieu Biazizzo (FRA) won the Rio test event final showing he can put down a fast run on the Olympic channel.
"With so many good athletes", describes Delfour, "their [French] trials are going to be absolutely intense.

Meanwhile, the Czech Republic has two of the three recent K1M World Champions, Hradilek (2013) and Jiri Prskavec (2015).
Germany also has two Olympic stars with Grimm and Hannes Aigner, both medallists at the Games; plus former World ranked No.1 Sebastian Schubert.
Expect some new kids on the block to make their mark in 2016, among them, confirmed Olympian, Joe Clarke (GBR) and the yet to be confirmed Michal Smolen (USA).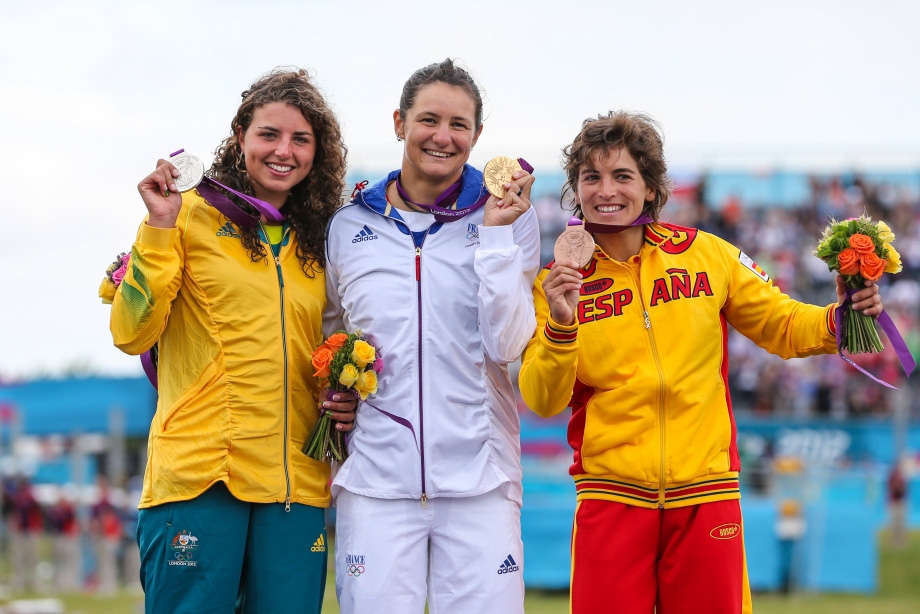 Tight at the top for the K1W
A look at the K1W 2015 World Cup series top 10 is evidence of how difficult it is to predict the 2016 season. Corina Kuhnle (AUT) and Jana Dukatova (SVK) finished equal on points and a little ahead of Olympic silver medallist Jess Fox (AUS) and Olympic bronze medallist and 2015 European Champion Maialen Chourraut (ESP).
We have had three different World Champions since 2012, Olympic Champion; Emilie Fer (FRA) continued her form in 2013 then Jessica Fox (AUS, 2014) and Katerina Kudejova (CZE, 2015) in the subsequent years. Kudejova also finished second behind Violetta Oblinger-Peters (AUT) at the Rio test event.
Reflecting on her time since silver at the 2012 Games, Fox commented, "The London Olympics was an incredible experience. I don't think it could have been any better! The whole village, competition, media experience that I had was fantastic and I learnt a lot from it."
"Competing in front of 15,000 people was definitely something new that I could not have prepared for so I think that will be valuable to recall upon for Rio. I learnt how to deal with media exposure and I think that will be something I will have to deal with for this Olympics."

Reliving the day, Fox continued, "The competition and the feelings of pressure, excitement and anticipation are unlike anything I've ever felt in an international competition. You really feel the magnitude of the event and I know what to expect heading into Rio. Having had the London experience, Rio won't be as overwhelming."
Four years ago Ricarda Funk (GER) was ranked 33rd in the World. The 23-year-old German is now European Champion and in the fourth spot on the global ranking. She started the season looking strong with a win in the Oceania Championship heat and eased through comfortably to the final with two of her team-mates. 
"I am really looking forward to the 2016 season. April will be the German Olympic selection, which will be very very hard. All the girls are so good; everyone wants the spot. I will fight and give all my best and then we see what happens. Everyone deserves it", described Funk.
Great Britain's Fiona Pennie has already secured her Olympic spot following success in her selection races.
Talking about the hectic schedule for the Brits top paddlers, she commented, "There was no rest for the British paddlers following the Worlds; we had Olympic selection just five weeks later.  This was tough on the body and mind, but ultimately it was going to be better for the selected Olympic team." 
"As the selected boat, I'll be taking full advantage of all the training periods in Rio. It also means I have plenty of time to do any additional preparations like sorting out my equipment."

Possibly the Olympic Swansong for the C2M
With the ICF backing the introduction of C1W at the Tokyo 2020 Olympic Games Rio could mark the last opportunity to be crowned Olympic C2M champions.
Like other classes, we have seen three first time C2M World Champions since London – Florence and Hounslow (GBR, 2013), Saso and Taljat (SLO, 2014), and Anton and Benzien (GER, 2015). Saso and Taljat took the win at the Rio text event in November.
With no senior world championships in an Olympic year, top ranked crew Gauthier Klauss and Matthieu Peche (FRA) will have to be patient in search of the illusive world championship title.
The Slovakian and Slovenian crews have three boats a piece in the world top 10 so the first battle for their single slots for the Games will be fierce.
Could this year also provide us with the first C2M crew from outside Europe in the final of a senior race? Devin McEwan and Casey Eichfeld (USA) at 27 remain the highest ranked. It was symbolic to see them in the final at the Rio test event.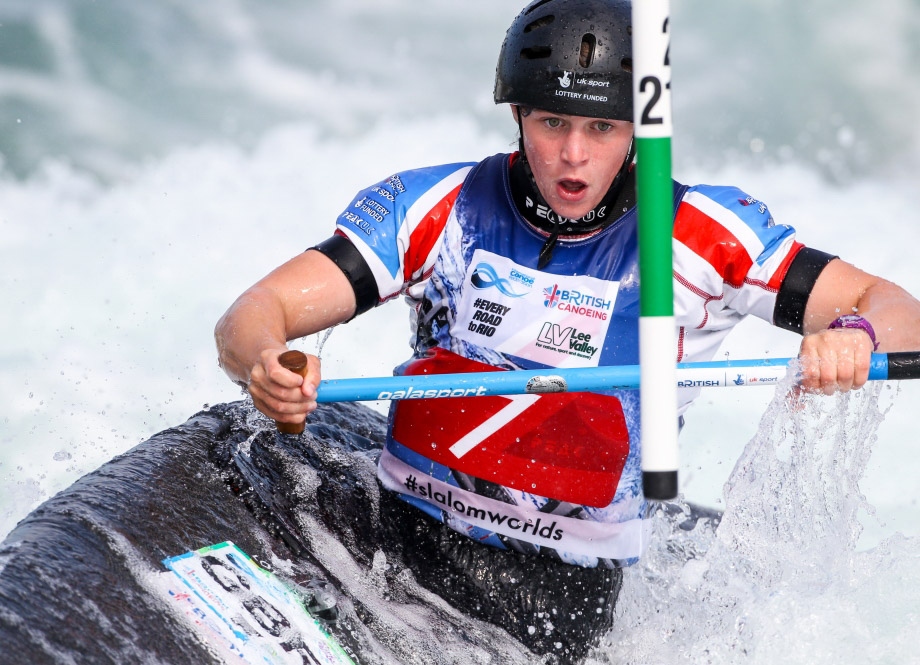 Olympic aspirations for the C1W
Set to make its debut at the Tokyo 2020 Olympic Games  – depending on IOC approval –2016 marks the start of the disciplines four year lead-in to the big time.
Currently topping the formbook is Jessica Fox (AUS) who has picked up gold at the last three ICF World Championships.
With much of the field still U23 this really is an ever-improving discipline and achieving podium success will undoubtedly become harder to achieve as the sport advances towards the Games.
The 2015 European Champion, Kimberley Woods (GBR), her compatriot Mallory Franklin (GBR) and U23 World Champion Nuria Vilarrubla (ESP) are currently Fox's main rivals.
Key International Race Calendar
With many Olympic selection places to be decided by placing at the 2016 ICF World Cup series and for the European contingent at their continental championships. We can expect fighting for positions to be fierce.
Several top athletes, including current senior World Champions Jiri Prskavec and Jess Fox will also have the U23 World Championships added to an already jam packed season.
Event rundown:
ECA Senior European Championships – Liptovsky Mikulas, Slovakia, May 12-15
ICF Canoe Slalom World Cup 1 – Ivrea, Italy, 3-6 June
ICF Canoe Slalom World Cup 2 – Seu d'Urgell, Spain, 10-12 June
ICF Canoe Slalom World Cup 3 – Pau, France, 17-19 June
ICF Canoe Slalom Junior and U23 World Championships – Krakow, Poland, 13-17 July
Olympic Games – Rio, Brazil, 7-11August
ICF Canoe Slalom World Cup 4 – Prague, Czech Republic, 2-4 September
ICF Canoe Slalom World Cup Final – Tacen, Slovenia, 9-11 September
Live race tweets for the ICF World Cup and European Championships will be provided @PlanetCanoe using #ICFslalom.

If you are an accomplished slalom paddler then good luck this season and alternatively if you are completely new to canoeing then I hope this encourages you to pick up a paddle for the first time.

Summary of key race winners
 

C1M

C1W

K1M

K1W

C2

ICF World Rank No.1

SLO

Jess Fox

AUS

FRA

Jess Fox

AUS

Klauss & Peche

FRA

Senior Worlds 2015

GBR

Jess Fox

AUS

CZE

CZE

Anton & Benzien

GER

World Cup series 2015

SVK

Jess Fox

AUS

SLO

AUT

Klauss & Peche

FRA

Senior Europeans 2015

SLO

GBR

FRA

ESP

Behling & Becker

GER

U23 Worlds 2015

GBR

ESP

CZE

Jess Fox

AUS

Wiercioch & Majerczak

POL

Pan Am

2015

USA

BRA

USA

CAN

McEwan & Eichfeld

USA

U23 Europeans 2015

RUS

CZE

CZE

ESP

Wiercioch & Majerczak

POL

Junior Worlds 2015

SVK

GER

SVK

SVK

Graille & Roisin

FRA

Junior Europeans 2015

SVK

AUT

SLO

POL

Hecht & Weber

GER

2012 Olympics

Tony Estanguet (retired) FRA

 

ITA

Émilie Fer

FRA

Baillie (retired) & Stott GBR