In the final instalment of a four-part series, canoe journalist John Gregory assesses the impact the Canadian women's canoe paddlers had on the sport after their Olympic performances.
 For sure, every athlete races to win gold.
Canada demonstrated its emphatic grip on women's canoeing. The world was watching. The world doesn't keep tabs on World Championships: the world takes note of the Olympics. Laurence Vincent Lapointe and Katie Vincent returned from Tokyo with three medals. Girls across Canada are already inspired. To them, Olympic gold, silver, and bronze are magical.
This article forms part four in a series stretching from Rio to Tokyo. The series was not intended as an Olympic series; nor was it about Laurence and Katie. Instead, the series follows the development of Canoe Kayak Canada's women's canoe class.
Canada's 2004 Olympic champion, Adam van Koeverden, commented, "For far too long, twice as many men have lined up to race as women at canoe kayak regattas around the world. I'm thrilled that we can count ourselves among the sports around the world committed to equity, inclusion, and gender parity.
"The women's canoe events were among the most exciting races in Tokyo and Copenhagen this year, and I'm not just saying that because Canada did so incredibly well! I count myself among canoe kayak fans around the world, eager to see our sport continue to grow in the right ways."
First, a quick recap in case you missed what happened in a humid Sea Forest Waterway in Tokyo at the beginning of August. In the new women's C1 200 metres event, 2019 world champion from the US, Nevin Harrison, took gold with a strong performance in a time of 45.932. Vincent Lapointe took a richly deserved silver ahead of Ukraine's Liudmyia Luzan.
The Chinese 2019 Szeged world champions in women's C2, Xu & Sun, went in among the favourites in the C2 500. The pairs set blistering and increasingly quick times as they progressed through the heats, semifinals and finals.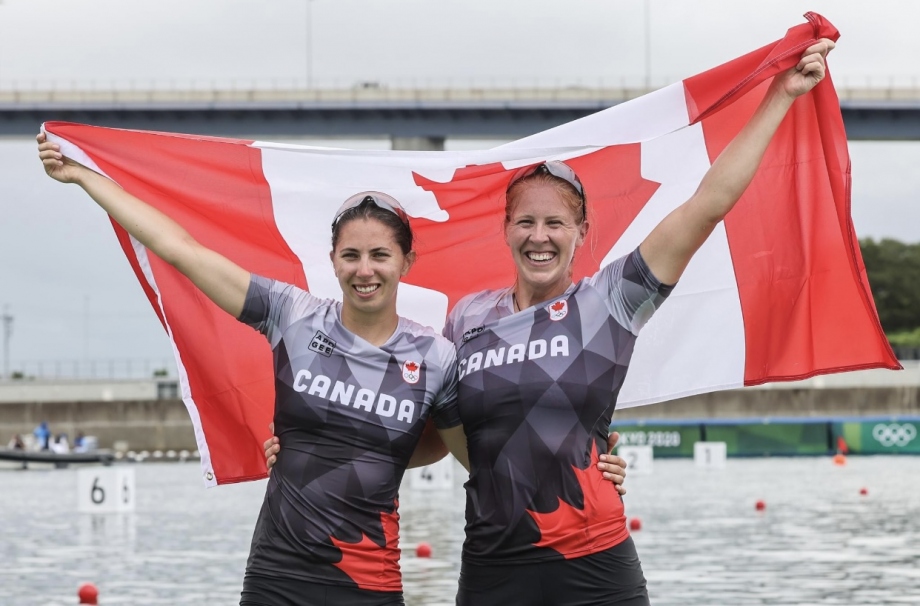 As a debut event, they established a new Olympic best time with their gold medal performance of 1:55.495. Silver went to Luzan and Chetverikova from Ukraine, with Vincent Lapointe and Vincent securing bronze for Canada.
The newly appointed Canoe Kayak Canada (CKC) Chief Technical Officer, Ian Mortimer, acknowledged, "It was incredible to see women's canoe athletes line up in Tokyo, both in the Olympic and Paralympic Games. The simple concept, now a reality, of our sport offering opportunities to men and women in all our events represents the product of generations of leaders who refused to allow our sport to continue to exclude female canoe athletes.
"As significant as our moments of inclusion in Tokyo were for our sport, the biggest victory was returning home and watching the younger generation of athletes compete in a sport in which the blatant exclusion of women from half of the Olympic events will become an increasingly distant memory."
Neither Vincent Lapointe nor Vincent should in any way be preparing for retirement. The Paris 2024 Olympics are less than three years away. Nevertheless, we can already talk about the legacy they established in their wake at their local Club de canoë-kayak de vitesse de Trois-Rivières and Mississauga Canoe clubs, respectively.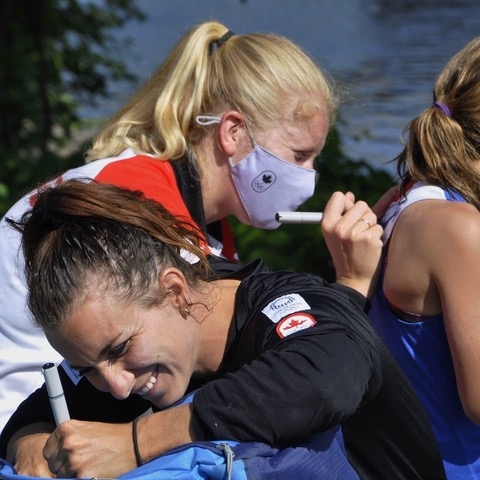 "It is a great source of pride for the club to see how far Laurence has come since she started in the sport in Trois-Rivières, the success she has had since joining the national team, and her ultimate achievement in Tokyo this year," says CKTR President, Carl Martin.
"It is the dream of every sports club to see one of its members develop to the point of reaching this level of excellence. Not only did she accomplish her Olympic dream, Katie and Laurence also made history by competing in the first women's canoe events at the Games." 
CKC women's canoe podium results also extended to senior world championships in Copenhagen, Denmark and U23/junior world in Montemor-o-Velho, Portugal, both in September.
Vincent took her first individual senior world championship gold, taking the C1 200m win in 46.52 seconds ahead of Spain's Anita Jacome and Poland's Dorota Borowska.
In Portugal, Team Canada reinforced the depth of its women's canoe class with five of nine medals at the U23/junior level.
Gold – Sophia Jensen – C1 200 m (U23)
Gold – Sophia Jensen & Alix Plomteux – C2 Mixed 500 m (U23)
Silver – Sophia Jensen, Anna Cyr, Sloan Mackenzie & Anne Parent – C4 500 m (U23)
Bronze – Sophia Jensen & Anna Cyr – C2 500 m (U23)
Bronze – Ella Hodgson-Pageau – C1 200 m (Junior)
Back in Canada at the end of the season, we were able to catch up with Vincent and Vincent Lapointe.
"The local reaction in Missy has been pretty amazing," says Vincent.
"I'd say at least once a week while I'm paddling, either someone on the water or walking by the river will congratulate me on my accomplishments this summer. Mostly strangers that see my name on my boat, so I feel like a local celebrity. It's great to see that buzz.
"For the young athletes at the club, it's really cool for them. I used to do the same workouts, run the same routes, work out in the same gym/paddle pool. I hope it can inspire them, if they want to go to the Olympics; it can start right here, at the canoe club.
"I remember in 2012, the girls at the canoe club had a sleepover and woke up early to watch Adam van Koeverden and Mark Oldershaw at the London Olympics. They are from Oakville, which is right beside Mississauga. For me that was probably one of the most inspiring moments in my life, it made me feel it was possible. I hope what Laurence and I did in Tokyo has the same impact on other young paddlers around the country."
Vincent Lapointe adds that "I was happy to be back with my home club and share with them my experiences.
"It gave me an opportunity to give back what I once got as a young athlete. They were really excited to see my medals, especially the younger ones who really wanted to take pictures with them."
Returning to our title that all that glitters is not gold, I wanted to understand from Missy and CKTR what impact this has had at a club level. First, I talked with Kyle Jeffrey, Head Coach at Mississauga Canoe Club.
"Katie's connection to the Mississauga Canoe Club and to the young athletes here has always been strong," Jeffery said.
"She has always appreciated and respected her role at the club as a strong female role model, leader, and expert canoeist. Now on the national and international level as an Olympic medalist and world champion, she embraces that role even more and works hard every day to be her best."
Jeffrey continued, "Katie has maintained that connection with the club's membership and the local community throughout her paddling career. She is always flashing a smile and always keen to speak of the importance of an active and healthy lifestyle. 
"Katie has embraced her role as an inspirational female sports figure and fostered that with continual engagement with our club's youth – both male and female. Just this week, I observed her playing an assistant coach role, helping deliver a workout to our U16 high-performance group on her own accord and own interest.
"She might not know it, but her simple presence around the club, sport, and community inspires many. As Katie's coach over the years, I am most proud of her loyalty to her club mates, and how she works to be approachable and inclusive to all."  
Trois-Rivière's Martin described how the tumultuous journey between Rio and Tokyo has spoken to Vincent Lapointe's character.
"Sprint canoeing is a thankless discipline at first; it takes a lot of stubbornness to choose a C1 boat and persevere in training until you reach a competitive level," Martin said.
"At a young age, a level of performance like Laurence's seems unattainable when your daily challenge is to train successfully without ending up in the water. Laurence, a multiple world champion and Olympic medalist, has also had to overcome the same current and waves daily when she began, which is part of her journey to excellence. Knowing this can only be a source of additional motivation for our next generations of paddlers.
"Beyond the sport, Laurence has had to face some tough personal challenges on her way to the Olympics. As a club, it was difficult to watch her go through these events and to see her so vulnerable when she was so close to reaching her goal. There are great lessons to be learned in how she overcame this situation.
"Laurence is a role model of integrity, perseverance and resilience for all CKTR athletes, and we hope that they will learn from her no matter what challenges they face in their lives and athletic journeys."  
It has been a pleasure to follow CKC's women's canoeists over the last four years. It was distinctly more eventful than could have been anticipated. Thank you to Laurence, Katie and all the team. On the subject of gratitude, both women are very cognizant of how they got to be on Olympic podiums.
"For me, thanking any coach ever involved in our sport that encouraged women to canoe, whether it was 40 years ago or just last week", says Vincent.
"If it weren't for the positive, inclusive environment I grew up in, I probably wouldn't be on an Olympic podium. It starts at the grassroots, just having fun on the water with friends. The friends I grew up with at MCC are the same people that showed up at our Olympic celebrations post Tokyo or stayed up late to watch the races in Canada."
Likewise, Vincent Lapointe added, "To get where I did, I had the chance to be well supported by many people. Those who made the biggest difference were my parents, teammates, coach, and mental preparator, so I would like to send them all my gratitude for helping me achieve my dream."
The 2022 Worlds will be held in Dartmouth, Nova Scotia, just outside Halifax from August 3-7, 2022. https://canoe22.com/home
Final words to Vincent about racing at her home worlds in 2022 as defending world champion.
"My parents haven't seen me race live since the world championships in 2019, and that's what I am looking forward to; no matter what happens, it will be a special memory for me to race in front of all my friends and family at home."
Vincent Lapointe and Vincent and Vincent Lapointe remain holders of the World Best Times in C2 and C1. Beyond the notable medal success in 2021; this series hopes to have demonstrated how the class has evolved internationally and the depth of talent in Canada. The future looks bright.
Words John Gregory; photography Bence Vekassy, Normand Rowsome, Ronald Poisson and Lisa Djurfeldt.
Tags: Canoe Kayak Canada #WePaddle #ICFsprint @gregiej
Series part 1 - https://www.canoeicf.com/news/canadas-dominance-womens-canoeing-no-fluke
Series part 2 - https://www.canoeicf.com/news/gold-medal-favourites-insist-its-business-usual-ahead-olympic-debut 
Series part 3 - https://www.canoeicf.com/news/canadas-long-road-olympic-canoe-sprint-history