There are many reasons why Sideris Tasiadis wanted to win gold in the men's C1 at Lee Valley in Great Britain on Saturday.
For one, it was the course where he won Olympic silver at his Games debut in 2012.
"It was amazing to win a medal here, you always have this memory in your mind," he said.
"I remember it all this week. It was my first Olympic Games, and I have this picture of all the spectators, it was an amazing feeling to race here.
"The crowd was cheering you all the way down the course, it was an incredible feeling."
The second important reason is it meant for three years in a row, Tasiadis has won gold at the opening ICF Canoe Slalom World Cup of the season.
But perhaps the most important reason, it gave the 29-year-old valuable points in his battle to earn the sole men's C1 position on the German Olympic team in Tokyo next year.
Many of the teams used the opening world cup at Lee Valley as part of their selection process for Tokyo 2020. For Germany, the battle for the men's C1 is particularly intense, between two-time Olympian Tasiadis, and reigning world champion, Franz Anton.
Anton put the pressure on by qualifying fastest for the final, but Tasiadis answered in the best way possible, taking the gold with Anton finishing eighth.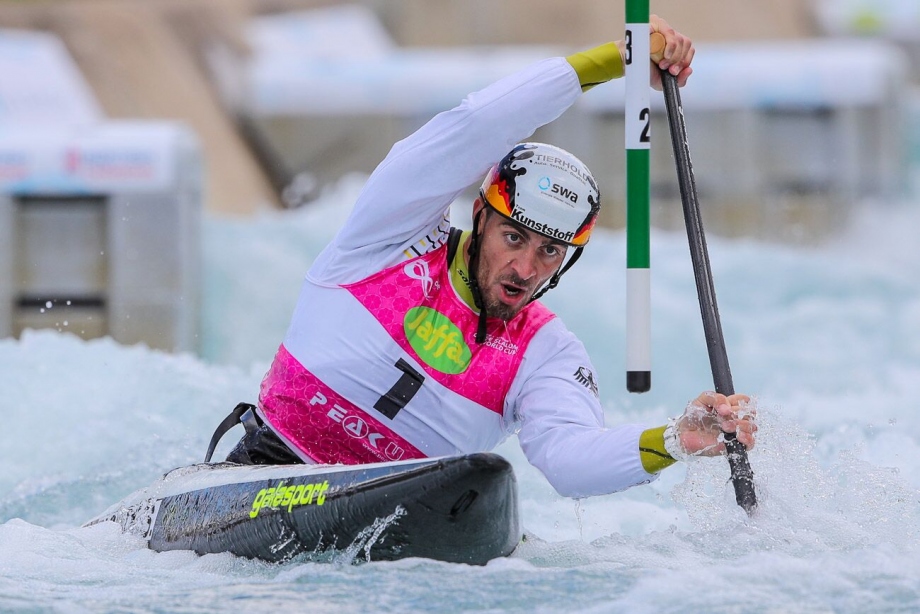 "I didn't feel so much pressure in the final, I just said to myself to keep my line and make my own race, and see what happens," Tasiadis said.
"I felt a little bit more pressure in the semi-final, in the final I just knew it was all or nothing and we would see what happens. I knew that I had to go fast to beat the British guys, and if I did that, Franz would have to go faster.
"I think this race will go on until the end of the season, at the world championships, because Franz is the world champion, and he is really fast."
Franz Anton has also been to the Olympics before, in the men's C2 in Rio in 2016. He knows what's required, although its different this time because he is in charge of his own destiny.
"For me it is just important to get the Olympic ticket, that is why the German team is here," Anton said.
"So being the world champion does not mean anything at the moment. I am focusing of course on Sideris.
"There are obviously moments when you don't want to talk with each other, but one hour later you are making jokes with each other. We always tell each other that it is disappointing that we have just one spot at the Olympics, it's what makes me a little bit angry I would say.
"But we are still good friends. I wouldn't give him any advice or wish him good luck, but I am not an enemy of him."
The next Olympic qualifying race for Germany is not until the fourth world cup, in Markkleeberg, at the end of August. It gives the athletes plenty of time to get prepared
"I have to relax a bit, because it's a long season and we have to prepare really well for some races, and not for every race," Tasiadis said.