Ondrej Tunka is the first to admit; all it takes is one good day to turn what was otherwise a mostly unforgettable season into your very best ever. And if that day also happens to be your birthday, than that really is a momentous time in your life.
It took less than a day, actually. About 90 seconds to be exact. That's all it took the Czech to turn his 2017 from a nothing-out-of-the-ordinary stock-standard paddling year to best-ever-top-of-the-world status.
On the day he was already celebrating his 27th birthday.
Ondrej Tunka on Friday became the third Czech in four years to claim the World K1 canoe slalom title, edging out his close friend and teammate Vit Prindis by a miniscule 0.02 seconds.
The winning margin was only part of the drama. When Slovenia's Peter Kauzer, the Rio Olympic silver medallist, crossed the finish line in a sizzling 90.13 Tunka and Prindis celebrated vigorously, ecstatic with what they believed were silver and bronze.
But then the real drama unfolded. As Kauzer celebrated on the water, suddenly his jubilation turned to dismay. Judges had deemed the three-time Olympian had touched gate 17, the two-second penalty enough to see the 34-year-old drop from first to third, and Tunka climb from silver to gold.
Minutes after the result was confirmed, Tunka still couldn't believe it. An hour later friends reported he was still walking around in a daze.
"I think this was my first good run in a final, I'm very happy for it," he said.
"But I still don't know what is happening now."
At the last World Championships, in 2015, Tunka had made the final, finishing ninth. But his start to the 2017 World Championships had been far from spectacular.
He finished 34th in the first run on Wednesday. At his second attempt, he was seventh – still far from convincing, but enough to get into Friday's semi.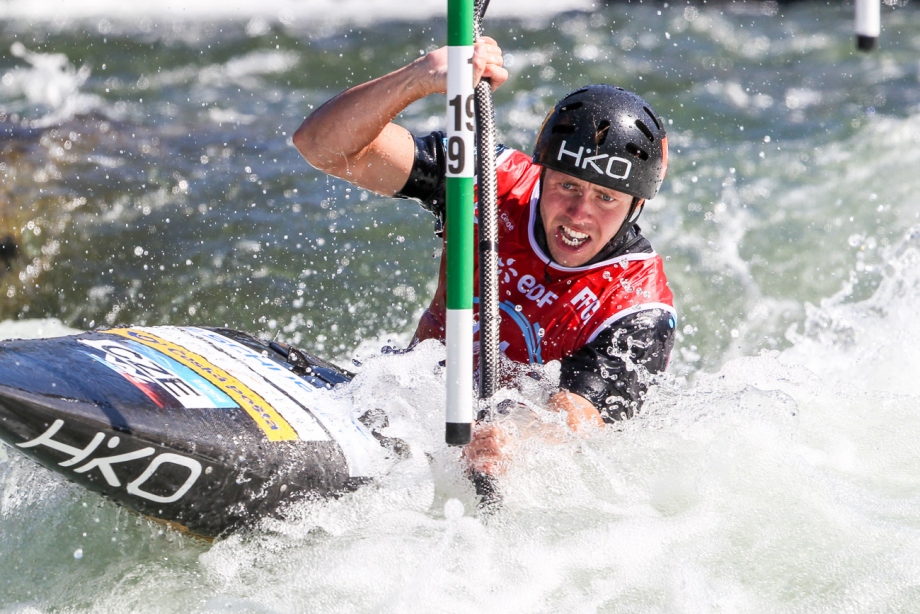 He was still flying well and truly under the radar in the semi-final, sneaking into the final as the ninth quickest, just biding his time as the paddling world looked on in awe as Peter Kauzer blitzed the field by four seconds.
It was hardly the form to fill Tunka with confidence, but as he headed to the start line, his confidence grew.
"I felt a little bit nervous, but good nervous. But on the water I felt good, he said."
"I had nothing to lose. I could only surprise, so I could just go for it.
"I was really happy with the time, but I didn't know if it was going to be enough to win, but I hoped it would be enough to win a medal. It's incredible to have done it."
While Tunka's win appeared on the surface to be a shock, there was one result especially from earlier in the season which gave an indication of what he was capable of.
He managed to win the Czech selection event, in itself a race as strong as a World Championship final. Prindis and Olympic medallists Jiri Prskavec and Vavrinec Hradilek were among those left in his wake.
"I made the final at the first two World Cups, and I won our selection race, so it was a good start to the season for me," Tunka said.
"Then I started to prepare for this race."
But did Tunka honestly believe he could win a World Championship title?
"Not really," he laughed.
"I hoped I could win a medal, but not win. I still can't believe it."
Happy birthday, Ondrej Tunka!
Pics by Balint Vekassy