Almost two years to the day since Czech Vit Prindis and Spaniard Nuria Vilarrubla last won a canoe slalom world cup gold, both returned to the winners' circle in Markkleeberg, Germany, on Sunday.
Vilarrubla's last C1 world cup gold came in La Seu, Spain, on September 8, 2017. One week earlier, and exactly two years ago to the day, Prindis won his last world cup gold, in Ivrea, Italy.
It was an emotional win for the Spaniard, who admitted she had been struggling for confidence in recent times. She held on to win the gold by just 0.04 of a second, her time of 104.98 edging out Czech Tereza Fiserova in 105.02.
"After a long wait without results, and having worked so hard, now I'm feeling much more confident," Vilarrubla said.
"Sometimes when you don't find the right way, or you don't find the right way for the win, your confidence goes lower. But I know I've been working hard for it, and I'm proud of the work that I've been doing.
"It's good to have this result now. I would love to go to the Olympics, I'm dreaming of it, but there is still a long way to go."
Reigning world champion Jessica Fox of Australia was third in 105.14. She had a two-second penalty for a gate touch which cost her the gold medal.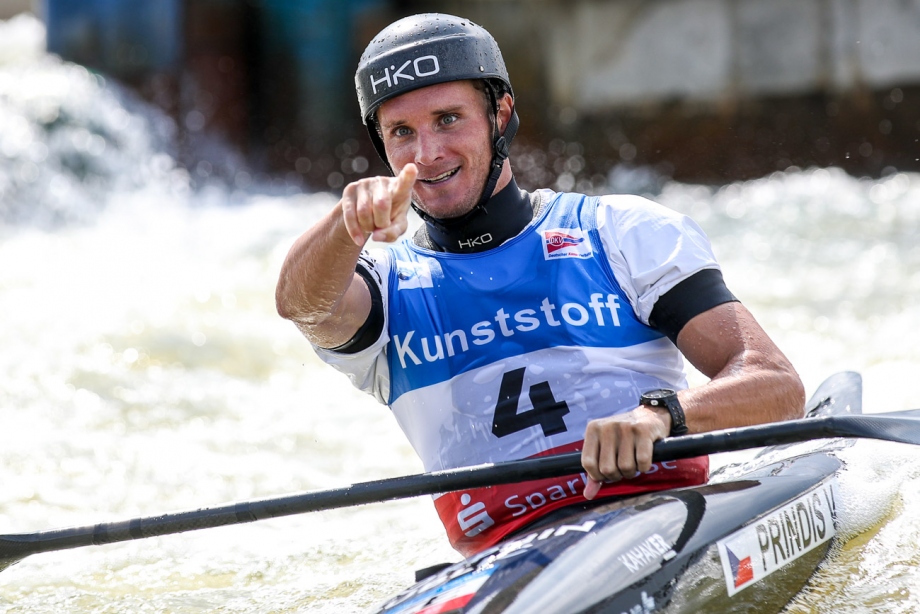 Prindis returned to the form which saw him dominate the 2017 season, rattling down the Markkleeberg course in 87.78 seconds to finish an incredible 2.43 seconds ahead of Australia's Lucien Delfour in 90.21.
"I'm really happy to be again on the top of the podium after two years with the gold medal, it's good for me and a good start to the second part of the season," Prindis said.
"I was always missing that little piece, and today I found all of it in one run in the final. But the main race of the season is coming, in one month we will be fighting for points in Olympic selection.
"So it's a first step, I'm really happy for it, but the big races are coming."
Czech teammate Jiri Prskavec took the bronze in 90.32. German Hannes Aigner finished fourth, but had cause to celebrate after successfully wrapping up the German men's K1 quota for the Tokyo Olympics.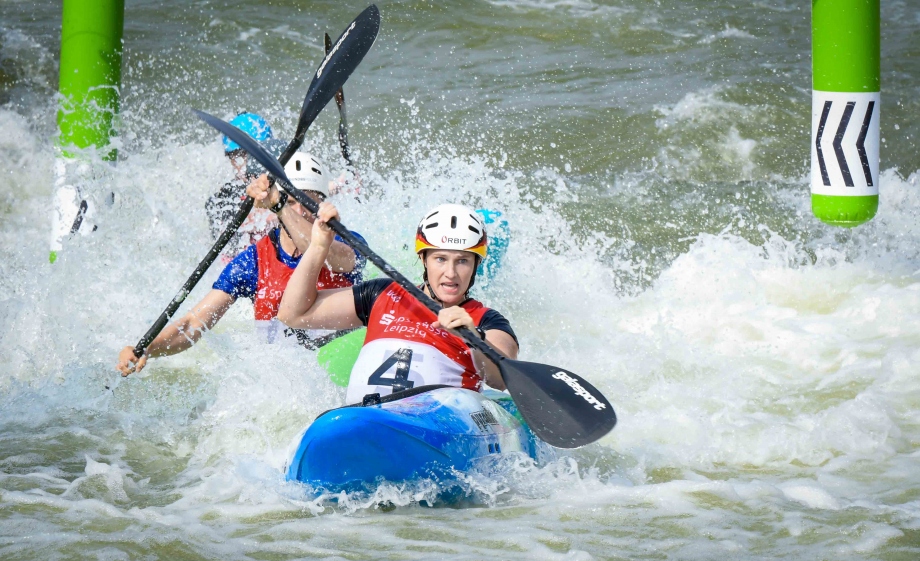 In the extreme slalom, 2017 ICF world champion Caroline Trompeter of Germany warmed up for next weekend's world championships and gave the home fans plenty to cheer about, finishing ahead of American pair Ashley Nee and Sage Donnelly.
"It's pretty cool to be able to do it at home here in Germany, but I'm a little bit sad that it's at the end of the world cup so some of the teams have gone," Trompeter said.
"But next week will be big, I'll be doing my best to win back my title."
In the men's, Great Britain's Etienne Chappell laid claim to gold medal favoritism for next week with a convincing win over Sweden's Fredrik Wahlen, with Poland's Jaroslaw Zaziablo third.
"I love this race, and I love the crowd as well," Chappell said.
"You're a bit less focussed than you are in slalom, so you can really hear everyone. The first time I did boater cross this year I didn't really have a tactic, but going out in front and trying to stay there seems to be a good tactic."
RESULTS
WOMEN'S C1
VILARRUBLA Nuria (ESP) 104.98
FISEROVA Tereza    (CZE) 105.02
FOX Jessica              (AUS) 105.15 (2 second penalty)
MEN'S K1
PRINDIS Vit              (CZE) 87.78
DELFOUR Lucien     (AUS) 90.21
PRSKAVEC Jiri           (CZE) 90.32
EXTREME SLALOM
WOMEN
TROMPETER Caroline (GER)
NEE Ashley                    (USA)
DONNELLY Sage           (USA)
MEN
CHAPPELL Etienne        (GBR)
WAHLEN Fredrik           (SWE)
ZAZIABLO Jaroslaw       (POL)