Schedule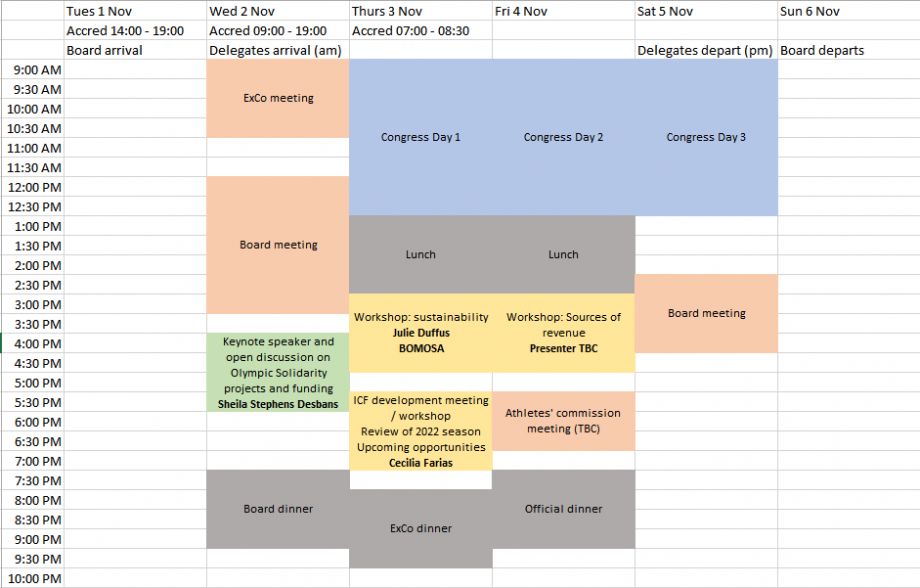 The Congress sessions will be available in person and online, and give national federations the chance to learn more and contribute to the future of the ICF and all its disciplines.
The workshops will only be availabe in-person in English, and will give national federations a chance to learn, ask questions, provide their own advice, and collaborate with other federations. The shared experiences will allow federations to work together to grow the sport from the grass roots upwards, each within their own national federation.
Keynote speaker: Olympic Solidarity
Sheila Stephens Desbans - Head of Sport Development Unit, International Olympic Committee
Sheila will address the topic of sports development and discuss the programs and funding available to national federations (through their NOCs), for athletes, coaches, administrators, physical and mental health professionals, and everyone involved in furthering sport. She will discuss  what types of funding and programmes are available, when programs will become available, who is eligible, how to find it them and apply, and how to have the best chance of success. There will be an opportunity for questions and discussion.
Sustainability
Julie Duffus - Sustainability Senior Manager, International Olympic Committee
BOMOSA - Sustainability Experts
Sustainability is becoming an increasingly important part of life, sport and the Olympic movement. As a water sport connected to nature we especially have a responsibility to protect our natural resources to ensure future generations can continue to enjoy paddling in clean, healthy environments. This workshop will cover the future goals for the ICF and canoeing family to achieve, and what national federations can do to reduce their impact on the environment.
Sources of revenue
Presenter TBC
Finding revenue to support programmes, competitions, athletes, coaches and federations can be challenging for many organisations. This workshop will discuss ways to look for funding, potential sources, how to maximise the chances of being successful with applications, and provide concrete examples of successful funding opportunities obtained by federations.
ICF development programme
Cecilia Farias - ICF vice president
Sebastian Cuattrin - ICF development manager
The ICF will provide an overview of the 2022 development projects undertaken, and future plans and opportunities for ICF development programmes. The ICF will take feedback from NFs and discuss how better to support federations in the future.