For teams
2016 ICF CANOE SLALOM WORLD CUP 2 LA SEU D'URGELL  >  For teams
WC1 Ivrea 2016      WC2 La Seu d'Urgell 2016      WC3 Pau  2016      WC4 Prague-Troja 2016      WC5 Ljubljana-Tacen 2016      Last-events-in-LaSeu-d'Urgell  
2016 ICF CANOE SLALOM WORLD CUP 2 

LA SEU D'URGELL

   
friday, June 10th 2016
09:00 - 10:05  Start List HEATS 1st run C-1 M     Results HEATS 1st run C-1 M     Analysis
10:10 - 10:42    Start List HEATS 1st run C-1 W     Results HEATS 1st run C-1 W     Analysis
10:46 - 12:13     Start List HEATS 1st run K-1 M     Results HEATS 1st run K-1 M      Analysis
12:30 - 13:15    Start List HEATS 2nd run C-1 M   Results HEATS 2nd run C-1 M  Analysis
13:20 - 13:37   Start List HEATS 2nd run C-1 W  Results HEATS 2nd run C-1 W   Analysis
15:00 - 15:57   Start List HEATS 2nd run K-1 M   Results HEATS 2nd run K-1 M    Analysis
16:01 - 17:00    Start List HEATS 1st run K-1 W     Results HEATS 1st run K-1 W       Analysis
17:05 - 17:30    Start List HEATS 1st run C-2 M    Results HEATS 1st run C-2 M    Analysis
17:35 - 18:14     Start List HEATS 2nd run K-1 W   Results HEATS 2nd run K-1 W   Analysis
18:19 - 18:29     Start List HEATS 2nd run C-2 M Results HEATS 2nd run C-2 M  Analysis
saturday, June 11th 2016
09:00 - 09:58 Start List SEMIFINAL C-1 M      Results SEMIFINAL C-1 M    Analysis
10:05 - 10:43   Start List SEMIFINAL C-1 W      Results SEMIFINAL C-1 W    Analysis
10:50 -  12:08  Start List SEMIFINAL K-1 M       Results SEMIFINAL K-1 M     Analysis
12:32 - 12:54    Start List FINAL C-1 M           Results FINAL C-1 M            Analysis   FINAL RESULTS
13:02 - 13:24    Start List FINAL C-1 W          Results FINAL C-1 W            Analysis   FINAL RESULTS
13:32 - 13:54    Start List FINAL K-1 M           Results FINAL K-1 M             Analysis   FINAL RESULTS
15:45 - 16:10      Start List HEATS 1st run SLALOM CROSS K-1 M      Results HEATS 1st run SLALOM CROSS K-1 M
16:15 - 16:27      Start List HEATS 1st run SLALOM CROSS K-1 W      Results HEATS 1st run SLALOM CROSS K-1 W
16:40 - 19:00                                                                                Results All Finals SLALOM CROSS K-1 M   Classification
17:17 - 19:00                                                                                  Results All Finals SLALOM CROSS K-1 W   Classification
sunday, June 12th 2016
09:30 - 10:28     Start List SEMIFINAL K-1-W      Results SEMIFINAL K-1 W     Analysis
10:35 -  11:13       Start List SEMIFINAL C-2 M     Results SEMIFINAL C-2 M    Analysis
12:02 - 12:24      Start List FINAL K-1 W           Results FINAL K-1 W          Analysis     FINAL RESULTS
12:32 - 12:54      Start List FINAL C-2 M           Results FINAL C-2 M         Analysis     FINAL RESULTS
Program (updated 06/06/2016)
2016 ICF CANOE SLALOM  WORLD CUP 2 LA SEU D'URGELL

programa_english_icf_cswc_2_la_seu.pdf (updated 06/06/2016)
 

June 6th to 8th

 

 

7:30 -  9:30 h

14:00 - 21:00 h

 

 

Official training by groups

 

 

Wednesday, 8th

 

 

11:00 h

 

Team leaders meeting

 

Thursday, 9th

 

 

 

7:00 - 11:30 h

 

17:00 h

17:30 h

20:00 h

 

Officials training by groups  

Self-service boat and equipment check-in

Technical Officials meeting

Heats demonstration run and Technical rehearsal

Opening ceremony

 

 

Friday,10th

 

  9:00 - 18:50 h

20:00 h

 

 

Heats: C-1 M, C-1 W, K-1 M,  K1-1 W and C-2 M

Finals demonstration run

 

 

Saturday, 11th

 

   9:00 - 12:10 h

 12:30 - 14:00 h

14:05 h

 

15:45 - 16:45 h

16:47 - 18:30 h

18:35 h

 

Semi-final C-1M, C-1 W and K-1 M

Final  C-1M, C-1 W and K-1 M

Medals ceremony

 

Trials SLALOM CROSS K1M and K1W

Slalom Cross 1/8 Final, ¼ Final, Semi-final and Final

Medals ceremony

 

 

Sunday, 12th

 

  9:30 - 11:15 h

12:00 - 13:00 h 

13:05 h

 

16:00 h

 

Semi-final K-1 W and C-2 M

Final  K-1 W and C-2 M

Medals ceremony

 

Lunch for teams, judges, volunteers and organization

 
Welcome to la Seu d'Urgell
La Seu d'Urgell, February 2016
 Welcome,
 La Seu d'Urgell will host in Parc Olimpic del Segre the 2nd Slalom World Cup from 6 to 12 June 2016. On behalf of the Organizing Committee I express our gratitude to International Canoe Federation for selecting again this venue, to host the canoe slalom teams and the media partners. We shall work to fulfill our responsibilities and we will help in your stay with dedication to a nice and fair sport competition.
The Royal Spanish Canoe Federation invites the athletes and canoe teams to attend the ICF Slalom World Cup in La Seu d'Urgell. This First Newsletter will help to inform concerning the event and the travel and hospitality issues. For specific information please contact to the canoeslalomseu@parcolimpic.cat
I look forward to see you soon.
Chairman of Organizing Committee
Juan José Roman
President of RFEP
1st NEWSLETTER 
2016 ICF CANOE SLALOM  WORLD CUP 2 LA SEU D'URGELL

1st_newsletter_2016_csl_world_cup_la_seu.pdf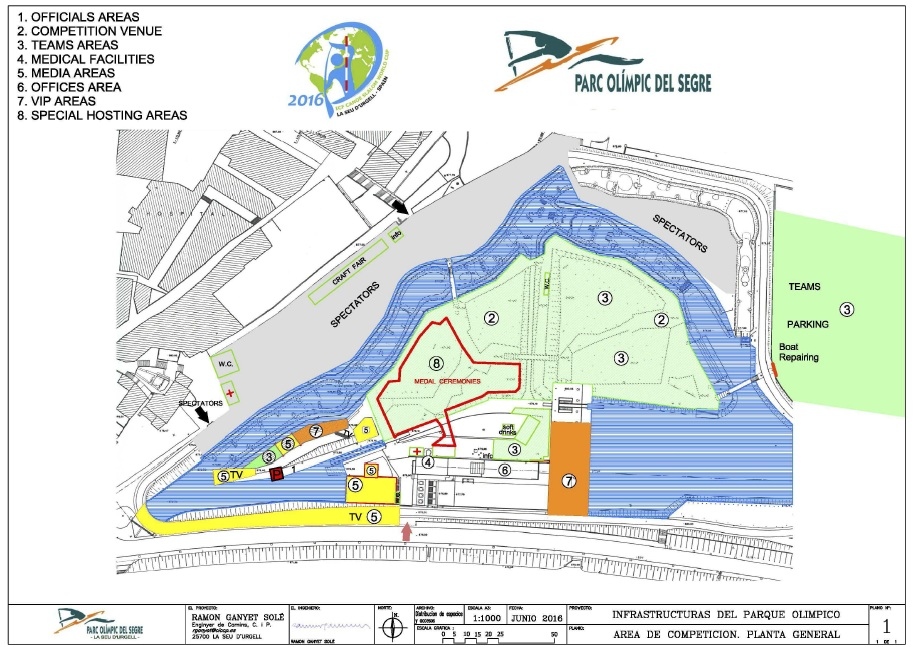 Official training schedule

training_schedule_2016_icf_csl_world_cup_la_seu_v2.pdf (updated 04/06/2016)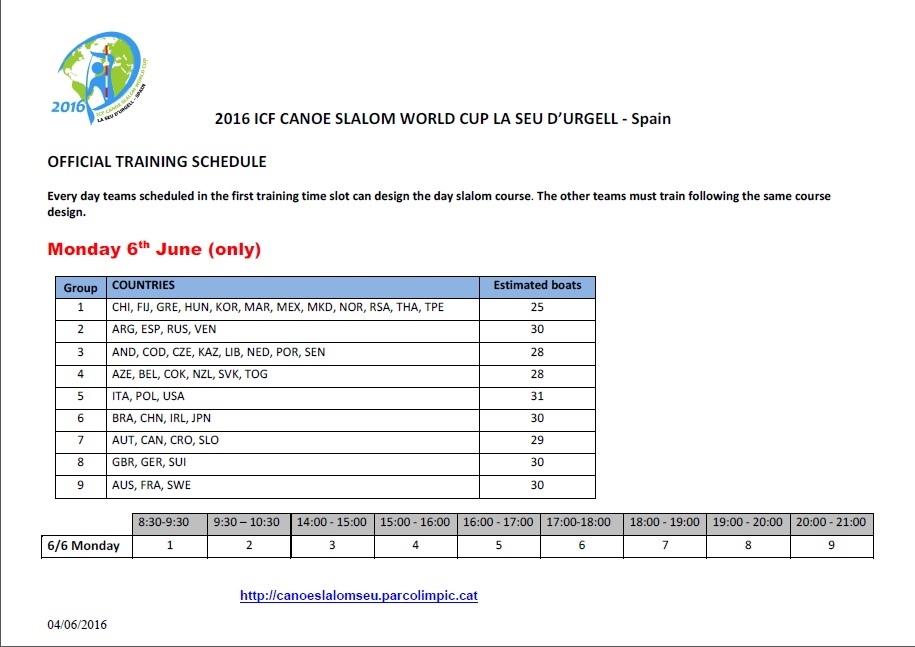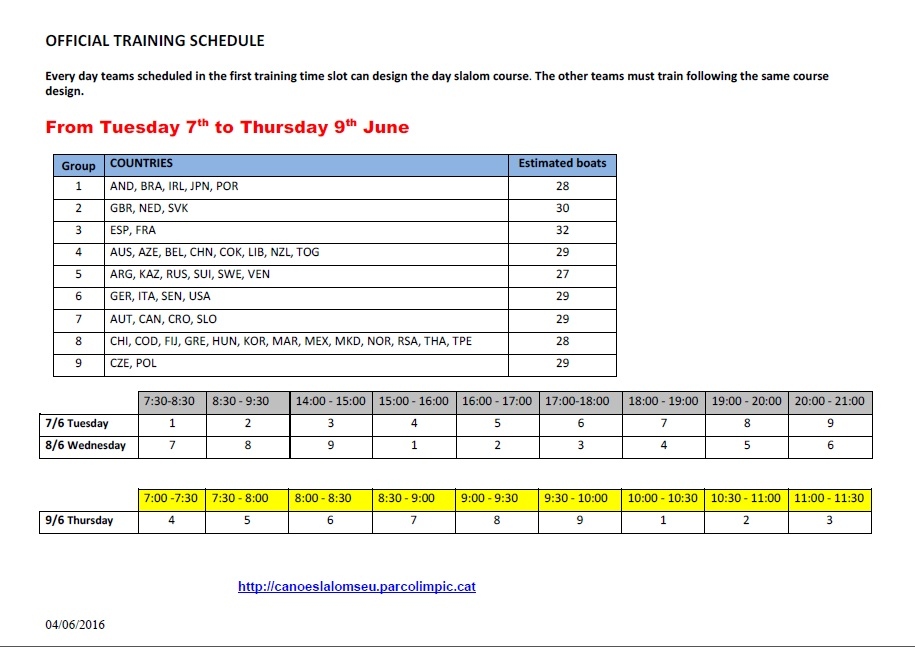 Real Federación Española de Piragüismo http://www.rfep.es
c/ Antracita, 7 -3º
28045 MADRID
Tel (34) 91 112 38 05
Fax (34) 91 530 58 25
E-mail: correo@rfep.es

Parc Olímpic del Segre http://canoeslalomseu.parcolimpic.cat
25700 La Seu d'Urgell (Lleida)
Tel. 34 973 36 00 92
Fax. 34 973 36 01 92
E-mail: canoeslalomseu@parcolimpic.cat

Internacional Canoe Federation https://www.canoeicf.com
La Seu d'Urgell Tourist information http://www.turismeseu.com
La Seu d'Urgell Town hall http://www.laseu.cat
Catalan Canoeing Federation http://www.fcpiraguisme.com