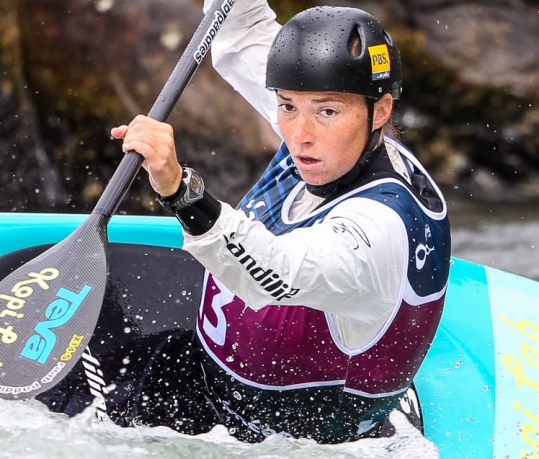 Eva Tercelj (SLO)

Slovenia
Canoe Slalom
Date of birth
21 January 1992
Occupation
Athlete, Student
Languages
English, German, Slovene
Higher education
Architecture - University of Ljubljana: Slovenia
Biography
General Interest
Hobbies
Sports, reading books, watching movies, spending time with friends. (ekipa24.si, 09 Sep 2014)
Memorable sporting achievement
Winning a world junior title, winning the 2013 World Cup event in La Seu d'Urgell, Spain, and competing at the 2012 Olympic Games. (olympic.org, 04 Apr 2016)
Awards and honours
She was named the 2011 Female Paddler of the Year by the Slovenian Canoe Federation. (sportscene.tv, 02 Dec 2011)
Ambitions
To win medals at major international competitions and to become an architect. (ekipa24.si, 09 Sep 2014)
Other information
OLYMPIC SOLIDARITY SCHOLARSHIP
She is a holder of an Olympic Solidarity scholarship. "I am grateful that the IOC recognised my potential and provided me with an Olympic Solidarity Scholarship. I've been able to use that financial assistance to provide better training conditions for myself, which is something that I cherish. With that assistance, I can train both better and harder." (olympic.org, 04 Apr 2016)
Sport Specific Information
When and where did you begin this sport?
Her parents signed her up to kayaking lessons at age seven.
Why this sport?
"Both my brother and I were introduced to canoeing by our father, who would sit us in his lap and take us up and down the river Soca. My older brother started properly training in canoeing first and, as a younger sister, I did whatever he did, so I decided to take up canoeing as well."
Club / Team
KKK Ljubljana: Slovenia
Name of coach
Ales Kuder [personal], SLO; Andrej Jelenc [national], SLO
Results
Competition
Event
Location
Date
Season
Gender
Result
Rank
Mentions
Olympic Games
K1
England, London
2 August 2012
2012
Women
117.36
13

Best result

World Championships
K1
England, London
19 September 2015
2015
Women
119.04
22
World Championships
K1 Team
England, London
19 September 2015
2015
Women
133.64
4

Best result

World Championships
K1
United States, McHenry, MD
21 September 2014
2014
Women
127.04
18

Best result

World Championships
K1 Team
United States, McHenry, MD
21 September 2014
2014
Women
140.68
4

Best result

World Championships
K1
Czech Republic, Prague
15 September 2013
2013
Women
118.20
13

Best result

World Championships
K1 Team
Czech Republic, Prague
15 September 2013
2013
Women
138.94
3

Best result

World Championships
K1
Slovakia, Bratislava
10 September 2011
2011
Women
123.40
9

Best result

World Championships
K1 Team
Slovakia, Bratislava
11 September 2011
2011
Women
144.03
6

Best result

World Championships
K1
Slovenia, Tacen
11 September 2010
2010
Women
123.00
31
World Championships
C1
Slovenia, Tacen
12 September 2010
2010
Women
202.47
13

Best result

World Championships
K1 Team
Slovenia, Tacen
11 September 2010
2010
Women
136.11
3

Best result

World Championships
K1
Spain, La Seu d'Urgell
13 September 2009
2009
Women
106.26
34
World Championships
K1 Team
Spain, La Seu d'Urgell
12 September 2009
2009
Women
123.49
5

Best result

European Championships
K1
Slovakia, Liptovský Mikuláš
15 May 2016
2016
Women
162.82
28

Latest result

European Championships
K1 Team
Slovakia, Liptovský Mikuláš
15 May 2016
2016
Women
134.66
4

Latest result

Best result

European Championships
K1
Germany, Markkleeberg
31 May 2015
2015
Women
129.07
32
European Championships
K1 Team
Germany, Markkleeberg
31 May 2015
2015
Women
143.06
6

Best result

European Championships
K1
Austria, Vienna
1 June 2014
2014
Women
102.22
9

Best result

European Championships
K1 Team
Austria, Vienna
1 June 2014
2014
Women
130.13
9

Best result

European Championships
K1
Poland, Kraków
9 June 2013
2013
Women
100.08
18
European Championships
K1
Germany, Augsburg
13 May 2012
2012
Women
111.09
6

Best result

European Championships
K1 Team
Germany, Augsburg
13 May 2012
2012
Women
8

Best result

European Championships
K1
Spain, La Seu d'Urgell
11 June 2011
2011
Women
15
European Championships
K1 Team
Spain, La Seu d'Urgell
11 June 2011
2011
Women
6

Best result

European Championships
K1
Slovakia, Cunovo
15 August 2010
2010
Women
18
European Championships
K1 Team
Slovakia, Cunovo
14 August 2010
2010
Women
6

Best result

European Championships
K1 Team
England, Nottingham
30 May 2009
2009
Women
174.38
5

Best result

Oceania Open Championships
K1
Australia, Penrith, NSW
25 February 2012
2012
Women
105.79
4

Best result

World Cup
K1
11 September 2016
2016
Women
6

Latest result

Best result

World Cup
K1
16 August 2015
2015
Women
7

Best result

World Cup
K1
17 August 2014
2014
Women
14

Best result

World Cup
K1
25 August 2013
2013
Women
4

Best result

World Cup
K1
2 September 2012
2012
Women
21
World Cup
K1
14 August 2011
2011
Women
7

Best result

World Cup
K1
6 July 2008
2008
Women
73
World Cup
K1
15 July 2007
2007
Women
62