Isaquias GUIMARAES QUEIROZ (BRA)
Brazil
Languages:
Portuguese, Spanish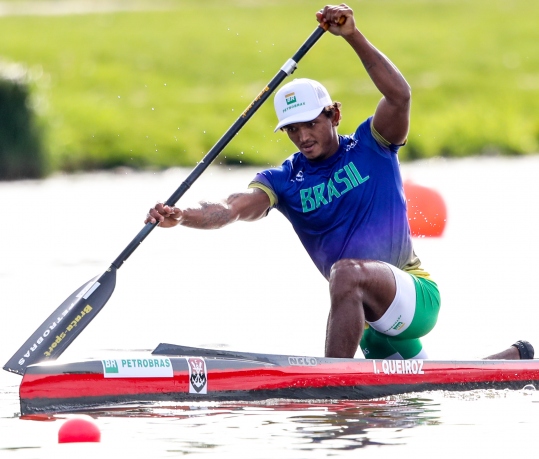 Biography
Further Personal Information
NICKNAME
Sem Rim [Without Kidney]
PREV. NAMES
Isaquias QUEIROZ DOS SANTOS
PLACE OF RESIDENCE
Lagoa Santa
WHEN/WHERE DID YOU START CANOEING/ KAYAKING?
He took up canoeing at age 11
REASON FOR TAKING UP THE SPORT
He tried the sport thanks to a social project in his town.
HOBBIES
Going to the cinema, playing video games, fishing, music, travelling
CLUB
Club Athletico Paulistano: São Paulo
NAME OF COACH
Jesus Morlan [national]
NATIONALITY OF YOUR COACH
Spanish
TRAINING REGIME
He trains from Monday to Saturday
HERO/IDOL
Brazilian footballer Neymar, Jamaican sprinter Usain Bolt
SPORTING PHILOSOPHY/ MOTTO
"The greatest glory in living lies not in never falling, but in rising every time we fall."
AWARDS AND HONORS
He was named the 2015 Male Athlete of the Year and 2015 Canoe Sprint Athlete of the Year by the Brazilian Olympic Committee. (veja.abril.com.br, 16 Dec 2015)
OTHER INFORMATION
NATIONAL FIRST He became the first Brazilian sprint paddler of either gender to win a medal at the Olympic Games when he claimed silver in the C1 1000m at the 2016 Games in Rio de Janeiro. (SportsDeskOnline, 18 Aug 2016) ROUGH CHILDHOOD At age three a pot of boiling water fell on him, burning a significant part of his body. He had to stay in hospital for over a month. Two years later, he was kidnapped and offered for adoption before his mother managed to get him back. At age 10 he fell out of a tree after trying to catch a snake and lost a kidney. (uol.com.br, 14 Jul 2015; globo.com, 20 Dec 2013)