Jessica FOX (AUS)

Australia
Languages:
French and English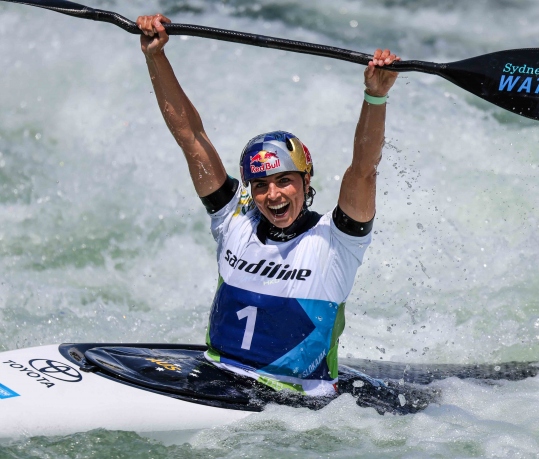 Biography
Further Personal Information
PLACE OF RESIDENCE
I live and train in Penrith, Australia
HIGHER EDUCATION
Social science Psychology
WHEN/WHERE DID YOU START CANOEING/ KAYAKING?
Penrith 2005, started with my parents and a group of young girls
REASON FOR TAKING UP THE SPORT
I've been paddling most of my life since both my parents competed in the sport also. I didnt really like it as a child, i prefered swimming and gymnastics but When I broke my arm at gym a physio suggested I try kayaking again for rehab. I was about 11 and met ali Borrows and we became really good friends and had the same level so we learnt to paddle together in Penrith. it was more enjoyable and I loved the whitewater.
HOBBIES
Hiking, beach time, seeing friends, reading, travel
NATIONALITY OF YOUR COACH
SINCE WHEN HAVE YOU BEEN COACHED BY HIM/ HER?
TRAINING REGIME
I enjoy variety in my training and do a mixture of on water physical and technical sessions. I do gym 3 times a week and some cross training like swimming and running. I train in C1 once or twice a week, more as we get closer to races but generally I prioritize K1.
SENIOR INTERNATIONAL DEBUT YEAR
SENIOR INTERNATIONAL DEBUT COUNTRY
SENIOR INTERNATIONAL DEBUT COMPETITION
SENIOR INTERNATIONAL DEBUT COMPETITION
2010 Tacen World championships
SENIOR INTERNATIONAL DEBUT LOCATION
MEMORABLE SPORTING ACHIEVEMENT
Olympic medalist in 2012 and Rio 2016, and doing one of my best runs at the pau world championships in 2017. 2014 world championships in Deep Creek. Winning the double world title was an incredible achievement for me. The atmosphere was exciting and I was proud of the way I raced the k1 final. It was a memorable world champs with historical achievements in other categories too - k1m trifecta and fabien Lefevre winning C1.
PREFERRED POSITION / STANCE / STYLE / TECHNIQUE
MOST INFLUENTIAL PERSON IN CAREER
Myriam Fox, my mum and coach
TRAINING PARTNER(S)
Ali Borrows, noemie fox, Mathieu Biazizzo
HERO/IDOL
Tony Estanguet, cyclist Anna Meares
SUPERSTITIONS/ RITUALS/ BELIEFS
Always plait my hair !
FAVOURITE PADDLING COURSE
London Olympic course, it's a great venue and challenging. I have good memories there from the Olympics too!
FAVOURITE FOOD
chocolate, watermelon and mango
AWARDS AND HONORS
Athlete of the year 2014, outstanding woman of the year 2014 Women's Health Magazine
SPORTING RELATIVES
My father raced for Great Britain and was 5 x world champion and my mother raced for France 2 x world champ and bronze at 1996 Olympics