Jost ZAKRAJSEK (SLO)

Slovenia
Languages:
Slovenian, Serbian, Croatian, English, German, Spanis...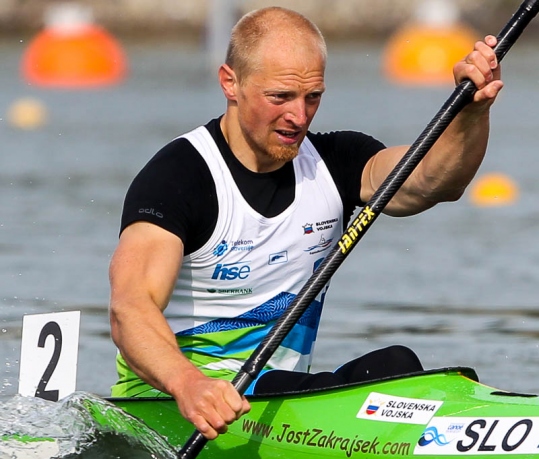 Biography
Further Personal Information
OCCUPATION
Athlete (occasional student)
WHEN/WHERE DID YOU START CANOEING/ KAYAKING?
KKK Tacen/1995/first kayak, than canoing (wildwater)/ 2009 again kayaking
REASON FOR TAKING UP THE SPORT
From my very first steps movement was part of my and my familiy's way of life.
I like sports, nature and water...kayak/canoe recaps (involves) all these 3 aspects. Whith kayak I can do sports, be in nature and be on the water.
HOBBIES
Windsurfing, crosscountry skiing, climbing, sea kayaking, surfski, horse riding
NATIONALITY OF YOUR COACH
SINCE WHEN HAVE YOU BEEN COACHED BY HIM/ HER?
SENIOR INTERNATIONAL DEBUT YEAR
SENIOR INTERNATIONAL DEBUT COUNTRY
SENIOR INTERNATIONAL DEBUT COMPETITION
SENIOR INTERNATIONAL DEBUT LOCATION
MEMORABLE SPORTING ACHIEVEMENT
1st place on Junior European Championship in whitewater (one never forgets his first big victory)
MOST INFLUENTIAL PERSON IN CAREER
HERO/IDOL
Slovenian rower Iztok Cop
SPORTING PHILOSOPHY/ MOTTO
FAVOURITE PADDLING COURSE
Szeged(HUN)- the best racing atmosphere, Ada Ciganlija(SER)&Zagreb(CRO)-nice corse, nice water and the best "turistic" atmosphere.For training my favorit is Bohinj(SLO)-very clean water,good training conditions and atmosphere
FAVOURITE FOOD
sea food, bbq, pancakes, ice cream
AMBITIONS
To find my limits in kayak sprint.
After my racing career my goal is to become coach.
OTHER INFORMATION
15 years I was compeating in canoe slalom and wild water (classic and sprint).
In this time I got three medals in on world championships, two on european championships, five on world cups and I was over-all world cup winner in wild water (all in senior category).

Since 2010 I am my own coach. I do cooperate with some specialists from different fields but the end training programme is my own work.

My everyday morning sparing partner for running is my dog flatcoated retriever Ita.
OTHER SPORTS
wild water slalom and down river