Markus Mendy SWOBODA (AUT)

Austria
Languages:
German, English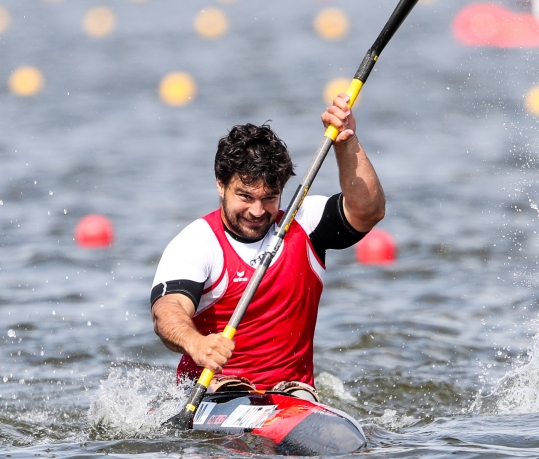 Biography
Further Personal Information
NICKNAME
Mendy is not my nickname, it's my second first name. 
HIGHER EDUCATION
Chemistry - University of Graz, Austria
WHEN/WHERE DID YOU START CANOEING/ KAYAKING?
I started kayaking when I was 10 years old in the year 2000. I paddled in Linz in the kayak our family got from a friend. Later I was discovered from my current club while paddling. 
REASON FOR TAKING UP THE SPORT
His father was an athlete and he originally wanted to be water skier. "I was discovered by accident when I was playing around in a canoe
HOBBIES
Skiing, swimming, playing video games.
NAME OF COACH
Nandor Almasi (national), Gyorgy Lentuloy (personal)
NATIONALITY OF YOUR COACH
Both Hungarien
SINCE WHEN HAVE YOU BEEN COACHED BY HIM/ HER?
Nandor 2011, Gyorgy 2014
TRAINING REGIME
It's flexible and not too strict, but still hard work. 
SENIOR INTERNATIONAL DEBUT YEAR
2009
SENIOR INTERNATIONAL DEBUT COUNTRY
Poland
SENIOR INTERNATIONAL DEBUT COMPETITION
U23 European Championships
SENIOR INTERNATIONAL DEBUT LOCATION
Poznan
MEMORABLE SPORTING ACHIEVEMENT
Rank
Event
Year
Location
Result
World Championships
1
KL2
2015
Milan, ITA
42.542
1
K1 200m TA
2014
Moscow, RUS
40.928
1
K1 200m TA
2013
Duisburg, GER
40.790
1
K1 200m TA
2012
Poznan, POL
44.614
1
K1 200m TA
2011
Szeged, HUN
44.055
1
K1 200m TA
2010
Poznan, POL
44.617
2
KL2
2016
Duisburg, GER
43.068
8
V1 200m TA
2014
Moscow, RUS
54.867
PREFERRED POSITION / STANCE / STYLE / TECHNIQUE
Sitting in a Kayak
MOST INFLUENTIAL PERSON IN CAREER
My father
OTHER INFORMATION
Classification
KL2

Type of Impairment
Limb deficiency (Athlete, 06 Sep 2016)

Origin of Impairment
Acquired (Athlete, 06 Sep 2016)

Impairment Details
He lost both legs at age seven in an accident involving a woodchip heating system. (Athlete, 06 Sep 2016)


OTHER SPORTS
He won a silver medal at the 2016 World Para Karate Championships in Linz, Austria