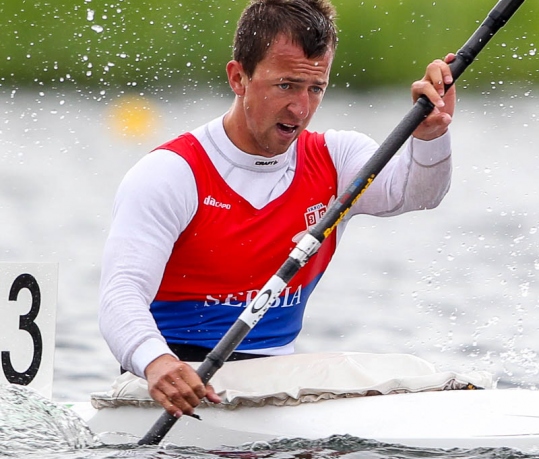 Milenko Zoric (SRB)
Serbia
Canoe Sprint
Date of birth
02 April 1989
Residence
Backa Palanka, SRB
Higher education
University of Novi Sad: Serbia
Biography
General Interest
Hobbies
Fishing, swimming, running. (results.digicorp.hu, 25 May 2014; univerzitetskiodjek.com, 17 May 2015)
Sporting philosophy / motto
"Water is my life." (univerzitetskiodjek.com, 17 May 2015)
Sport Specific Information
When and where did you begin this sport?
He took up canoe sprint in 1999.
Why this sport?
He played football as a child but was not very good so he decided to try something different. He chose canoe, because he wanted to do something that most children did not do. "Football is a team sport, so it's hard to show what you are worth. I like canoe, because I love to spend time outside, close to nature, then somehow I feel free."
Club / Team
KK Zorka Color: Sabac, SRB
Name of coach
Miroslav Aleksic [club]; Miroslav Rodic [national], SRB
Training Regime
He trains three times a day, with two water sessions and one session at the gym.
Results
Competition
Event
Location
Date
Season
Gender
Result
Rank
Mentions
Olympic Games
K2 1000m
Brazil, Rio de Janeiro
18 August 2016
2016
Men
3:10.969
2

Latest result

Best result

Olympic Games
K4 1000m
Brazil, Rio de Janeiro
20 August 2016
2016
Men
3:10.241
8

Latest result

Best result

Olympic Games
K4 1000m
England, London
9 August 2012
2012
Men
2:56.346
9

Best result

World Championships
K2 1000m
Italy, Milan
22 August 2015
2015
Men
3:11.502
3

Best result

World Championships
K4 1000m
Germany, Duisburg
1 September 2013
2013
Men
3:00.471
5

Best result

World Championships
K4 1000m
Hungary, Szeged
20 August 2011
2011
Men
2:52.684
8

Best result

European Championships
K2 1000m
Russia, Moscow
25 June 2016
2016
Men
3:13.832
3

Latest result

Best result

European Championships
K4 1000m
Russia, Moscow
26 June 2016
2016
Men
3:02.044
9

Latest result

Best result

European Championships
K2 1000m
Germany, Brandenburg
12 July 2014
2014
Men
3:22.560
12

Best result

European Championships
K4 1000m
Portugal, Montemor-o-Velho
16 June 2013
2013
Men
3:00.906
7

Best result

European Championships
K4 1000m
Croatia, Zagreb
24 June 2012
2012
Men
2:52.959
3

Best result

European Championships
K4 1000m
Serbia, Belgrade
18 June 2011
2011
Men
2:54.026
10

Best result

European Championships
K4 1000m
Germany, Brandenburg
27 June 2009
2009
Men
3:07.575
17

Best result