Patrick O'LEARY (IRL)

Ireland
Languages:
Irish (Gaelige), English, Dutch (basic)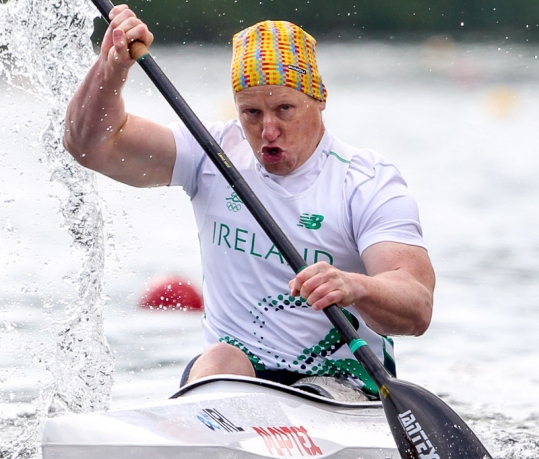 Biography
Further Personal Information
BIOGRAPHY
Rank
Event
Year
Location
Result
World Championships
9
KL3
2015
Milan, ITA
42.399
9
K1 200m LTA
2014
Moscow, RUS
42.541
10
KL3
2016
Duisburg, GER
42.882
14
K1 200m LTA
2013
Duisburg, GER
44.264
PLACE OF RESIDENCE
Galway
PLACE OF RESIDENCE
Moycullen, galway, Ireland
OCCUPATION
Lecturer in School of Chemistry NUI Galway Ireland
HIGHER EDUCATION
BSc, PhD National University of Ireland Cork (UCC)
HIGHER EDUCATION
Chemistry - University College Cork, Ireland
WHEN/WHERE DID YOU START CANOEING/ KAYAKING?
Cork 1991 in secondary school
WHEN/WHERE DID YOU START CANOEING/ KAYAKING?
He began canoeing in 1990. The first time he sat in a boat following his amputation was in April 2012, and he began racing a year later.
REASON FOR TAKING UP THE SPORT
I have always enjoyed water sports and when I had difficulty in my knee in 1991 and had to give up athletics it was the obvious choice
CLUB
NUI Galway Kayak Club
NAME OF COACH
Neil fleming
NAME OF COACH
Neil Fleming [personal], IRL
NATIONALITY OF YOUR COACH
Irish
SINCE WHEN HAVE YOU BEEN COACHED BY HIM/ HER?
2013
TRAINING REGIME
12-13 sessions per week with 2 sessions on all but 2 days which have a single session.  8 sessions on water, 3 in gym and 1-2 swimming for general fitness.
TRAINING REGIME
In winter he does 12 to 13 sessions a week, on the water, swimming and the gym. In the summer he trains seven to nine times a week.
SENIOR INTERNATIONAL DEBUT YEAR
2013 Paracanoe 1994 (Canoe polo) 
SENIOR INTERNATIONAL DEBUT COUNTRY
Portugal
SENIOR INTERNATIONAL DEBUT COMPETITION
European Championships
MEMORABLE SPORTING ACHIEVEMENT
3rd in the test event in Rio in 2015 and 4th in European championships 2015 Racice, 
MOST INFLUENTIAL PERSON IN CAREER
My wife has been a constant support
TRAINING PARTNER(S)
I now train solo but my training partners in Cork had a significant influence
FAVOURITE PADDLING COURSE
Duisburg
OTHER INFORMATION
Classification
KL3

Type of Impairment
Limb deficiency (irishexaminer.com, 23 Jul 2016)

Origin of Impairment
Acquired (irishexaminer.com, 23 Jul 2016)

Impairment Details
In 1991 a minor irritation in his knee led to the discovery that he had cancer in his femur. He had his knee replaced with a metal joint which lasted until 2006 when he had it replaced. In 2010, when he had the second knee replacement, he suffered an infection and in November 2011 he had his left leg amputated. (irishexaminer.com, 23 Jul 2016)

General
NATIONAL FIRST
He became the first Irish canoeist to compete at a Paralympic Games when he participated at the 2016 Games in Rio de Janeiro. (paralympic.org, 2016; irishtimes.com, 14 Sep 2016)

OCCUPATION
He works as a lecturer of organic chemistry at the National University of Ireland in Galway. (irishexaminer.com, 23 Jul 2016)


OTHER SPORTS
Formerly gymnastics and athletics (throw events) currently swimming but not competitively
OTHER SPORTS
He represented Ireland in shot put at international schools level.