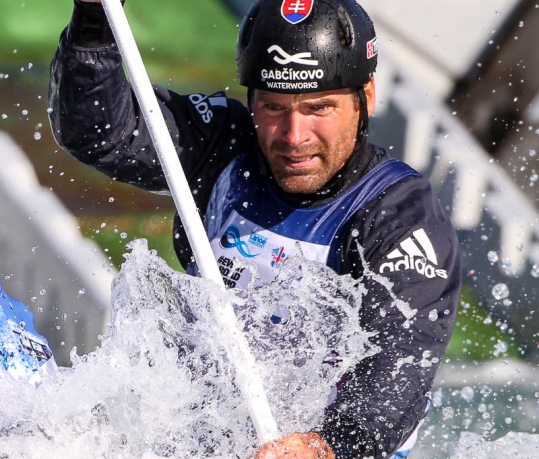 Peter Hochschorner (SVK)

Slovakia
Canoe Slalom
Date of birth
07 September 1979
Residence
Bratislava, SVK
Higher education
Coaching, Physical Education - Comenius University: Bratislava, SVK
Biography
General Interest
Nicknames
Hokshik (NOC, 24 Jul 2012)
Hero / Idol
English snooker player Ronnie O'Sullivan. (NOC, 24 Jul 2012)
Awards and honours
He and his twin brother Pavol were voted the Canoeists of the Year by the Slovak Canoe Association nine times between 2000 and 2015. (canoeslalom.sk, 28 Apr 2016)

In 2009 and 2011 he and his twin brother Pavol were voted Slovakia's Athletes of the Year. (canoeslalom.sk, 17 Feb 2015; pravda.sk, 17 Dec 2009)

In 2010 he was presented with the Stur State Honour by the Slovak president. (hochschorner.sk, 09 Aug 2015)

In 2009 he was inducted into the International Whitewater Hall of Fame. (NOC, 14 Jul 2012)
Famous relatives
He competes in C2 slalom with his twin brother Pavol. The pair won gold together at three consecutive Olympic Games between 2000 and 2008. His father Peter Sr. and his mother Gabika represented Czechoslovakia in the sport. His sister Eva has represented Slovakia in canoe sprint. She finished seventh in K2 1000m at the 1999 European Championships in Zagreb, Croatia. (SportsDeskOnline, 04 Sep 2015; iwhof.wordpress.com, 2008)
Other information
RECORDS
He and brother Pavol became the first athletes representing Slovakia to win three gold medals at the Olympic Games when they claimed their third consecutive Olympic title in Beijing in 2008. The pair also became the first canoe slalom athletes to win three Olympic gold medals. (rio2016.com, 30 Apr 2014)

CAR MECHANIC
He opened his own car service in Bratislava, Slovakia, and each day after training he works there as a mechanic. "One has to prepare for what will come after the sports career. Water slalom is not a sport where you can earn money for the rest of your life." (pluska.sk, 03 Feb 2016)
Sport Specific Information
When and where did you begin this sport?
He began paddling in 1993.
Why this sport?
His parents encouraged him and his twin brother Pavol to take up the sport.
Club / Team
SKP Bratislava: Slovakia
Name of coach
Peter Hochschorner Sr. [father], SVK
Training Regime
His training sessions include cross-country skiing, swimming and lifting weights in the gym.
Results
Competition
Event
Location
Date
Season
Gender
Result
Rank
Mentions
World Cup
C2
25 August 2013
2013
Men
3
World Cup
C2
2 September 2012
2012
Men
20
European Championships
C2 Team
Czech Republic, Roudnice nad Labem
23 August 1998
1998
Men
129.06
2
World Cup
C2
17 August 2014
2014
Men
21
World Cup
C2
16 August 2015
2015
Men
16
World Cup
C2
Slovakia, Bratislava
5 July 2009
2009
Men
99.73
1
World Cup
C2
14 August 2011
2011
Men
1
World Cup
C2
4 July 2010
2010
Men
2
European Championships
C2
Czech Republic, Roudnice nad Labem
23 August 1998
1998
Men
211.60
1

Best result

European Championships
C2 Team
Italy, Mezzana
25 June 2000
2000
Men
139.18
2
World Cup
C2
25 July 2004
2004
Men
1
World Cup
C2
24 July 2005
2005
Men
4
World Cup
C2
11 June 2006
2006
Men
2
World Cup
C2
11 September 2016
2016
Men
20

Latest result

Pan American Championships
C2
Brazil, Foz do Iguaçu
18 March 2007
2007
Men
205.64
2
European Championships
C2
Italy, Mezzana
25 June 2000
2000
Men
233.96
1

Best result

European Championships
C2 Team
Slovakia, Bratislava
13 July 2002
2002
Men
246.59
1

Best result

Oceania Open Championships
C2
Australia, Penrith
21 February 2010
2010
Men
111.60
2
World Cup
C2
15 July 2007
2007
Men
1
World Cup
C2
6 July 2008
2008
Men
1
Olympic Games
C2
England, London
2 August 2012
2012
Men
3

Best result

Olympic Games
C2
China, Beijing
15 August 2008
2008
Men
190.82
1

Best result

Olympic Games
C2
Greece, Athens
20 August 2004
2004
Men
209.16
1

Best result

Olympic Games
C2
Australia, Sydney
20 September 2000
2000
Men
237.74
1

Best result

World Championships
C2
England, London
19 September 2015
2015
Men
109.04
12
World Championships
C2 Team
England, London
19 September 2015
2015
Men
129.13
6
World Championships
C2
United States, McHenry, MD
21 September 2014
2014
Men
177.05
17
World Championships
C2 Team
United States, McHenry, MD
21 September 2014
2014
Men
143.13
2

Best result

World Championships
C2
Czech Republic, Prague
15 September 2013
2013
Men
187.94
19
World Championships
C2 Team
Czech Republic, Prague
15 September 2013
2013
Men
136.89
2

Best result

World Championships
C2
Slovakia, Bratislava
10 September 2011
2011
Men
106.76
1

Best result

World Championships
C2 Team
Slovakia, Bratislava
11 September 2011
2011
Men
127.94
2

Best result

World Championships
C2
Slovenia, Tacen
11 September 2010
2010
Men
105.35
1

Best result

World Championships
C2 Team
Slovenia, Tacen
11 September 2010
2010
Men
127.47
4

Best result

World Championships
C2
Spain, La Seu d'Urgell
13 September 2009
2009
Men
105.70
1

Best result

World Championships
C2 Team
Spain, La Seu d'Urgell
12 September 2009
2009
Men
113.51
1

Best result

World Championships
C2
Brazil, Foz do Iguaçu
23 September 2007
2007
Men
206.81
1

Best result

World Championships
C2 Team
Brazil, Foz do Iguaçu
21 September 2007
2007
Men
239.37
3

Best result

World Championships
C2
Czech Republic, Prague
5 August 2006
2006
Men
229.84
3

Best result

World Championships
C2 Team
Czech Republic, Prague
4 August 2006
2006
Men
269.93
3

Best result

World Championships
C2
Australia, Penrith
2 October 2005
2005
Men
11
World Championships
C2
Germany, Augsburg
26 July 2003
2003
Men
3

Best result

World Championships
C2 Team
Germany, Augsburg
26 July 2003
2003
Men
299.52
6
World Championships
C2
France, Bourg-Saint-Maurice
24 August 2002
2002
Men
206.21
1

Best result

World Championships
C2 Team
France, Bourg-Saint-Maurice
23 August 2002
2002
Men
315.50
6
World Championships
C2
Spain, La Seu d'Urgell
12 September 1999
1999
Men
277.37
15
World Championships
C2 Team
Spain, La Seu d'Urgell
10 September 1999
1999
Men
131.86
2

Best result

European Championships
C2
Slovakia, Liptovský Mikuláš
15 May 2016
2016
Men
122.70
9

Latest result

European Championships
C2 Team
Slovakia, Liptovský Mikuláš
15 May 2016
2016
Men
139.94
1

Latest result

Best result

European Championships
C2
Germany, Markkleeberg
31 May 2015
2015
Men
112.80
9
European Championships
C2 Team
Germany, Markkleeberg
31 May 2015
2015
Men
131.24
1

Best result

European Championships
C2
Austria, Vienna
1 June 2014
2014
Men
97.81
4
European Championships
C2 Team
Austria, Vienna
1 June 2014
2014
Men
112.39
1

Best result

European Championships
C2
Poland, Kraków
9 June 2013
2013
Men
99.13
7
European Championships
C2 Team
Poland, Kraków
9 June 2013
2013
Men
122.99
4
European Championships
C2
Germany, Augsburg
13 May 2012
2012
Men
106.49
2
European Championships
C2 Team
Germany, Augsburg
13 May 2012
2012
Men
6
European Championships
C2
Spain, La Seu d'Urgell
11 June 2011
2011
Men
107.05
1

Best result

European Championships
C2 Team
Spain, La Seu d'Urgell
11 June 2011
2011
Men
124.24
2
European Championships
C2
Slovakia, Cunovo
15 August 2010
2010
Men
106.20
7
European Championships
C2 Team
Slovakia, Cunovo
14 August 2010
2010
Men
177.69
5
European Championships
C2
England, Nottingham
30 May 2009
2009
Men
101.20
1

Best result

European Championships
C2 Team
England, Nottingham
30 May 2009
2009
Men
6
European Championships
C2
Poland, Kraków
11 May 2008
2008
Men
198.76
1

Best result

European Championships
C2 Team
Poland, Kraków
9 May 2008
2008
Men
257.75
3
European Championships
C2
Slovakia, Liptovský Mikuláš
17 June 2007
2007
Men
224.21
3
European Championships
C2 Team
Slovakia, Liptovský Mikuláš
15 June 2007
2007
Men
286.26
6
European Championships
C2
France, L'Argentière-la-Bessée
2 July 2006
2006
Men
2
European Championships
C2 Team
France, L'Argentière-la-Bessée
1 July 2006
2006
Men
280.56
5
European Championships
C2 Team
Slovenia, Tacen
25 June 2005
2005
Men
241.69
1

Best result

European Championships
C2
Slovakia, Bratislava
14 July 2002
2002
Men
214.73
1

Best result