Peter HOCHSCHORNER (SVK)

Slovakia
Languages:
Slovak & English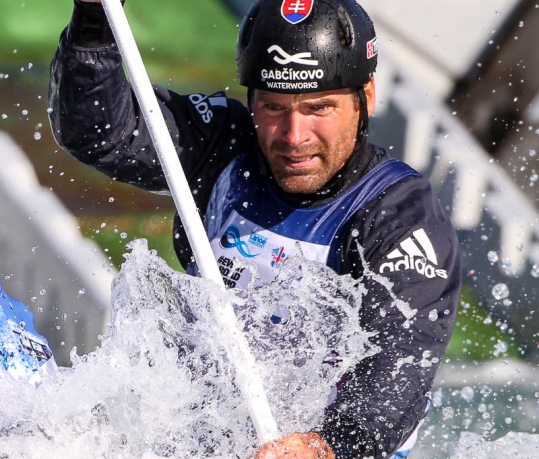 Biography
Further Personal Information
PLACE OF RESIDENCE
Bratislava, SVK
HIGHER EDUCATION
Coaching, Physical Education - Comenius University: Bratislava, SVK
WHEN/WHERE DID YOU START CANOEING/ KAYAKING?
He began paddling in 1993.
REASON FOR TAKING UP THE SPORT
His parents encouraged him and his twin brother Pavol to take up the sport.
CLUB
SKP Bratislava: Slovakia
NAME OF COACH
Peter Hochschorner Sr. [father], SVK
MEMORABLE SPORTING ACHIEVEMENT
He and brother Pavol became the first athletes representing Slovakia to win three gold medals at the Olympic Games when they claimed their third consecutive Olympic title in Beijing in 2008. The pair also became the first canoe slalom athletes to win three Olympic gold medals. (rio2016.com, 30 Apr 2014)CAR MECHANICHe opened his own car service in Bratislava, Slovakia, and each day after training he works there as a mechanic. "One has to prepare for what will come after the sports career. Water slalom is not a sport where you can earn money for the rest of your life." (pluska.sk, 03 Feb 2016)
HERO/IDOL
English snooker player Ronnie O'Sullivan
AWARDS AND HONORS
He and his twin brother Pavol were voted the Canoeists of the Year by the Slovak Canoe Association nine times between 2000 and 2015. (canoeslalom.sk, 28 Apr 2016)In 2009 and 2011 he and his twin brother Pavol were voted Slovakia's Athletes of the Year. (canoeslalom.sk, 17 Feb 2015; pravda.sk, 17 Dec 2009)In 2010 he was presented with the Stur State Honour by the Slovak president. (hochschorner.sk, 09 Aug 2015)In 2009 he was inducted into the International Whitewater Hall of Fame. (NOC, 14 Jul 2012)
SPORTING RELATIVES
He competes in C2 slalom with his twin brother Pavol. The pair won gold together at three consecutive Olympic Games between 2000 and 2008. His father Peter Sr. and his mother Gabika represented Czechoslovakia in the sport. His sister Eva has represented Slovakia in canoe sprint. She finished seventh in K2 1000m at the 1999 European Championships in Zagreb, Croatia. (SportsDeskOnline, 04 Sep 2015; iwhof.wordpress.com, 2008)