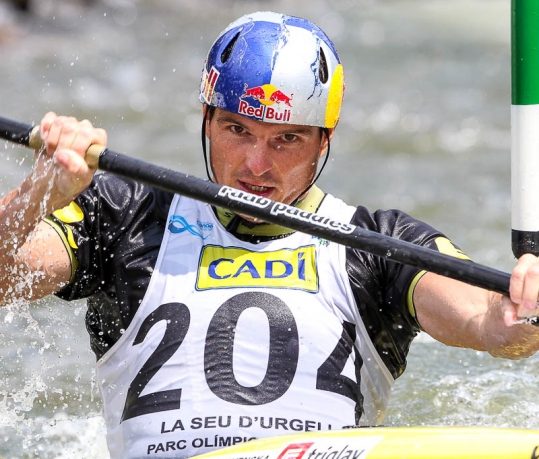 Peter Kauzer (SLO)

Slovenia
Canoe Slalom
Date of birth
08 September 1983
Family
Wife Janja, daughter Nola [2012]
Occupation
Athlete, Serves in the Army
Languages
English, Slovene
Higher education
University of Sport: Ljubljana, SLO
Biography
General Interest
Nicknames
Pero, Kapsl (redbull.com, 15 Aug 2015)
Hobbies
Snowboarding, surfing, cross-country skiing, badminton. (Facebook page, 08 Apr 2016; redbull.com, 29 Mar 2016)
Most influential person in career
His father. (redbull.com, 29 Mar 2016)
Hero / Idol
His father. (Athlete, 21 Sep 2005)
Injuries
In June 2014 he injured his shoulder and had to undergo surgery, which put him out of action for the 2014 northern hemisphere summer. It took almost a year to fully recover. (redbull.com, 15 Jul 2015; redbull.com, 11 Jul 2014)

He broke his right collarbone in 1999 while snowboarding in the off-season. (Athlete, 21 Sep 2005)
Sporting philosophy / motto
"Carpe diem." (redbull.com, 29 Mar 2016)
Awards and honours
In 2011 he was chosen as the Best Athlete of Slovenia. (peterkauzer.com, 15 May 2012)
Famous relatives
His father competed internationally in canoe slalom. (Athlete, 06 May 2003)
Sport Specific Information
When and where did you begin this sport?
He began paddling at age six, in his hometown Hrastnik, Slovenia.
Why this sport?
His father was a professional canoe-kayaker and introduced him to the sport. He is passionate about all forms of paddling, whether on a river, whitewater, or competing in slalom.
Club / Team
BD Steklarna Hrastnik: Hrastnik, SLO
Name of coach
Peter Kauzer [father, personal], SLO, from 1990; Andrej Jelenc [national], SLO
Results
Competition
Event
Location
Date
Season
Gender
Result
Rank
Mentions
World Cup
K1
4 July 2010
2010
Men
4
World Cup
K1
3 August 2009
2009
Men
1

Best result

World Cup
K1
2 September 2012
2012
Men
34
World Cup
K1
13 August 2011
2011
Men
1

Best result

World Cup
K1
24 July 2005
2005
Men
7
World Cup
K1
6 July 2008
2008
Men
30
World Cup
K1
15 July 2007
2007
Men
7
World Cup
K1
11 June 2006
2006
Men
4
World Cup
K1
17 August 2014
2014
Men
91
World Cup
K1
25 August 2013
2013
Men
4
Olympic Games
K1
Brazil, Rio de Janeiro
10 August 2016
2016
Men
88.70
2

Latest result

Best result

Olympic Games
K1
England, London
1 August 2012
2012
Men
101.01
6

Best result

Olympic Games
K1
China, Beijing
12 August 2008
2008
Men
89.42
13
World Championships
K1
England, London
20 September 2015
2015
Men
92.71
4

Best result

World Championships
K1 Team
England, London
20 September 2015
2015
Men
112.20
8
World Championships
K1
Czech Republic, Prague
15 September 2013
2013
Men
101.57
18
World Championships
K1 Team
Czech Republic, Prague
15 September 2013
2013
Men
116.81
6

Best result

World Championships
K1
Slovakia, Bratislava
11 September 2011
2011
Men
96.01
1

Best result

World Championships
K1 Team
Slovakia, Bratislava
11 September 2011
2011
Men
210.35
17
World Championships
K1
Slovenia, Tacen
12 September 2010
2010
Men
142.43
9
World Championships
K1 Team
Slovenia, Tacen
12 September 2010
2010
Men
151.25
16
World Championships
K1
Spain, La Seu d'Urgell
13 September 2009
2009
Men
92.84
1

Best result

World Championships
K1 Team
Spain, La Seu d'Urgell
12 September 2009
2009
Men
103.12
6

Best result

World Championships
K1
Brazil, Foz do Iguaçu
22 September 2007
2007
Men
96.63
15
World Championships
K1 Team
Brazil, Foz do Iguaçu
21 September 2007
2007
Men
209.88
5

Best result

World Championships
K1
Czech Republic, Prague
5 August 2006
2006
Men
208.3
8
World Championships
K1 Team
Czech Republic, Prague
4 August 2006
2006
Men
235.25
4

Best result

World Championships
K1
Australia, Penrith
2 October 2005
2005
Men
17
World Championships
K1 Team
Australia, Penrith
3 October 2005
2005
Men
223.45
3

Best result

World Championships
K1
Germany, Augsburg
27 July 2003
2003
Men
26
World Championships
K1 Team
Germany, Augsburg
27 July 2003
2003
Men
282.74
20
European Championships
K1
Slovakia, Liptovský Mikuláš
14 May 2016
2016
Men
93.26
4

Latest result

Best result

European Championships
K1 Team
Slovakia, Liptovský Mikuláš
14 May 2016
2016
Men
184.51
11

Latest result

European Championships
K1
Germany, Markkleeberg
30 May 2015
2015
Men
94.71
5
European Championships
K1 Team
Germany, Markkleeberg
30 May 2015
2015
Men
115.27
6
European Championships
K1
Austria, Vienna
31 May 2014
2014
Men
87.78
7
European Championships
K1 Team
Austria, Vienna
31 May 2014
2014
Men
101.41
8
European Championships
K1
Poland, Kraków
8 June 2013
2013
Men
85.27
9
European Championships
K1 Team
Poland, Kraków
8 June 2013
2013
Men
104.63
10
European Championships
K1
Germany, Augsburg
12 May 2012
2012
Men
97.80
6
European Championships
K1 Team
Germany, Augsburg
12 May 2012
2012
Men
164.71
8
European Championships
K1
Spain, La Seu d'Urgell
12 June 2011
2011
Men
37
European Championships
K1 Team
Spain, La Seu d'Urgell
12 June 2011
2011
Men
106.15
1

Best result

European Championships
K1
Slovakia, Cunovo
15 August 2010
2010
Men
87.82
1

Best result

European Championships
K1 Team
Slovakia, Cunovo
14 August 2010
2010
Men
110.86
3

Best result

European Championships
K1
England, Nottingham
31 May 2009
2009
Men
95.46
4

Best result

European Championships
K1 Team
England, Nottingham
30 May 2009
2009
Men
96.36
6
European Championships
K1
Poland, Kraków
11 May 2008
2008
Men
183.01
5
European Championships
K1 Team
Poland, Kraków
9 May 2008
2008
Men
212.84
4

Best result

European Championships
K1
Slovakia, Liptovský Mikuláš
17 June 2007
2007
Men
203.06
2

Best result

European Championships
K1 Team
Slovakia, Liptovský Mikuláš
15 June 2007
2007
Men
205.76
1

Best result

European Championships
K1
France, L'Argentière-la-Bessée
2 July 2006
2006
Men
212.87
4

Best result

European Championships
K1 Team
France, L'Argentière-la-Bessée
1 July 2006
2006
Men
241.14
1

Best result

European Championships
K1
Slovenia, Tacen
26 June 2005
2005
Men
188.25
2

Best result

European Championships
K1 Team
Slovenia, Tacen
25 June 2005
2005
Men
208.75
1

Best result

European Championships
K1 Team
Slovakia, Bratislava
13 July 2002
2002
Men
113.13
4

Best result

Oceania Open Championships
K1
Australia, Penrith
21 February 2016
2016
Men
90.16
24

Latest result

Oceania Open Championships
K1
Australia, Penrith, NSW
26 February 2012
2012
Men
32
Pan American Championships
K1
Canada, Kananaskis
3 August 2009
2009
Men
97.33
2

Best result

World Cup
K1
11 September 2016
2016
Men
4

Latest result

World Cup
K1
16 August 2015
2015
Men
1

Best result