Top 10 places to visit and paddle (canoe, kayak, SUP) in Australasia and Asia
This stunning saltwater lagoon 60-miles south of Sydney has a narrow tidal entrance to the Tasman Sea, and shallow waters, making it a well-protected waterbody for paddlers improving their skills. Don't let the fact the occasional great white shark turns up there put you off. The original custodians of the land are the Tharawal and Wadi Wadi Aboriginal people, whose ancient burial sites have been discovered in the area. 
Futuristic skyscrapers, the giant Singapore Flyer observation wheel and mind-bendingly unique architecture form a dramatic backdrop on the city's super-modern Marina Bay. Singaporean water-sports athletes (including canoe polo player Li Xingfu Roy) train here, but recreational paddlers of all standards can enjoy these waters too.
The scenery's not too shabby in Nepal, with the majestic Himalayas rising above powerful rivers, plus it's a focal point for the global whitewater community. Running the Upper Seti river from Pokhara makes an exciting short trip for developing paddlers to gain practise on rapids, or there are multi-day expeditions in the Everest region for superior bragging rights.
Volcanoes and earthquakes, orang-utans and rhinos, oversized tropical vegetation and fascinating culture: the world's sixth biggest island is an intoxicating mix. Remote surf spots on the southern coast and off-shore Mentawai Islands are for adventure seekers; but easier hits come at the bright blue Danau Toba lake, Asia's biggest, and dazzling shorelines waiting to be explored. 
Surfer's Paradise might be the most famous beach near the loud, proud coastal city of Gold Coast in Queensland, but paddlers will find lots more to explore along its 44-miles of honey-coloured sand. A little way off shore, Wavebreak Island is a great spot to snorkel with subtropical fish, nearby South Stradbroke Island is home to wallabies, and inland are endless creeks and rivers to explore. With crystal water and white sand beaches as it nears the sea, mangroves, natural canals and tempting swimming holes higher up, the long Currumbin Creek is popular with paddlers of all kinds: nature lovers, families and sprint kayakers wanting to get some speed up on steady water. 
The whitewater venue for the summer Olympics 2020/21 looks set to be a smasher. The new purpose-built canoe slalom course, adjoining Kasai Rinkai Park beside Tokyo Bay in Edogawa, will be the first man-made course in Japan, and is set to become a leisure venue after the event. Easy paddling of the sightseeing rather than competitive variety can be enjoyed on the Bay, and along the Sumida, the main river through the city, and its backwater canals.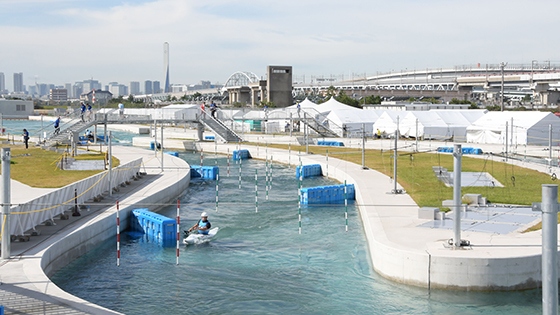 The long stretch of the West Coast on the South Island in New Zealand is a phenomenal untamed playground, for adventure sports of all kinds, but particularly those involving a paddle. The wild Southern Alps and glaciers region around the Franz Josef glacier has everything, from calm SUP routes across Lake Mapourika, edged with Jurassic rainforest, to white water sections through the sky blue Hokitika Gorge. The area was highly recommended by local outfit Pack Raft New Zealand who shared some favourite spots with the judges. 
Houseboat tours of Kerala's backwaters have been a classic traveller experience for years, but it's even more fun to explore the steamy mangroves, lagoons and natural canals near the historic port of Alleppey by kayak or SUP. Grand mansions, farms and coconut "toddy" shops line the lush green shores, creating a fascinating experience for nature-lovers, explorers and families. 
Emerald depths turn to rushing white water at the Okere Falls, a fun drop for progressing paddlers to tackle that's tucked into the northern corner of Lake Rotoiti in the Bay of Plenty. This area of the North Island is a centre of rafting and kayaking, with awesome paddles to the natural Manupirua geothermal hot mineral pools on the other side of the lake, or to ride the rapids of nearby Kaituna River. Camping out here afterwards means seeing the Milky Way with spectacular clarity.
Mesmerising scenery defines Lake Tekapo, where the snow-capped pyramids of the Southern Alps encircle the luminous lake, whose water is a delicious milky turquoise thanks to the fine "rock flour" ground down by glaciers and suspended in the water. 
Sunset admirers and after-dark paddlers can experience incomparable star-gazing here, in one of the world's largest Unesco Dark Sky Reserves. Nature lovers should come in November and December, when a haze of pink and purple lupins are in bloom along the shore. And if that weren't enough, there are natural hot springs at the southern end to bathe in once you're all paddled out.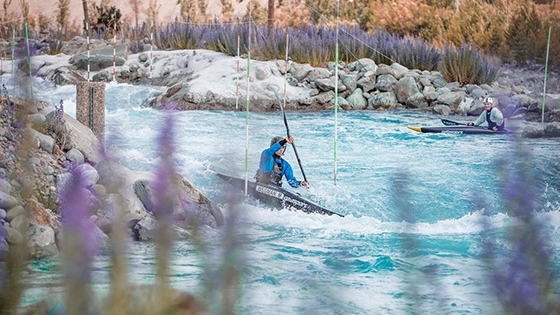 Sponsored by
climate-positive apparel brand:

Check out SOMWR's channels: 
Website | Instagram | Facebook | Twitter